Welcome to our Official 2022 Holiday Gift Guide for Pens & Inks & Writing Accessories! Find the perfect gift for everyone on your list with this year's holiday gift guide for pens, fountain pen inks, pen stands, pen cases, and so much more!
How to Use Pen Chalet's 2022 Holiday Gift Guide for Pens & Accessories:
Let this year's holiday gift guide for pens double as a chance to think about the perfect pen collection: including all the easy essentials you need for every project and every season, the classics that play well with your other writing accessories and inks, and the new arrivals that shouted your name with love until you welcomed them with open arms. But maybe more importantly, use this year's holiday gift guide for pens and inks as inspiration to share your love of all things fountain pen with your favorite people (and maybe a few people you're hoping to learn to like a bit better). Consider which pens you use on repeat – the pens that help you show up the way you want to – ready to create, master, or finesse whatever project is at hand. Maybe those pens that you can't live (happily) without are the perfect gifts for your favorite people. It's almost like sharing a little piece of you with the people you love the most. But if you need more ideas, we're ready to give them to you! Let's get this pen party started!
Holiday Cheer: Christmas Releases and Holiday Edition Pens* & Inks In the Holiday Gift Guide for Pens
*While supplies last.
Holiday Cheer is full of special edition, holiday edition, and Christmas pen and ink releases that are perfect for Christmas-time and all year round. The perfect addition to any pen collection suits every season of life, but there's always room for something extra special that brings memories of your favorite time of year to mind whenever you pick up your fountain pen, rollerball pen, or ballpoint pen.
Find the Perfect Gifts in the Holiday Gift Guide for Pens:
Conversation Pieces: Pen Chalet Exclusive Pens and Inks*
*While supplies last!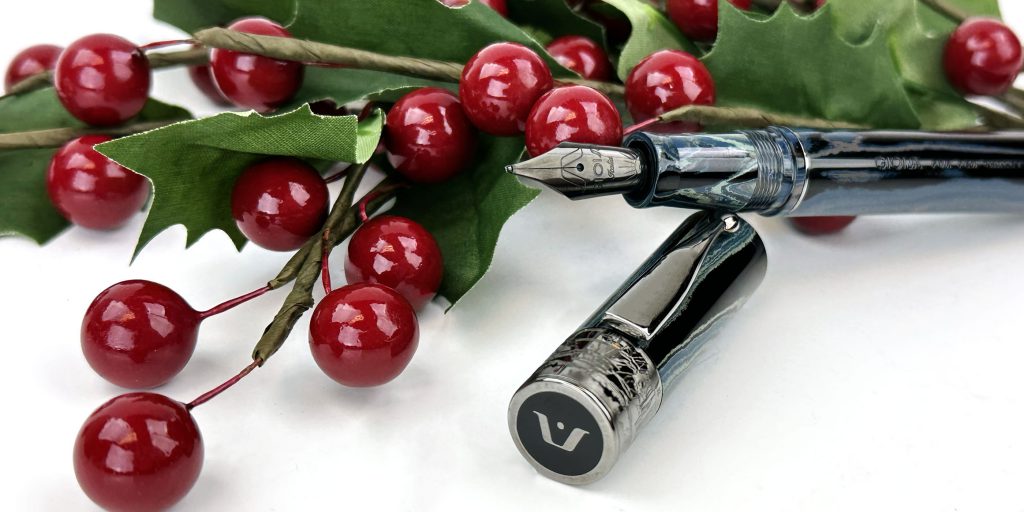 Shop Pen Chalet's 2022 Holiday Gift Guide for Pens & Inks
Take your time shopping our 2022 Holiday Gift Guide for pens, inks, and writing accessories your favorite people are sure to love! We hope you discover one or two new pens, inks, pen cases, etc. that you didn't know existed, or find the perfect gift for your favorite aunt or work bestie. Maybe think about getting a new ink to use with your Christmas cards or start seeking out your next Grail pen so you can make a goal to add it to your pen collection! However you celebrate the holidays, we hope you truly enjoy the last little bit of 2022. From all of us at Pen Chalet to our customers and pen fans all around the world – Merry Christmas, Happy Hanukkah, Joyous Kwanzaa (and at the risk of jumping the gun a little bit…Happy New Year!) Come shop all your favorite pen and ink brands and find the best pen and ink gifts for 2022 at PenChalet.com.