Monteverde Bottled Ink(30ml) Fountain Pen Ink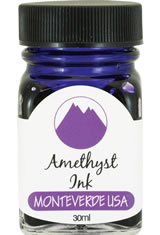 About the Monteverde Bottled Ink(30ml)
The Monteverde bottled fountain pen ink now comes in a smaller 30ml sample size. Monteverde Ink is one of the world's leading fountain pen inks. It is fairly inexpensive and comes with the leading European ink treatment formula, ITF™, designed to improve the ink flow. It is gentle on your pens and the added lubricant staves off any clogging and corroding. Monteverde fountain pen ink also has a quick dry time. Choose from a wide selection of ink colors!
Product Specifications
Cartridge Type: Bottled Ink
Available Sizes & Colors
The Monteverde Bottled Ink(30ml) Fountain Pen Ink usually ships within 1 business day unless otherwise specified.
Guaranteed Quality
Each Monteverde Bottled Ink(30ml) Fountain Pen Ink we sell is
guaranteed to be genuine
, authentic and will arrive brand new & unused!

Monteverde Bottled Ink(30ml) Color Chart
Amethyst
Azure Noir
Black Ash
Black Permanent
Blue Black

Blue Permanent
Brown Sugar
California Teal
Canyon Rust

Capri Blue
Caribbean Blue

Charoite

Coal Noir
Confidence Blue

Copper Noir
Emerald Green
Erinite
Fireopal

Garnet
Gratitude Magenta
Hope Green
Horizon Blue
Jade Noir
Joy Sepia
Kindness Pink
Love Red
Malibu Blue

Mandarin Orange
Mercury Noir

Midnight Black
Monteverde Green
Moonstone
Motivation Orange
Mulberry Noir
Napa Burgundy

Ocean Noir

Olivine
Passion Burgundy
Peace Blue
Purple Mist
Purple Reign

Raven Noir
Red Velvet

Rose Noir
Rose Pink
Ruby
Sapphire

Scotch Brown

Smoke Noir

Topaz
Valentine Red
Wisdom Purple
Yosemite Green

Monteverde Bottled Ink(30ml) Reviews
This review is about Copper Noir. I have some of the other Noirs from MonteVerde and there seemed to be more of a color shift with the other inks. Don't misunderstand, this is a soild, well behaved ink that flowed well in any of the fountain pens that I have used it in. It just didn't have that something I was looking for was all. Could be that it's just personal preference. The hunt for the one ink that strikes my fancy continues.
4
out of
5

quality:

function:

style:

value:

Monteverde does create some really good inks. This one is about the color "Love Red" I must admit that the red is a very good one, bright easy to spot on the page. Doing an entire letter with it though would be a bit much in my opinion. Well behaved, seemed to run a tad to the wet side. Perhaps one day I will find that one red ink that I am looking for. :)
4
out of
5

quality:

function:

style:

value:

Great shading, nice flow, love the colors. Wish I wouldn't have waited so long to get some Monteverde inks.
5
out of
5

quality:

function:

style:

value:

Consistent behavior with all other Monteverde inks. If you like the color, you will love this ink!
5
out of
5

quality:

function:

style:

value:

Copper noir is my favorite ink shade. Absolutely love the shading of this ink. As always thank you pen chalet for your fast shipping and great pricing!!
5
out of
5

quality:

function:

style:

value:

I really like the Raven Noir, and I thought that the Azure Noir would have been like the properties of the raven. It's a well behaved ink. Feeds through even a Asian F nib pen. I am a wee bit disappointed in the color variation even on fountain pen friendly paper. Perhaps it will grow on me. Yeah, thinking about it, I can see using this for the long letters to family and you need something thats not to shocking.
4
out of
5

quality:

function:

style:

value:

This is a true red ink no hints of pink or burgundy this ink is what I call red - red. very bright rich color. Never bleeds lays down well and flows very good. This is the third color of monteverde ink that I use. All extremely good ink. you can not go wrong with the Monteverde brand.
5
out of
5

quality:

function:

style:

value:

I would never consider Monteverde inks in the past because I haven;'t liked their pens, but recently I broke down and got three bottles. They flow well, shade decently, and are priced very well. I'll be picking up more in the future.
5
out of
5

quality:

function:

style:

value:

A good quality ink in a color I wanted to write with.
5
out of
5

quality:

function:

style:

value:

RECOMMEND INK! NICE QUALITY INK, NICE FLOW, AND COLOR SHIPPED SECURELY AND WELL PRESERVED! THANK YOU!
5
out of
5

quality:

function:

style:

value:


FAQs about the Monteverde Bottled Ink(30ml)
Ships in 1 business day.
Low inventory, act now!