Monteverde Bottled Ink(30ml) Fountain Pen Ink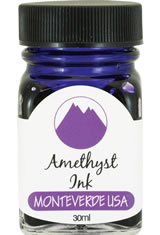 About the Monteverde Bottled Ink(30ml)
The Monteverde bottled fountain pen ink now comes in a smaller 30ml sample size. Monteverde Ink is one of the world's leading fountain pen inks. It is fairly inexpensive and comes with the leading European ink treatment formula, ITF™, designed to improve the ink flow. It is gentle on your pens and the added lubricant staves off any clogging and corroding. Monteverde fountain pen ink also has a quick dry time. Choose from a wide selection of ink colors!
Product Specifications
Cartridge Type: Bottled Ink
Available Sizes & Colors
The Monteverde Bottled Ink(30ml) Fountain Pen Ink usually ships within 1 business day unless otherwise specified.
Guaranteed Quality
Each Monteverde Bottled Ink(30ml) Fountain Pen Ink we sell is
guaranteed to be genuine
, authentic and will arrive brand new & unused!

Monteverde Bottled Ink(30ml) Color Chart
Amethyst
Azure Noir
Black Ash
Black Permanent
Blue Black

Blue Permanent
Brown Sugar
California Teal
Canyon Rust

Capri Blue
Caribbean Blue

Charoite

Coal Noir
Confidence Blue

Copper Noir
Emerald Green
Erinite
Fireopal

Garnet
Gratitude Magenta
Hope Green
Horizon Blue
Jade Noir
Joy Sepia
Kindness Pink
Love Red
Malibu Blue

Mandarin Orange
Mercury Noir

Midnight Black
Monteverde Green
Moonstone
Motivation Orange
Mulberry Noir
Napa Burgundy

Ocean Noir

Olivine
Passion Burgundy
Peace Blue
Purple Mist
Purple Reign

Raven Noir
Red Velvet

Rose Noir
Rose Pink
Ruby
Sapphire

Scotch Brown

Smoke Noir

Topaz
Valentine Red
Wisdom Purple
Yosemite Green

Monteverde Bottled Ink(30ml) Reviews
I got the Monteverde Topaz such a lovely orange color.
5
out of
5

quality:

function:

style:

value:

I love Monteverde inks but this colour was a bit of a disappointment. A bit grey blue and not too much pop or brightness that I was hoping for. I will probably give it away as it is quality ink but not the blue I wanted. I have to order all online so sometimes I get it wrong but it is only personal taste as there is nothing wrong with this ink at all. My favourite Monteverde ink is California Teal so I am a happy Monteverde customer.
4
out of
5

quality:

function:

style:

value:

I love the colors — smooth flow.
5
out of
5

quality:

function:

style:

value:

Ruby is a bright, pretty red color with a slight hue toward a reddish-orange when dried, purple reign is a light (almost on the neon side) purple - Monteverde inks have seemed a bit on the drier side than most of the other inks I've tried, but seem to perform great in flex pens. Smaller bottles have proven easier to store. Larger bottles are pretty but are much larger and the shape of them requires a bit more space when storing them (which matters for me).
5
out of
5

quality:

function:

style:

value:

I do enjoy the Capri Blue..however the other 2 I ordered that are to come from the manufacturer never arrived. I thought that it might be because of the Christmas mail,but I would appreciate some investigation about this. I know one color was the Brown Sugar,but cant re call the other color ordered.I have a Hope and a Passion..but not sure if they were the ones ordered..ty 631 732 1431 Sincerely Mrs. Engel
5
out of
5

quality:

function:

style:

value:

My birthstone color...true to color
5
out of
5

quality:

function:

style:

value:

5
out of
5

quality:

function:

style:

value:

Beautiful purple. this color just pops off the page. I like the smaller bottles that are a great value to try a lots of different colors.
5
out of
5

quality:

function:

style:

value:

This review is about Copper Noir. I have some of the other Noirs from MonteVerde and there seemed to be more of a color shift with the other inks. Don't misunderstand, this is a soild, well behaved ink that flowed well in any of the fountain pens that I have used it in. It just didn't have that something I was looking for was all. Could be that it's just personal preference. The hunt for the one ink that strikes my fancy continues.
4
out of
5

quality:

function:

style:

value:

Monteverde does create some really good inks. This one is about the color "Love Red" I must admit that the red is a very good one, bright easy to spot on the page. Doing an entire letter with it though would be a bit much in my opinion. Well behaved, seemed to run a tad to the wet side. Perhaps one day I will find that one red ink that I am looking for. :)
4
out of
5

quality:

function:

style:

value:


FAQs about the Monteverde Bottled Ink(30ml)