Monteverde Bottled Ink(30ml) Fountain Pen Ink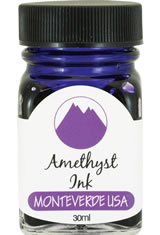 About the Monteverde Bottled Ink(30ml)
The Monteverde bottled fountain pen ink now comes in a smaller 30ml sample size. Monteverde Ink is one of the world's leading fountain pen inks. It is fairly inexpensive and comes with the leading European ink treatment formula, ITF™, designed to improve the ink flow. It is gentle on your pens and the added lubricant staves off any clogging and corroding. Monteverde fountain pen ink also has a quick dry time. Choose from a wide selection of ink colors!
Product Specifications
Cartridge Type: Bottled Ink
Available Sizes & Colors
The Monteverde Bottled Ink(30ml) Fountain Pen Ink usually ships within 1 business day unless otherwise specified.
Guaranteed Quality
Each Monteverde Bottled Ink(30ml) Fountain Pen Ink we sell is
guaranteed to be genuine
, authentic and will arrive brand new & unused!

Monteverde Bottled Ink(30ml) Color Chart

Amethyst

Azure Noir

Birthday Cake

Black Ash

Black Permanent

Blue Black


Blue Permanent

Blue Velvet Cake

Blueberry Muffin

Brown Sugar

California Teal

Canyon Rust


Capri Blue

Caribbean Blue


Charoite

Cherry Danish

Chocolate Pudding

Citrine


Coal Noir

Confidence Blue


Copper Noir

Emerald Green

Erinite

Fireopal


Garnet

Gratitude Magenta

Hope Green

Horizon Blue

Iced Cookie

Jade Noir

Joy Sepia

Key Lime

Kindness Pink

Love Red

Malachite

Malibu Blue


Mandarin Orange

Mango Mousse

Mercury Noir


Midnight Black

Monteverde Green

Moonstone

Motivation Orange

Mulberry Noir

Napa Burgundy


Ocean Noir


Olivine

Passion Burgundy

Peace Blue

Pumpkin Cake

Purple Mist

Purple Reign


Raven Noir

Red Velvet


Rose Noir

Rose Pink

Ruby

Sapphire


Scotch Brown


Smoke Noir

Strawberry Shortcake

Tanzanite


Topaz

Valentine Red

Wisdom Purple

Yosemite Green

Monteverde Bottled Ink(30ml) Reviews
5
out of
5

quality:

function:

style:

value:

First time I tried this color of ink. Love this ink and color. Great choices and fair prices. I highly recommend Pen Chalet.
5
out of
5

quality:

function:

style:

value:

Color is spot on and it flows beautifully
5
out of
5

quality:

function:

style:

value:

The Mango Mousse is a neat light orange with some shading, varying from a "normal" orange to a light yellow. It may be too light for some when writing, but the color is nice to play with in sketching. The ink dries quickly (around 3-5 seconds) but is very prone to bleeding. Of all my inks, In fact, this ink bleeds more than any other ink in my collection. Because of that, be careful if you are planning to use this ink on standard paper. Finally this ink tends to dry up relatively quickly in my pens. I even find dried ink crust around the tip of my nibs if left alone for a while -- very unattractive.
3
out of
5

quality:

function:

style:

value:

5
out of
5

quality:

function:

style:

value:

It is Monteverde ink, WHAT IS NOT TO LOVE!! Best ink around for the price. Super rich colors, always wet with great flow, and priced perfectly for everyone to enjoy. Pen Chalet has the best price on Monteverde inks around! Thanks Guys!!
5
out of
5

quality:

function:

style:

value:

Once again I must ask what the devil does style have to do with ink? Unless you mean my own personal style? To that I will answer 'No comment'. Why do you want to know about style of ink? The style of the bottle? Just a one ounce bottle that is sort of short and fat with a nice black cap. Is that what you mean by style? I guess it could be made out of cut glass, now that would warrant a comment.

This was a color that I have been looking for. The last bottle ran dry a while back, and more was needed.

Wat to try something interesting? Mix the ink (1 ml per 10 gm wool) with some vinegar and water. No, not some new salad dressing. Next put in some white 100% wool yarn and let it sit for a while. Rinse, and you end up with a very nice looking yarn.
4
out of
5

quality:

function:

style:

value:

New brand , like the purple color.
5
out of
5

quality:

function:

style:

value:

This Erinite ink was given a lot of poor reviews online, but I don't understand that at all. Its beautiful, and a very unique green. I have a lot of monteverde inks and it is a touch drier than others, in my STUB nib pens its really awesome. I love this! Also it looks really pretty showing its color through my Franklin Christoph Ghost pens. Highly recommended for people who want a unique green for a stub nib.
4
out of
5

quality:

function:

style:

value:

Highly saturated ink that shades and sheens perfectly in all the various colors I've tried. Pumpkin Cake and California Teal are my favorites so far.
5
out of
5

quality:

function:

style:

value:


FAQs about the Monteverde Bottled Ink(30ml)
Special Order:
Shipping times may vary