Monteverde Bottled Ink(30ml) Fountain Pen Ink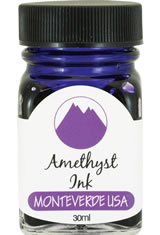 About the Monteverde Bottled Ink(30ml)
The Monteverde bottled fountain pen ink now comes in a smaller 30ml sample size. Monteverde Ink is one of the world's leading fountain pen inks. It is fairly inexpensive and comes with the leading European ink treatment formula, ITF™, designed to improve the ink flow. It is gentle on your pens and the added lubricant staves off any clogging and corroding. Monteverde fountain pen ink also has a quick dry time. Choose from a wide selection of ink colors!
Product Specifications
Cartridge Type: Bottled Ink
Available Sizes & Colors
The Monteverde Bottled Ink(30ml) Fountain Pen Ink usually ships within 1 business day unless otherwise specified.
Guaranteed Quality
Each Monteverde Bottled Ink(30ml) Fountain Pen Ink we sell is
guaranteed to be genuine
, authentic and will arrive brand new & unused!

Monteverde Bottled Ink(30ml) Color Chart

Amethyst

Azure Noir

Black Ash

Black Permanent

Blue Black


Blue Permanent

Brown Sugar

California Teal

Canyon Rust


Capri Blue

Caribbean Blue


Charoite

Citrine


Coal Noir

Confidence Blue


Copper Noir

Emerald Green

Erinite

Fireopal


Garnet

Gratitude Magenta

Hope Green

Horizon Blue

Jade Noir

Joy Sepia

Kindness Pink

Love Red

Malachite

Malibu Blue


Mandarin Orange

Mercury Noir


Midnight Black

Monteverde Green

Moonstone

Motivation Orange

Mulberry Noir

Napa Burgundy


Ocean Noir


Olivine

Passion Burgundy

Peace Blue

Purple Mist

Purple Reign


Raven Noir

Red Velvet


Rose Noir

Rose Pink

Ruby

Sapphire


Scotch Brown


Smoke Noir


Topaz

Valentine Red

Wisdom Purple

Yosemite Green

Monteverde Bottled Ink(30ml) Reviews
Amazing colour, I have never seen such vibrant green in my life. Also love the colour variation due to slight variation in ink flow.
5
out of
5

quality:

function:

style:

value:

Beautiful color and ink quality. I will be purchasing many more in different colors offered.
5
out of
5

quality:

function:

style:

value:

Canyon Rust is a reddish brown ink. It is not waterproof but is pretty when using as a wash for drawing. You can also draw with it and run a waterbrush over it.
5
out of
5

quality:

function:

style:

value:

Flows well, like all Monteverde inks. Good value, too. Unfortunately does not look blueish at all, guess the review I read was misleading.
4
out of
5

quality:

function:

style:

value:

Monteverde Olivine is a nice green with great shading. I am a green fan anyway but this is a really great one.
5
out of
5

quality:

function:

style:

value:

I got three different inks: Documental Blue, Jade Noir, and Ocean Noir.

Documental Blue is a nice bright blue. I wrote some piece of extemporaneous poetry with a glass pen then, once the ink dried, immersed the paper in a sink of water. With plain water it didn't budge. A little dish detergent made the ink bleed, but it didn't obliterate what I had written. Full marks.

Ocean Noir is the same deep dark blue shade seen at the zenith during a winter sunset, when there is no humidity to add the whitish cast so often present. This is a distinguished, sedate blue, well suited for professional usage, yet limiting it to those uses would be to miss out on the magnificent glide a pen inked with this elixir exhibits. Again, full marks.

Jade Noir reminds me of the bosky light found under the trees. Its green and black components blend and mix and make one think Smaug may be lurking in the shadows where the light doesn't quite reach. And the ink is also eminently suited for more professional or scholastic endeavors as well. Once again, full marks.

I thought enough of the Jade Noir and Ocean Noir that I got the 90 mL bottles too, and the Doc Blue is on the list for the next time I get ink.
5
out of
5

quality:

function:

style:

value:

Bought to replace a sample vial because it's a lovely color. Dedicated to inking up a Pilot Cavalier with Medium nib.
5
out of
5

quality:

function:

style:

value:

I got the Midnight Black, excellent, deep color for writing.
5
out of
5

quality:

function:

style:

value:

This ink is amazing to use as a drawing ink. It has rich depth of color, but can also be blotted and lifted off for tonal variation during sketching. Accepts "bleed in" from outliners or layered inks.
5
out of
5

quality:

function:

style:

value:

I got the Monteverde Topaz such a lovely orange color.
5
out of
5

quality:

function:

style:

value:


FAQs about the Monteverde Bottled Ink(30ml)