15 on the 15th
GIVEAWAY DAY!

Monteverde Bottled Ink(30ml) Fountain Pen Ink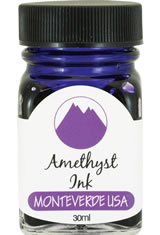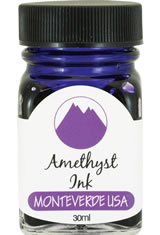 X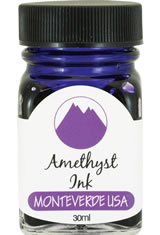 About the Monteverde Bottled Ink(30ml)
The Monteverde bottled fountain pen ink now comes in a smaller 30ml sample size. Monteverde Ink is one of the world's leading fountain pen inks. It is fairly inexpensive and comes with the leading European ink treatment formula, ITF™, designed to improve the ink flow. It is gentle on your pens and the added lubricant staves off any clogging and corroding. Monteverde fountain pen ink also has a quick dry time. Choose from a wide selection of ink colors!
Product Specifications
Cartridge Type: Bottled Ink
Available Sizes & Colors
The Monteverde Bottled Ink(30ml) Fountain Pen Ink usually ships within 1-3 business day unless otherwise specified or marked as special order.
* Special orders typically ship in 2-14 business days. However, occasionally due to manufacturer inventory, items can take up to 1-3 months. For a specific shipping estimate on your special order contact Customer Care.
Guaranteed Quality
Each Monteverde Bottled Ink(30ml) Fountain Pen Ink we sell is
guaranteed to be genuine
, authentic and will arrive brand new & unused!

Monteverde Bottled Ink(30ml) Color Chart

Amethyst

Azure Noir

Birthday Cake

Black Ash

Black Permanent

Blue Black


Blue Permanent

Blue Velvet Cake

Blueberry Muffin

Brown Sugar

California Teal

Canyon Rust


Capri Blue

Caribbean Blue


Charoite

Cherry Danish

Chocolate Pudding

Citrine


Coal Noir

Confidence Blue


Copper Noir

Emerald Green

Erinite

Fireopal


Garnet

Gratitude Magenta

Hope Green

Horizon Blue

Iced Cookie

Jade Noir

Joy Sepia

Key Lime

Kindness Pink

Love Red

Malachite

Malibu Blue


Mandarin Orange

Mango Mousse

Mercury Noir


Midnight Black

Monteverde Green

Moonstone

Motivation Orange

Mulberry Noir

Napa Burgundy


Ocean Noir


Olivine

Passion Burgundy

Peace Blue

Pumpkin Cake

Purple Mist

Purple Reign


Raven Noir

Red Velvet


Rose Noir

Rose Pink

Ruby

Sapphire


Scotch Brown


Smoke Noir

Strawberry Shortcake

Tanzanite


Topaz

Valentine Red

Wisdom Purple

Yosemite Green

Monteverde Bottled Ink(30ml) Reviews
This ink writes smoothly, is not a wet ink and dried on my Nebula Tomoe River 52g paper instantly. The color is a very nice bronzish brown, but not gold or too orangey. It looks beautiful on cream paper, although I have not tried it on white paper yet. A very great ink color.
5
out of
5

quality:

function:

style:

value:

I was surprised at how much I loved this ink. I'm not usually into brown, but this ink shades so beautifully (from a dark cocoa to a light sepia) that I dedicated a flex pen to it. Very expressive.
5
out of
5

quality:

function:

style:

value:

Purple Reign ink is a rich, warm purple. It just might be my favorite.
5
out of
5

quality:

function:

style:

value:

I love the colors of the Monteverde Sweet Life. I've purchased both the Blueberry Muffin and Pumpkin Cake (perfect for this time of year). The ink pigment is strong, the writing is smooth and the flow is consistent. I find that I do not have to spend any time to "restart" my pens if I haven't been writing for a few days with them, when I use this ink (I currently only have a couple of Monteverde pens).
4
out of
5

quality:

function:

style:

value:

Out of the bottle the ink was fine in my pen. It's a bit of an odd color but I wanted a yellow/orange for some diversity. Flows well, hasn't clogged my Monteverdi ID Flex nib. Haven't tested for any permanence or waterproof, don't believe it is either. If you're looking for this color you could do worse.
4
out of
5

quality:

function:

style:

value:

Brown Sugar is a great medium red brown that could be used for every day / work.
5
out of
5

quality:

function:

style:

value:

Nice ink. I like this brand overall. For the price you can't go wrong. This is fireopal. It's very similar to ancient copper in Diamine.
5
out of
5

quality:

function:

style:

value:

Deep blue black for business or personal correspondence. Complements color of the Lamy Petrol.
5
out of
5

quality:

function:

style:

value:

Ah yes... the Sweet Life..... how sweet it is. You'll get addicted to these truly sweet inks. The Monteverde Sweet Life "Key Lime Pie" is one of the best "glowing" light green inks available. Your choice of nibs will dictate the color depth and amount of wonderful shading that you'll enjoy. An X Fine or Fine nib will allow for moderate shading and the lightest of tones to show while a medium nib will deepen the tone and with a slower pen stoke you see rich saturated solid tone. I think I'm enjoying it most with a medium nib. This ink is easy to control, easy to manipulate and works with a wide variety of pen and nib choices. Key Lime Pie has excellent lubrication, flow characteristics and with a medium drying time, its on my top 10 list of favorite green inks. There are many other similar shades of this color ink available from many manufactures but you can't beat the price and performance on this one. This is a very good value. If you like this ink, you'll love the other shades.... they're all super tasty.
5
out of
5

quality:

function:

style:

value:

A wonderful shade of ink - my personal finalist from about seven different choices - and it looks so good when I write with it. I picked it to be paired with my new Sailor 2021 Pen of the Year - and I have to keep from wanting to lick the nib as it looks like I am writing with a nice Napa Burgundy wine. Thanks Pen Shelly - oops! - Pen Chalet!
5
out of
5

quality:

function:

style:

value:


FAQs about the Monteverde Bottled Ink(30ml)
Ships in 1-3 business day.