Aston Leather Rollup Pen Carrying Cases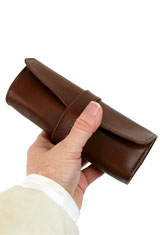 X

About the Aston Leather Rollup
The Aston Rollup pen case is made from cowhide leather and comes with a lifetime guarantee. Hand-crafted for exceptional distinction and durability.
The case holds five pens and has a Velcro tightening strap to secure the case. The interior of the case has soft black velvet material with a leather flap to secure and hold your pens in place. The dimensions of the Aston Rollup Pen Case Dimensions are 10 1/2" x 6 1/2".
Available Sizes & Colors
The Aston Leather Rollup Pen Carrying Cases usually ships within 1-3 business day unless otherwise specified or marked as special order.
* Special orders typically ship in 8-14 business days. However, occasionally due to manufacturer inventory, items can take up to 1-3 months. For a specific shipping estimate on your special order contact Customer Care.
Guaranteed Quality
Each Aston Leather Rollup Pen Carrying Cases we sell is
guaranteed to be genuine
, authentic and will arrive brand new & unused!
Aston Leather Rollup Video Script
This is the Aston leather pen roll up carrying case. The case is made of real cowhide leather. It comes in multiple colors. This is the brown version. It has nice, heavy duty stitching around the exterior. And on the interior of the carrying case, it's a nice, soft, black velvet material. We have a nice leather strap that holds the case closed. And at the top of where the pens go into the case is a protective leather piece with the Aston logo imprinted on it. It says, "Aston, New York."
So, it holds up to five pens. There's a separate slot for each pen and you simply slide the pens into the slots. This leather flap covers the top of the pens, and keeps them protected. And then you simply roll up the case, and this strap or band goes around and Velcro on, and holds the case in place. Like I said, that will hold up to five pens. It's a great carrying case. It's a great, high quality product -- Aston's. All their products are made in the United States. They're based out of New York City. Get your Aston leather pen roll up at PenChalet.com.

Aston Leather Rollup Reviews
Nice pen wrap! Arrives stiff as a board so apply a leather conditioner and work it in your hands to soften it.
5
out of
5

quality:

function:

style:

value:

High quality workmanship, functional, and appears to be durable.
5
out of
5

quality:

function:

style:

value:

5
out of
5

quality:

function:

style:

value:

Just got this beautiful rollup in the mail. Yes, it's beautiful. The brown leather looks and feels very high quality. Unfortunately, I bought this rollup so I can have 5 good sized fountain pens to carry. This rollup is only good for medium to small pens. Trying to fit an Edison Collier and an Opus 88 demonstrator is really pushing this rollup to its limits. I'll keep it because i have plenty of Visconti Rembrandts, Sailors and Platinums that will fit fine.
Love the look and the feel, but I'm disappointed.
4
out of
5

quality:

function:

style:

value:


FAQs about the Aston Leather Rollup
Ships in 1-3 business day.
Low inventory, act now!
price match