If you want to get an idea of the typical behavior of a dedicated, modern day fountain pen fan, you'll probably find this peek into our 2022 Q1 sales interesting.
Pen Chalet Customers Love Fountain Pens & And Everything Attached to the Them:
Whether you're new to the fountain pen community and interested to figure out what's "normal" or you're a deep diving, dedicated fountain pen fanatic that just needs more information, here's a quick peek inside how OUR fountain pen customers behaved during the 1st quarter of 2022. We'll run through the best selling fountain pens of 2022 Q1, the top selling fountain pen brand of 2022 Q1, the 5 US states that made the most fountain pen orders, and the top 3 US states that spend the most money on fountain pens, Pen Chalet's Fountain Pen Staff Picks, and a selection of fun an exciting new brands and products added in in 2022 Q1 that you may have missed.
If you're ready, to go, we'll run you through all the details, or you can check out the info laid out in the infographic to the left. Either way, you'll end up with the same information, so the choice is yours. Are you a visual learner? If so, I officially give you permission to stop reading, and instead begin perusing the image containing all the essential info you're looking for about 2022 Q1 and our customers' typical fountain pen behavior.
Best Selling Fountain Pens of 2022 Q1:
January: Leonardo Momento Zero Brooks Exclusive
February: Kaweco Collectors Edition Iridescent Pearl
March: Kaweco Collectors Edition Iridescent Pearl
Best Selling Fountain Pen Brand of 2022 Q1:
Lamy was our most frequently purchased fountain pen brand we carry in Q1 2022. (About 1 in every 10 fountain pens sold was a Lamy).
Top 5 US States: Highest Number of Orders in 2022 Q1
If you live in one of these states, congratulations! You probably contributed to helping your state become one of 5 states that made the highest number of orders in the nation. These 5 states made the highest number of orders in Q1 2022:
California 15% of total orders
Texas 8% of total orders
New York 7% of total orders
Florida 6% of total orders
Pennsylvania 5% of total orders
Fountain Pen Big Spenders: These US States Spent the Most Money on Fountain Pens
California (14.5 % of Q1 2022 total US sales)
Texas (8.5 % of Q1 2022 total US sales)
New York (7 % of Q1 2022 total US sales)
Virginia (3.7% of Q1 2022 total US sales)
Illinois (3.6% of Q1 2022 total US sales)
Pen Chalet Fountain Pen Staff Picks: 2022 Q1
Here are the Staff Picks from the first quarter of 2022 in case you missed them. If you love fountain pens and Staff Picks, make sure to follow us (@penchalet) on your favorite social media platforms so you don't miss anything!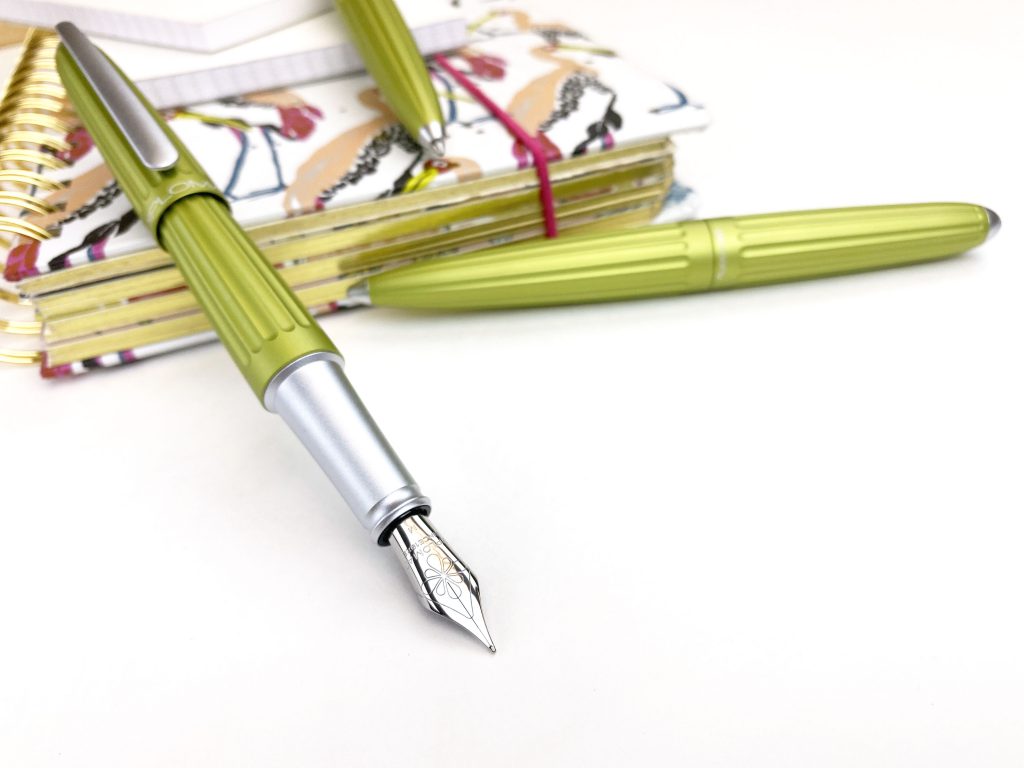 Ron (co-owner): Diplomat Aero fountain pen
Ken (co-owner): Pilot Custom 823 fountain pen
SarahBeth (marketing): Tibaldi Perfecta fountain pen
Lainey (customer service): Narwhal Original fountain pen
Deb (customer service): Leonardo Officina Italiana Momento Zero fountain pen
Bekah (customer service): Kaweco Sport fountain pen
Nate (shipping): Pilot Vanishing Point fountain pen
Katie (shipping): Platinum Plaisir fountain pen
Christy (receiving): Pelikan Twist fountain pen
New Brands & Products You May Have Missed from 2022 Q1:
We picked up some new brands and added some exciting products to inventory during 2022 Q1. In case you missed it, you should check out these new brands: Ferris Wheel Press, Kilk, Hinze, and LeBoeuf. We also introduced some fen new accessories your pens might be wishing you had noticed. Have you seen our Sassy Brassy Cat pen holder? And don't overlook the new Lucky Cat pen rests (5 different options to choose from including Undefeated Cat, Friendly Cat, Cozy Cat, Satisfied Cat, and Playful Cat.
Looking Forward to Seeing What Y'all Do in 2022 Q2:
As we wrap up the second quarter of 2022, we can't deny that we're excited to see how the "typical" fountain pen fanatic shopping at Pen Chalet behaves. Will it be different than Q1? We shall see…and maybe we'll give you another update so you can see, too. But for now, don't be excluded from all the fun, indulge your pen and ink obsession anytime you feel the urge at PenChalet.com.