It's World Teacher Day (October 5th, 2022), so we're doing you a favor and sharing a helpful list of the Top 5 pens for teachers in 2022; now you'll know which pens the teachers in your life should have in their hands. Celebrate #WorldTeacherDay by gifting a teacher friend a new pen, or writing a thank you card to one of your favorite teachers from your youth, a teacher you're learning from right now that blows your mind regularly, or one of your kid's teachers that goes the extra mile. Read on to find out which pens we think are the top 5 pens for teachers in 2022.
2022 Top 5 Pens for Teachers
Platinum Preppy Highlighters
Monteverde Superblack Tool Pen
Retro 51 Mechanical Pencils
Pineider Avatar UR Matte Black Ballpoint Pen
Lamy AL Star Ballpoint Pen: Comfortable & On Trend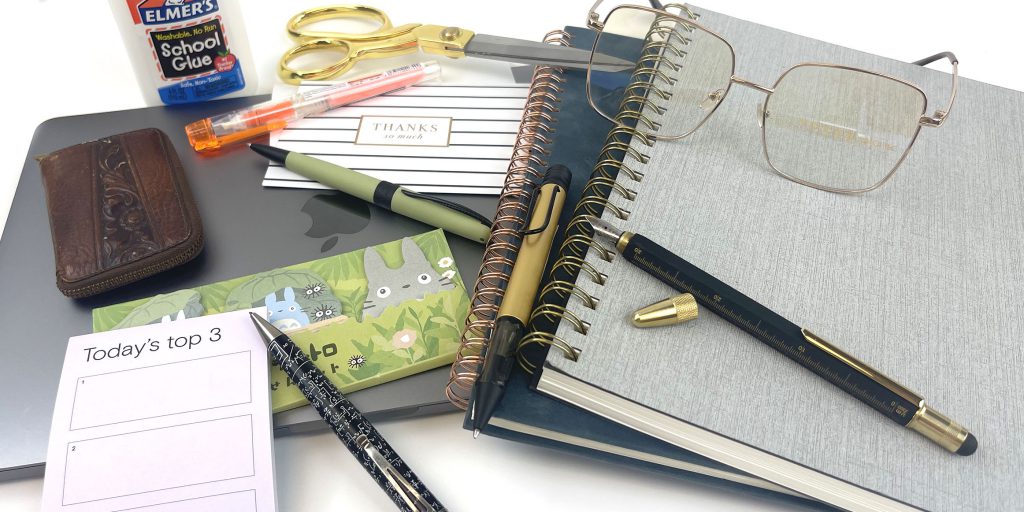 Lamy is known for being consistently smooth and clean, and the well known design is applauded the world over for its iconic pen clip, and comfortable grip (even for longer writing or grading sessions). At a great (and fairly affordable) price point considering the ease of refilling with Lamy ballpoint pen refills, this pen is aesthetic and feasible. The classic Lamy AL Star ballpoint pen is the special edition Au Black finish just gives this top 5 pick an extra punch of exclusivity and pulls it to the top of the the 2022 Top 5 Pens for Teachers list.
Platinum Preppy Highlighters: Eco-Friendly & Fun
Did you know there were refillable highlighters? Platinum Preppy Highlighters are available in a variety of colors, and these refillable highlighters are a fantastic option for teachers who like to go old school with their note-taking, and lesson planning. They can also be a fantastic option for grading or editing with steady highlighter ink that the popular Preppy design puts down consistently. One of the most popular and affordable basic models from this reputable pen maker, the Platinum Preppy really accommodates the highlighter "look" with a demonstrator body and cap that makes using this highlighter (or set of highlighters) tons of fun.
Monteverde Superblack Tool Pen: Stunning & Multi-functional
The Monteverde Tool pen has been around awhile, but they recently introduced the Superblack version. It's still very usable with a number of different everyday "tools" built right into the design including: a level, multiple methods of measurement, a stylus, a phillips head screwdriver, a flathead screwdriver, and, of course…the pen. As an added bonus, this particular pen release is in the new Superblack material Monteverde introduced earlier in 2022, and is combined with a fountain pen nib for some extra class…in class.
Retro 51 Mechanical Pencils: A Better Version of Your Dad's Mechanical Pencil
If you haven't yet been introduced to Retro 51 mechanical pencils, you simply must allow the meet cute to happen. These mechanical pencils aren't your standard plastic barrels with flimsy (I might even go so far as to say brittle) lead. The Retro 51 mechanical pencils feature the same popular Retro 51 tornado designs you see on the popular Tornado pen releases (not ALL of them, but many of them), and they come with 1.15 mm lead (with extras included of both the lead and the replaceable eraser).
Pineider Avatar UR Matte Black Ballpoint Pen: An Italian-made Technological Puzzle
Pineider Avatar UR Matte Black Edition ballpoint pens are created using Glueless technology (a feat of pen engineering worthy of a feature in any classroom) with unbreakable marbled UltraResin paired with black trim. Plus, it's made in Italy by one of the oldest and most reputable names in the industry. So you get to bring your fancy into the classroom with your favorite hooligans, but you won't have to live in fear that your Italian pen will easily break, Pineider is better than that.
Wrapping Up Top 5 Pens for Teachers 2022:
And that's a wrap on our 2022 Top 5 Pens for Teachers List! We hope you enjoyed our top picks for your favorite educators (or for YOU if you happen to be a teacher yourself). And if you ARE a teacher – THANK YOU! You are amazing and we hope you have a wonderful World Teacher Day 2022! And if you need to look around a bit more and discover the perfect pen to take into the classroom…check out all the best available options from your favorite pen makers at PenChalet.com.