Ready today's Kuretake Ebicha Ink Review for more information on this gorgeous ink from one of the newest ink brands added to the Pen Chalet lineup!
Today's Featured Ink: Kuretake Ebicha Ink
In today's Kuretake Ebicha ink review, we'll give you a look at how this ink performs. But before we get started – you might want to know what to expect. Kuretake Ebicha ink is made in Japan, and Kuretake has been in the business for more than 120 years. Kuretake Ebicha ink is a soft brown shade inspired by the color of traditional Hakama pants worn by Japanese women.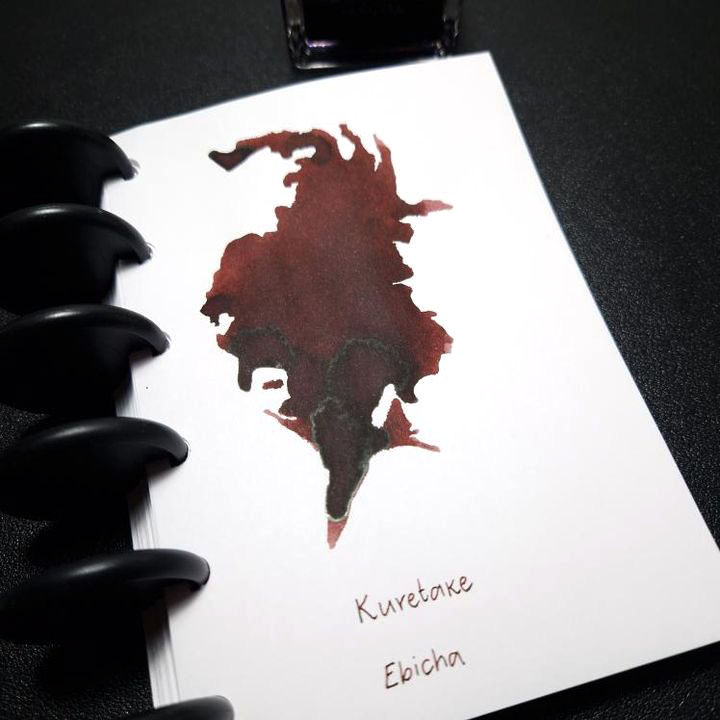 What Ink Series Does it Belong To?
If you are intrigued by Kuretake Ebicha fountain pen ink, you might be interested to know it's part of an ink collection, the Kuretake Meiji no Iro Ink Collection. Kuretake released the Meiji no Iro inks in 2022 to celebrate their 120th anniversary. Each of the inks in the collection is inspired by fashions and art from the Japanese Meiji-era. Since Kuretake was founded in 1902, that means that in this ink collection, you'll see colors reflecting popular colors in clothes, decorative items, and inks from the time period when they first got started.
Kuretake Ebicha Ink: How Does it Perform on Paper?
The Meiji no Iro inks are water-based dye inks, but offer a more substantial feel than most water-based dye inks you'll find on the market. So, you can embrace the thicker ink and the fantastic consistency it offers while also loving the fact that the inks are safe for use with all your fountain pens, dip pens, brushes, etc. Expect to enjoy a smooth writing experience with your pens and dip pens, and when used with a brush, you may be surprised to discover how opaque these inks go down.
What's the Kuretake Ebicha Ink Bottle Like?
The Kuretake Ebicha ink some in a square 20ml glass bottle with labeling reflecting the general color of the ink inside the bottle. The cap is faceted. The ink is packaged in a cardboard box with a traditional Meiji-era pattern matching the label on the ink bottle.
Our Guest Reviewer: Kuretake Ebicha Ink Review
Christine is a huge fan of fountain pens, inks, paper, and leather, and their ability to work together to create a simply wonderful story. Catch her updating you on her latest writing adventures, favorite inks, and pens in her personal collection on Instagram @from.pens.with.love.
Other Products Seen in Today's Kuretake Ebicha Ink Review:
Other products seen alongside today's featured Kuretake ink include:
Final Conclusion: Kuretake Ebicha Ink Review
"Ebicha is one ink I have completely fallen in love with lately. It's beautiful.
It's leaning a bit on the drier side, but not by a lot. It's just great!" -Christine
Where to Buy Fountain Pen Inks:
Thanks for dropping by to read this week's ink review featuring Kuretake Ebicha fountain pen ink. We hope you come back soon. And we hope you check out all the other options available to you for your fountain pens, your dip pens, your brushes, your brush pens…the sky is the limit. But whatever you do, just keep inking up! Shop for your next favorite fountain pen ink at PenChalet.com.
Looking to enter to win one of our weekly review inks? You'll find them featured as giveaway prizes during our 15 on the 15th Giveaway Day with Pen Chalet – on the 15th of every month!