Are you ready to read a Tibaldi Bononia Mercury fountain pen review? Let's hear from one of our guest reviewers.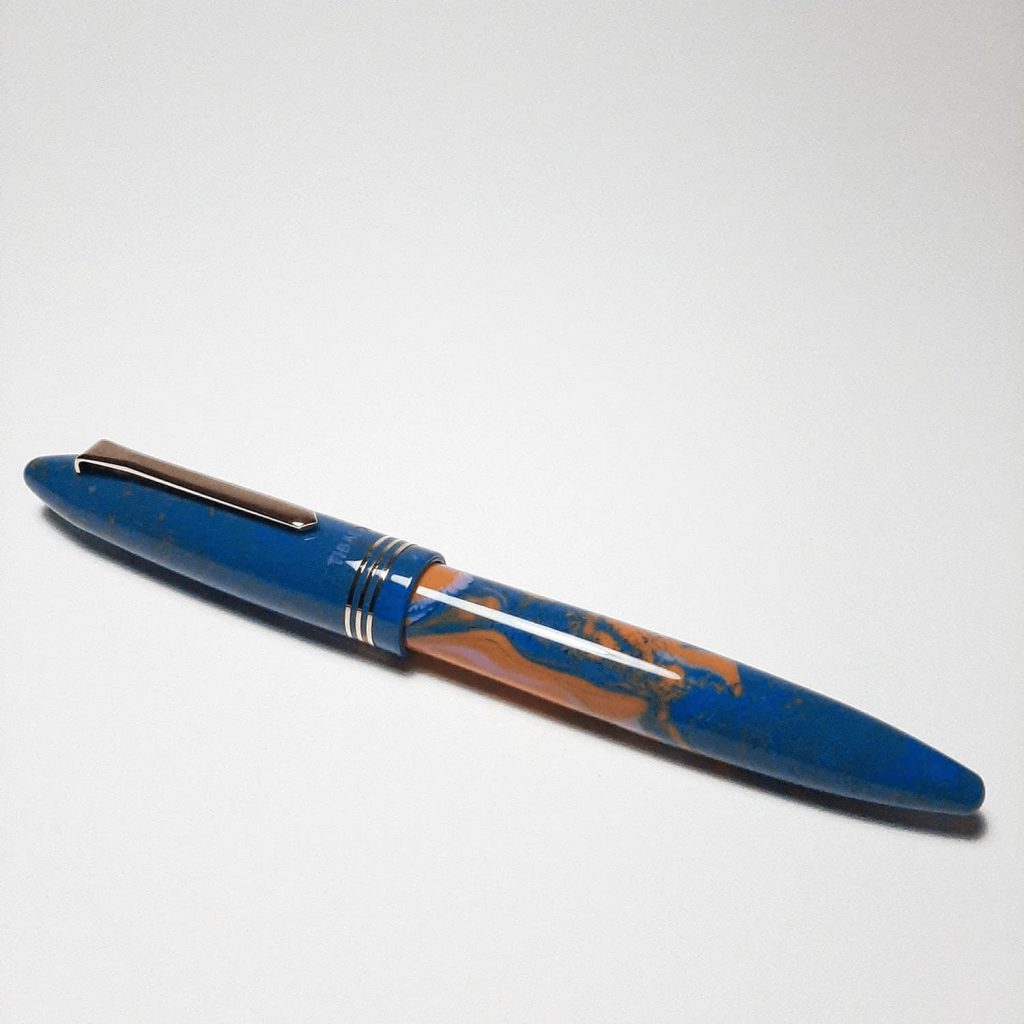 Our Guest Reviewer: Christine, Also Known as @From.Pens.With.Love
Christine is a big fan of fountain pens, inks, excellent paper, notebooks, and cool leather products. She's also one of our regular guest reviewers. From past experience, we know that ya'll love her take on the pens, inks, and papers you're hoping to add to your collection. You may already follow her on Instagram where she creates a wonderful story featuring many of the pens and inks and writing accessories you already love, plus some new discoveries you'll be excited to get to know. We'll read the rest of today's Tibaldi Bononia Mercury fountain pen review in Christine's own words!
Tibaldi Bononia Mercury Fountain Pen Review: First Impressions
Taking a look at this pen made me want to sing Girls Just Wanna Have Fun. Holding it in my hand for the first time made me want to dance while simultaneously singing Girls Just Wanna Have Fun.
The Materials: Tibaldi Bononia Mercury
The Tibaldi Bononia Mercury fountain pen is made of a resin mix of a few different colors. The primary color is blue, then some orange and lilac, and it makes the pen look so fun and beautiful at the same time. Tibaldi does nothing short of unique-looking resin blends, but this one is a little different from their usual style, and I really like what they did here!
Does the Tibaldi Bononia Mercury post?
It does post and it posts well with no fear of having the pen scratched while the cap stay in its place while posted. When posted the pen is well balanced in weight without getting too long so I am still comfortable while writing.
How does it write?
The Tibaldi Bononia Mercury fountain pen writes beautifully. It's a very comfortable pen to hold, and I have no issues writing with this for pages at a time. It's a medium wet and consistent flow—no problems with skipping on either this or any other Tibaldi pens I own. I will blame some of the juicy flow on the ebonite feed this pen is fitted with, and without being able to accurately point my finger on it – it sure is a bit of a unique experience.
Let's Talk About Nibs: Tibaldi Bononia Mercury Fountain Pens
This pen comes with a #6 steel medium nib that is smooth against the paper. Complemented with its ebonite feed, this is nothing but a beautiful writing experience.
The nib does, however, feel slightly finer than a standard western nib, but I won't go so far as to say it feels more like a fine. Maybe something in between.
Tibaldi Bononia Mercury Fountain Pen: Design Highlights
The highlight for me is definitely the resin mix combined with the rose gold hardware like the nib, clip, and cap rings. It's an oddly pleasant combination I can not get enough of.
Conclusion: Tibaldi Bononia Mercury Fountain Pen Review
This is it. This is, hands down, one of my favorite pens. Fun, beautiful, and a true pleasure to write with. What more can a pen nerd ask for than a pen that satisfies all your needs? Tibaldi most definitely made my dreams come true with the Tibaldi Bononia Mercury fountain pen.
Shop for Tibaldi Pens: Italian Made Luxury Pens
If you're hoping to get your hands on a Tibaldi Mercury Bononia fountain pen of your own, don't waste time, this is a limited edition. Discover more popular luxury pens and fountain pen inks on our recently reviewed pens and ink page. Check for availability and discover which other pen releases Tibaldi has on the market alongside all your other favorite luxury pen and ink brands at PenChalet.com.