Did you hear about the National Stationery ink Plum Out? The Exclusive ink from Robert Oster is only available at PenChalet.com. You'll find it's an excellent addition to your ink collection, as well as being an excellent everyday ink choice. Find out how you can get your hands on one of the Robert Oster Exclusive National Stationery Week Plum Out inks now! And get your National Stationery Week celebrations rolling.
Are You Celebrating National Stationery Week 2022?
National Stationery Week 2022 is May 16th through May 22nd, 2022. So pull out your favorite fountain pens, inks, papers, and notebooks because it's time to celebrate! But where should you start? We recommend checking out the EXCLUSIVE BOGO for we're offering for National Stationery Week 2022. See how you can take advantage of the Exclusive Plum Out National Stationery Week 2022 Ink from Robert Oster before they're out…wait…not just out….PLUM OUT! We have a NEW Pen Chalet Exclusive Robert Oster ink and we are giving it away for FREE! Purchase any bottle of Robert Oster MudPack ink and receive a bottle of Robert Oster Plum Out. We have a limited supply of this fantastic purple ink available until they are "plum out"! So hurry, don't miss this one chance to get your bottle of Robert Oster's (very limited) Plum Out ink!
All About the Exclusive Robert Oster National Stationery Week 2022 Plum Out Ink: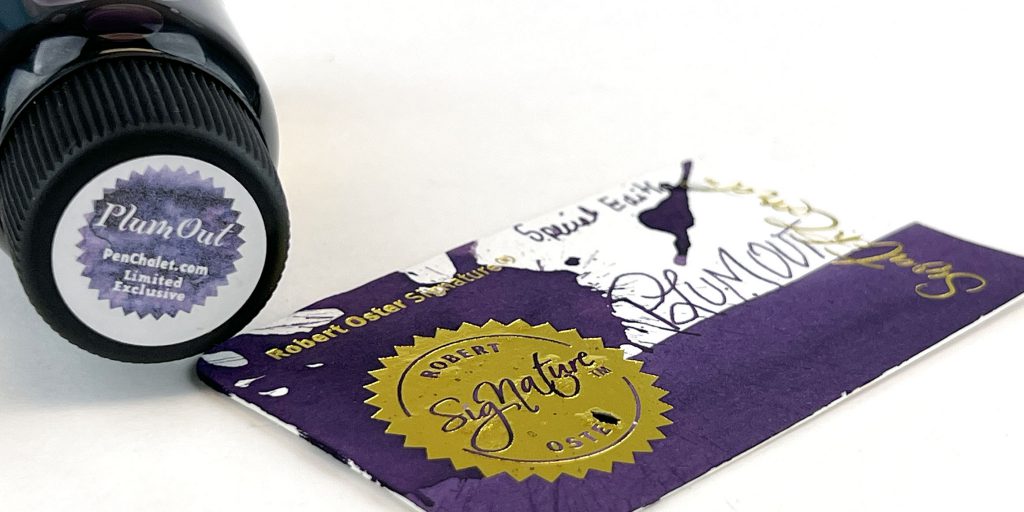 The Exclusive Robert Oster National Stationery Week 2022 Plum Out fountain pen ink is an extremely limited ink only available at Pen Chalet. This is a one-time production, and once this ink is gone, we (and the entire world) will be PLUM OUT! There are no makeup days, rain checks, or redos. In addition to being exclusive, and commemorative, this ink is a great choice for writing enthusiasts. Robert Oster inks are notoriously easy to use and beautiful on paper, and Plum Out fountain pen ink is no exception. It's also got great shading possibilities featuring a range of gorgeous, vivid purples.
Robert Oster Plum Out Ink for 2022 National Stationery Week: What About the Bottle?
The Robert Oster Plum Out Exclusive 2022 National Stationery Week fountain pen ink comes in the brand's recognizable 50ml recyclable PET ink bottle (a very environmentally friendly ink packaging Robert Oster fans love). Robert Oster inks are imported from Australia, and the minimal packaging (that is known for being easy to carry, easy to ship, and very good at keeping ink INSIDE the bottle) is almost as well-loved as the ink itself.
Keep the National Stationery Week 2022 Celebrations Going:
Hopefully, you have National Stationery Week on your calendar, but that's not enough. You also need to dive into a few of the traditional celebrations! Consider one or two of the challenges that will help you as you celebrate all things stationery this week!
What's the Purpose of National Stationery Week?
National Stationery Week is all for the love of stationery. The purpose is to celebrate writing by hand (or analog writing as we like to call it), and get people all around the world to talking – about their favorite stationery products, and their favorite stationery related hobbies. Possibly most importantly, National Stationery Week, is all about encouraging people to send out more letters, and cards, and notes.
Are You a Stationery Addict? Prove It by Joining in the Fun:
This year the official National Stationery Week campaign celebrates with its Seven Days of Stationery. We're joining in the fun with a few of our favorites, and we think you should, too. Declare yourself proud to be a Stationery Addict and get involved with one or two of the daily challenges floating around this week.
Monday: #WritingMatters (Share a sample of your handwriting or the handwriting of someone close to you. There's nothing more personal than someone's handwriting – that's why a handwritten note means so much).
Tuesday: #TakeANote (Take a note of your favorite quote and share it with a friend – or a stranger – or the entire online community).
Wednesday: #WorldStationeryDay (This year we, along with a huge portion of the pen and ink industry, celebrated World Stationery Day on April 20th. However, the official "holiday" is on the Wednesday during National Stationery Week, so we HAD to acknowledge it again). Share your favorite stationery with us and all your closest friends and followers with Wednesday's hashtag.
Thursday: #WriteALetterDay (You know what this one's about – just do it).
Friday: #FountainPenFriday (People everywhere should take this opportunity to rejoice in their favorite pen – pull it out and wave it in the air like you just don't care. Except you DO care because it's your favorite, so wave it in the air like that. And make sure to take a picture and hashtag is #fountainpenfriday so we can all enjoy your favorite along with you).
Happy National Stationery Week 2022 from Pen Chalet:
We hope you enjoy the celebrations this week! Consider following us on social media (just look for @penchalet on your favorite social media platforms), and tag us in your posts. We'd love to join in your celebrations virtually. And, as always, come see us when you need another pen or ink to add to your amazing collection at PenChalet.com.