Many of you have had a lot of questions about Dominant Industry inks so it makes sense we'd make a point of featuring them in an ink review. Dominant Industry is one of our newer brands, and their arrival was greeted with a lot of enthusiasm and excitement…and questions. To get you answers to all your questions, we got several different inks into the hands of some of our guest reviewers.
Guest Reviewer of Autumn Forest & Periwinkle Blue
Amy (aka ayachan91.journal) was the guest reviewer who took a look at Dominant Industry Autumn Forest ink and Dominant Industry Periwinkle Blue ink. If you seek her out on social media, you'll discover that she's all about handwriting, fountain pens, books, and journaling. Let's see what she thought of the two Dominant Industry inks we sent her way. In her words, "I think most fountain pen users know that fountain pen inks are half the fun! @penchalet just recently added Dominant Industry inks to their inventory, and I'm excited to share my thoughts with you."
Take a Look at the Dominant Industry Autumn Forest & Periwinkle Blue Ink Review Sneak Peek Video #Shorts:
Our guest reviewer, put together a quick sneak peek for you if you're more of a visual person. Dive into Dominant Industry Pearl Series Autumn Forest ink and Dominant Industry Standard Series Periwinkle Blue ink with a quick look at the beautiful glass ink bottles (ink drop shaped and display quality), ink swatches, and writing samples!
Ink Review: Dominant Industry Autumn Forest and Periwinkle Blue
In the words of our guest reviewer, Amy:
I received Autumn Forest and Periwinkle Blue from Pen Chalet.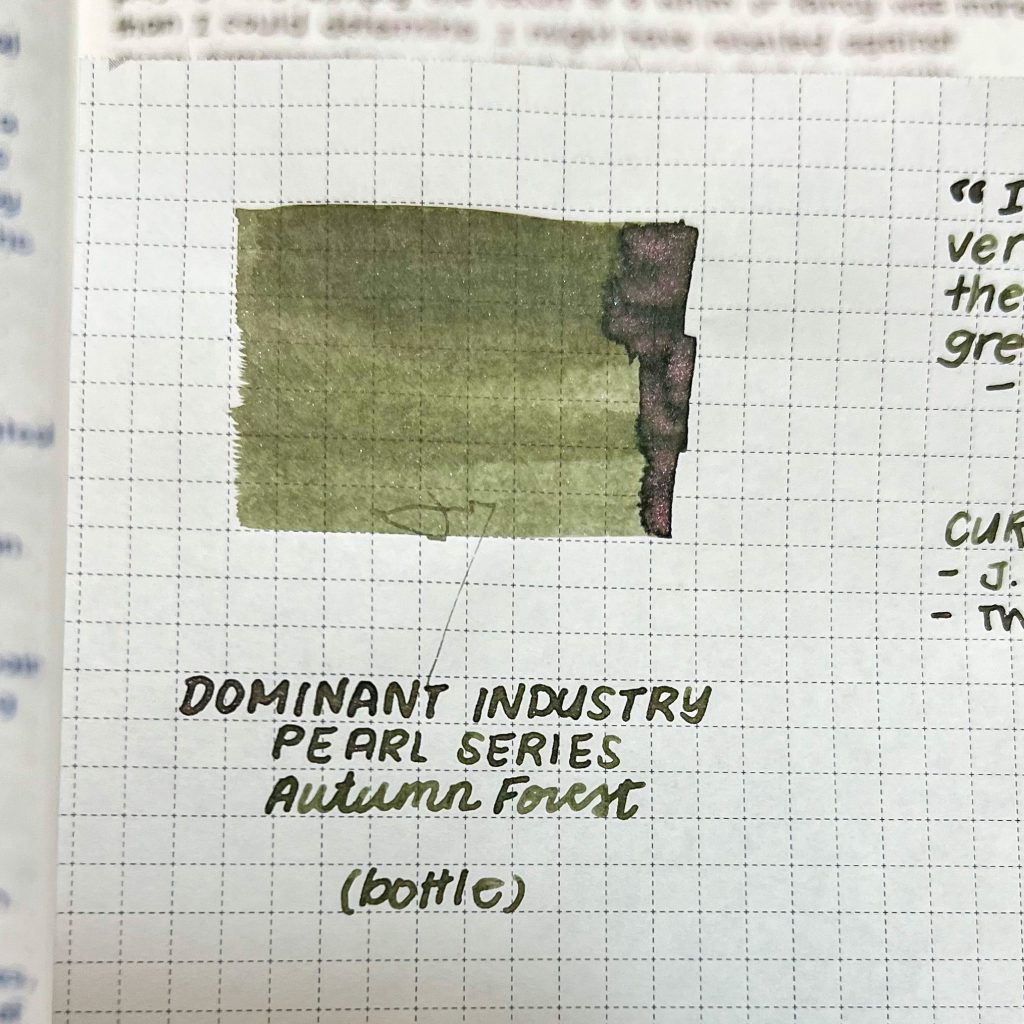 How Did the Dominant Industry Inks Behave During the Review?
Both inks were great to write with and behaved well in the pens I used. The colors were quite vibrant in my EF and F nibs. Of the two, I'd say Autumn Forest was my favorite. I just love how the red-pink matches with the dark green on the page. 😍 Definitely Fall vibes, and it makes me miss the changing colors of leaves.
How is the Dominant Industry Ink Packaging?
I look forward to trying more Dominant Industry inks in the future. The packaging of the inks was top-notch with dust bags and a mini pipette. What colors are you gravitating towards these days?
Browse Pens, Read an Ink Review, Shop Dominant Industry Inks, and More!
We hope you enjoyed today's ink review – Dominant Industry inks continue to get a great response from pen and ink fans around the world! Browse pens, read more ink reviews, shop Dominant Industry inks, and more at PenChalet.com.