Blast off with new ink color releases from Colorverse Season Seven! Today's Colorverse Eye on the Universe SM1 ink review is one of the colors included in the latest release from popular Colorverse ink.
All About the Ink Maker: Colorverse
Colorverse is a Korean ink company that uses premium quality materials (including natural pigments and plant-based dyes) to create fountain pen inks showcasing pure, vivid colors. The Colorverse formula is known for exceptional solubility and works very well with fountain pens.
***In a rush? Experiencing a decided lack of patience? Not in the mood to read? Well, never fear, if you skip the full review to jump directly to the bottom and enter to win the bottle of ink we used for this week's ink review…we'll forgive you.
All About the Ink Series: Colorverse Season 7 Eye on the Universe
Colorverse Season 7 ink series is called Eye on the Universe. The ink series is inspired by out of this world discoveries made by the Hubble telescope. The Eye on the Universe Series includes 12 new ink colors in 6 paired sets. Each color featured in this Colorverse series has a multitude of colors coming through in sheening and shading characteristics. The 6 sets included in the Colorverse Eye on the Universe ink series are:
Hubble and HST
Extreme Deep Field and NGC 1850
Pillars of Creation and Mystic Mountain
Crab Nebula and Horsehead Nebula
Hippocamp and Comet SL9
SM1 and Costar
The primary color of each pair of inks comes in a 65 ml. ink bottle and the secondary color comes in a 15 ml. ink bottle (the same way paired inks have been packaged by Colorverse in previous ink series releases). This week's ink review features Colorverse SM1 ink, so the winner of this week's ink giveaway will receive the 65 ml. ink bottle of SM1 used for this week's review.
This Week's Featured Ink: Colorverse Eye on the Universe SM1 Ink
This week's ink, Colorverse SM1 ink, is a dark blue with a deep burgundy mega sheening trait. The ink color shows up very dark on paper.
It's Time: Colorverse Eye on the Universe SM1 Ink Review
This week we put SN1 ink from Colorverse's recent Eye on the Universe Season 7 ink release to the test! Read the full review results: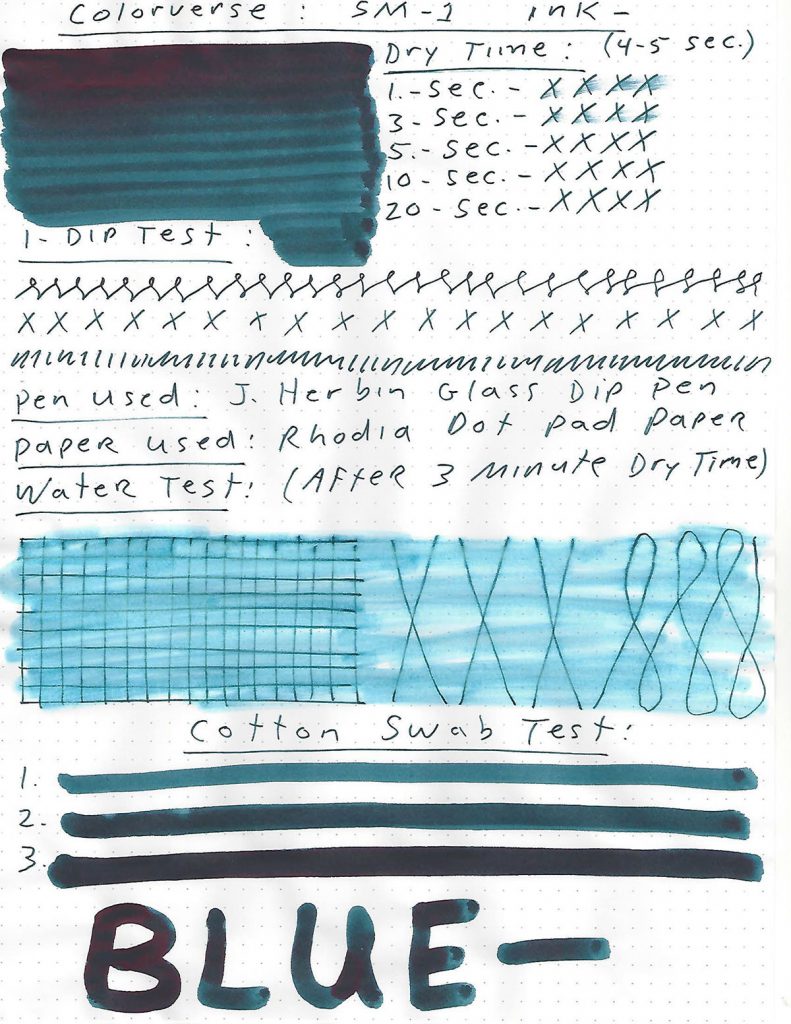 Ink Review Testing Factors (to keep things scientific):
For our review of Private Reserve Purple Mojo ink we used a French made J. Herbin spiral glass dip pen on French made Rhodia paper (dot pad). The dip pen has a tip similar to a medium-fine fountain pen nib.
Let's Talk About the Colorverse Ink Bottle
Colorverse SM1 ink comes in a 65 ml. ink bottle with a companion 15 ml. bottle of Costar. The medium sized lid on the 65 ml. bottle is ribbed for easy opening, and everyone we ever discussed it with loves Colorverse's distinctive bottle shape. The ink comes in a standard Colorverse box with a colorful label and wonderful presentation. (You even get a small packet of "ink swag.")
How Much Does Colorverse Fountain Pen Ink Cost?
Colorverse fountain pen ink is a reasonably priced ink; especially when you consider that you are purchasing 2 bottles of ink totaling more than 80 ml. Look for the latest current prices at PenChalet.com.
How Did This Week's Ink Fair in the 1-Dip Test?
We applied a one dip test to see how far one dip could could write on paper (dipping the pen in the ink only one time). SM1 ink easily wrote across the page on all three writing samples (S, X, and scribble lines) with ink to spare.
How Fast Does this Week's Featured Ink Dry?
Colorverse SM1 ink has a very quick dry time (approximately 4-5 seconds) with medium saturation. (This is a nice and quick dry time for a medium saturation ink).
Does Colorverse SM1 Ink Bleed Through?
We saw no bleeding during normal use. In fact, we didn't even see any bleeding during the heavy saturated cotton swab test.
Was There Any Feathering During the Review?
We saw no feathering during normal use on Rhodia paper, but we did see some slight feathering during the water test.
How Does the Ink Stand Up to Water?
Colorverse SM1 ink is not a waterproof ink. We saw heavy blue color smearing during the water test, but the lines were still clear and legible (with some slight distortion and fading).
What About Shading & Sheening Traits?
We saw some nice shading traits. However, as always, shading traits are dependent on penmanship, nib, and ink application. Additionally, Colorverse SM1 ink is a mega sheening ink with a nice complementary, dark burgundy sheen that easily comes out during use.
Final Conclusion on this Week's Featured Colorverse Ink:
Colorverse SM1 is a reasonably priced ink made by a well-regarded company. The nice, dark blue color has a very unique sheen (nice burgundy red), the ink shows up dark on paper, and the ink showed a very quick dry time of just 4-5 seconds. It's a great choice for notes, cards, letters, or other ink projects. The large 65 ml. ink bottle of SM1 comes with a complementary 15 ml. bottle of Costar ink (when you purchase the set). The ink sets in the Colorverse Eye on the Universe ink series have great packaging and presentation. Happy writing from the outer reaches of SPACE!
Enter to Win a Private Reserve Fountain Pen Ink:
Enter to win the actual bottle of Private Reserve Purple Mojo fountain pen ink that Pen Chalet used in this week's ink review: