One of our guest reviewers recently decided to do a bit of a Kaweco Liliput Fountain pen comparison with two versions of the Kaweco Liliput. We thought it was a brilliant idea. Of course, we had to share it with you since we know you'll need to know if one takes home the win, if it was a TKO, or if the ref had to call it, etc.
Our Guest Reviewer: Melyssa
Today's feature isn't a standard fountain pen review – it's a bit of a battle of the pens, so I guess that makes today's guest reviewer more of a referee. But whether she's being a guest pen reviewer or a guest pen referee, Melyssa (also known as @mel.naujoks) is an artist who particuarly loves art journaling and adores using beautiful fountain pens and inks in her creations. She also has a fierce love of the color purple. Now, let's dive right into the middle of this pen battle…comparison and contrast piece.
The following review is in the words of our guest reviewer, Melyssa.
Kaweco Liliput Fountain Pens: Green vs Fire Blue
I've had both pens in my collection for awhile now: 1) the Kaweco Liliput in green (aluminum), which is a 2022 release in the Collector's Edition line, and 2) the Kaweco Liliput fountain pen in fire blue (steel). I love both of them. Both are currently sitting in my EDC case with my favorite inks and truthfully I don't plan to take either of them out anytime soon. I'm more than happy using them everyday and probably will continue to do so for a good while.  So I thought I would share my thoughts on both models in case you wanted to try one yourself.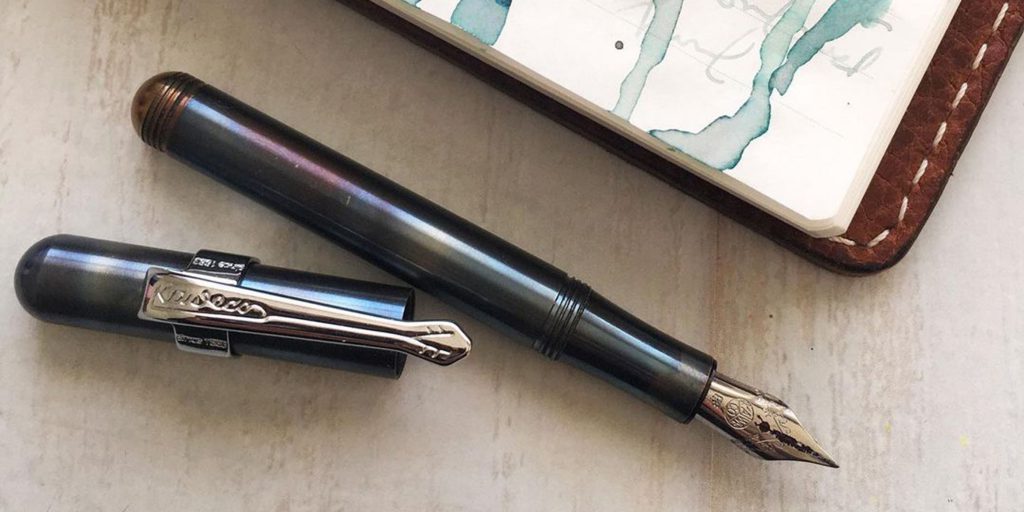 A Quick Look at the Kaweco Liliputs Used for Today's Feature:
A little about the pens to start off, they are both in the Kaweco Liliput line. The green is made of aluminum, and the fire blue is made of steel. They do have other models (I believe brass and copper) however, I've only tried aluminum and fire blue.
Liliput Fountain Pen Specs: Differences & Similarities
Weight-wise, the aluminum (green) is about 0.30oz or 9g, and the steel (fire blue) is 0.74oz or 21g. Both take cartridges, have a screw cap, are pocket-sized pens, and do not come with an attached clip. (But a Kaweco Liliput pen clip can be purchased separately).
How Do They Write?
Both of the Liliput fountain pens write beautifully. I have a fine nib in the green and an extra fine in the fire blue, and I love both nib sizes. You can feel the difference in weight between the two pens when writing, but it isn't a huge difference, and both are still very light. So I think it comes down to price and aesthetics when comparing the two.
The LOOK of the Liliput Fountain Pens:
Aesthetically I think the fire blue takes the cake on this one. Yes the green color is beautiful, bright and feels like summer but the fire blue is something else. The hand torched finish on the fire blue is stunning. However something to keep in mind is the colors might change or fade. Mine hasn't faded yet but the colors have shifted and changed from use. You might enjoy it if you like seeing patina on a pen. If that's not your thing the aluminum might be for you.
The Difference in Price Between the Two Kaweco Liliput Fountain Pens:
When we talk about the price that's another story. The fire blue version (being the more expensive option) is more than double the price of the green. The green Collector's Edition Liliput is around $60 and the fire blue is $180 (prices from penchalet.com as of July 2022). If you want a pocket pen but don't want to break the bank, the aluminum version is the way to go. And hopefully Kaweco will bring in some new limited edition colors!
Performance wise there is no difference in these pens given they're the same model. It really does come down to aesthetics and price. So which version would you choose?
Shoping Kaweco Liliput Fountain Pens:
Whether you've decided on the green or the fire blue, your first stop shop should be Pen Chalet. We've got you covered whether you're looking for your first Kaweco, your 50th Kaweco, or one of the many other popular pen or ink brands on the market. Shop your favorite pens and inks (and your soon-to-be favorite pens and inks) at PenChalet.com.