Read today's Diplomat Black ink review, and find out how to enter to win the inks we feature in our weekly reviews. Today's ink review comes to you from one of our guest reviewers, but before we introduce Iris again, here's a little refresher about changes we made to the weekly ink review inks and how you can win them!
All About the Giveaway: Enter to Win the Inks Featured in Weekly Ink Reviews
If you're looking for the giveaway that usually accompanies our weekly ink reviews, you may not have been here in a while. Several months ago we made a bit of a change. But it's one you're going to love! As always, we don't blame you if you want to skip straight to the bottom of the review and enter to win. But WHEN you win is a bit different. Winners are no longer picked each week! Instead, we include the inks from our weekly ink reviews as giveaway prizes during our monthly 15 on the 15th: GIVEAWAY DAY with Pen Chalet.
Check out the 15 on the 15th fun (you're going to love it)!
Today's Guest Reviewer: Iris Tu
Today's is Iris! In addition to being an ink reviewer, she's a wanderer, an adventurer, a forever student, a mom of 2, and a huge fan of all things fountain pen and ink! She's also really thorough when she's checking out a new ink. We thought you'd appreciate her approach to tackling the get to know you process between an ink and a writing enthusiast/artist.
•The ink review below is in our guest reviewer, Iris Tu's, own words.
All About the Ink Maker: Diplomat
Diplomat, a German company founded in 1922, began with fountain pens and then added ballpoint pens to its products in the 1950s. Shortly thereafter, they introduced fountain pens with ink cartridges, an innovative idea back when converters were the norm. Among their popular offerings today is the Diplomat Aero pen, with its Zeppelin-inspired body. In 2021, Diplomat partnered with a German ink company, Octopus Fluids (established 1826, though it had ups and downs and came back in 2011 under its current name), who developed 15 different colors under the collaboration, of which Diplomat Black is one. This ink comes in a 30-ml, glass bottle that is enclosed in a simple white box with black lettering.
Products Used During Today's Diplomat Black Ink Review:
Tomoe River 68 gsm White Paper bound in an A5 notebook, dotted
Cosmo Air Light 75 gsm Paper bound in an A5 notebook, dotted
Generic Copy Paper, cut in half
Calligraphy Dip Pen Holder
Zebra G Nib
Moonman Glass Dip Pen with fude nib
Sheaffer Pop Star Wars Vader (M)
Glass rod
Eyedropper
Cotton swab
A small cup of water
Making Ink Swatches, Ink Splashes, and Writing Samples: the Method
Ink swabs on the Col-o-Ring and papers were made with a cotton swab and ink name with a dip pen with a Zebra G nib. Ink swabs for comparisons were made with a glass rod. Ink drops were made with an eyedropper dropped from a height of at least 3 inches.
Testing the Ink's Performance: 4 Different Papers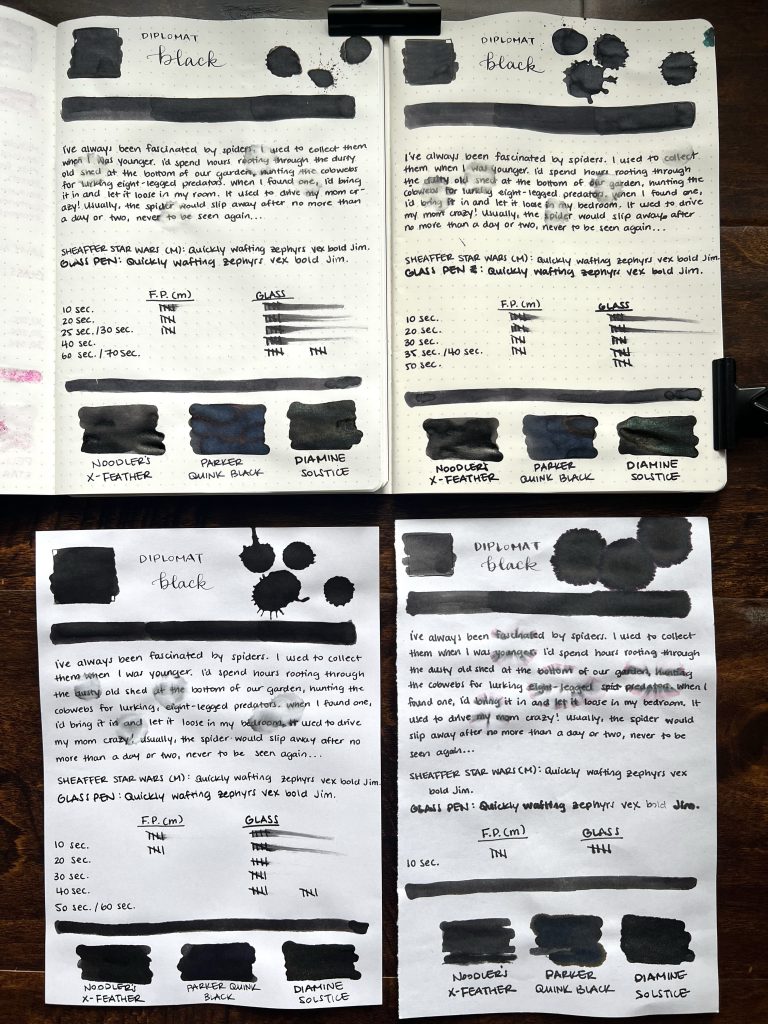 The ink was used on 4 different papers to test various properties of the ink: Tomoe River (68 gsm), Clairefontaine Triomphe (90 gsm), Cosmo Air Light (75 gsm), and generic copy paper.
The Long Writing Sample: In Case You Need to Read More
The long writing sample was taken directly from the beginning of Cirque du Freak: A Living Nightmare by Darren Shan and written with a Sheaffer Pop Star Wars fountain pen equipped with a medium nib. Water was then dripped on it once dried and blotted off after at least 1 minute had passed. The same pen was used along with a Moonman glass dip pen with a fude-style writing tip, meant to mimic a broad/wet nib, on the pangrams.
Finding the Ink's Dry Time: the Method
The dry test was performed in 10 second intervals, making the 5 strokes, starting the timer, then smearing with the clean end of a Q-tip as soon as the timer went off. It was repeated until nothing smeared. The fountain pen and glass dip pen were used to test and compare dry times.
Introducing this Week's Ink: Diplomat Black Ink Review
Diplomat Black is a black ink with a hint of silver-bronze sheen in drops. It had a nice flow overall, though it wrote a little more dry on Clairefontaine, which is common. On copy paper, the addition of water revealed a dusky purple-hued halo.
Does Diplomat Black Ink Have Any Sheen?
There was sheen visible at the edge of the drops on half of the papers tested on, with it being most visible on Tomoe River followed by Cosmo and non-existent on the Clairefontaine and copy papers. However, it was not detected in any of the writing, so I would say it is not a sheening ink.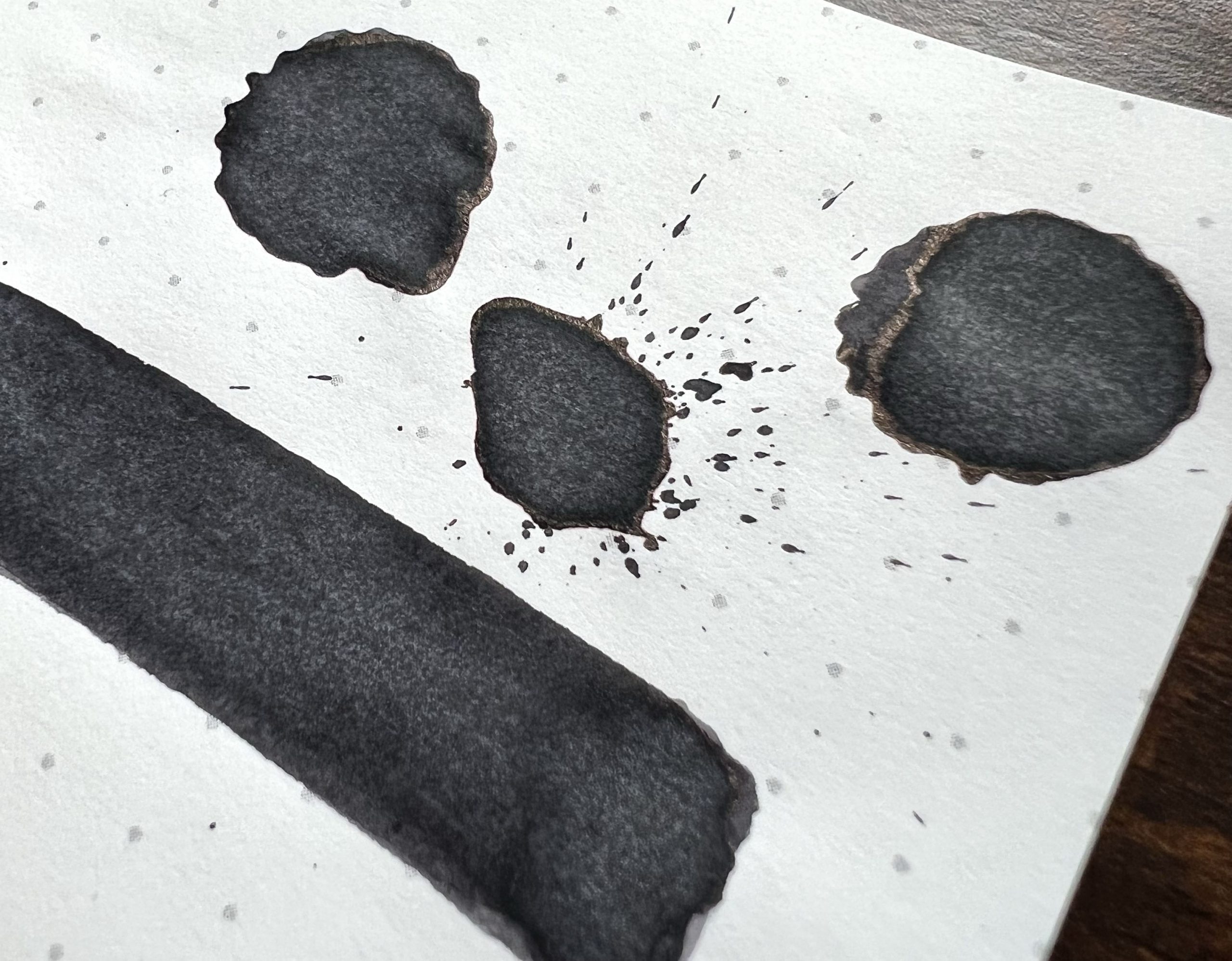 What is Diplomat Black Ink's Dry Time?
Dry time was within 30 seconds with a fountain pen, though Clairefontaine won at 20 seconds. The glass pen with fude nib laid the ink thickly, so that took around a minute to dry. The only exception was copy paper, where the ink was absorbed quickly and dried within 10 seconds for both writing instruments.
Does Diplomat Black Ink Show Any Shading Possibilities?
There was very little shading with this ink, though there could be some lighter lines depending on the pen you're using and how dry it writes. I would call this a low shading ink.
How Does Diplomat Black Ink Respond to Water?
Diplomat Black possesses medium to medium-high water resistance. Some does wash away, but the ink left behind is legible across the board. Legibility was best on Clairefontaine (darker, crisper lines) and tied on Tomoe River and Cosmo Air Light. It was a little more washed out on copy paper but I didn't need to expend a noticeable amount of excess energy to read it, though the dried water run-off could be distracting. This is a good ink to have if you want a little insurance, in case something spills on the pages or it rains. Having noted that, I did not test with soaking the page in water, so it may not fare as well with large amounts of water over a longer period of time.
Did You See Any Ghosting During the Diplomat Black Ink Review?
There is medium ghosting, or show through on the back of the page, except for copy paper, where the ink bled through on all nibs. This ink only bled through on the drops on all the papers, where you can also see the deep purple undertone showing. Clairefontaine performed the best in this category.
Did the Ink Feather During the Diplomat Black Ink Review?
Feathering was only seen on copy paper, though there was a minor amount on the edges of drops on Cosmo Air Light that made the edges appear blurred. The bigger nibs performed the worst, but still remained legible on copy paper, and it spread a small amount in writing, with it increasing the more wet your writing is. However, I don't think the feathering on copy paper took away from the writing much.
Comparing Diplomat Black Ink to Other Black Inks:
I don't have many black inks, so I just compared what I had. Parker Quink Black has a blue tone to it – and a sort of brown/bronze outline on copy paper – with some black sheen. Noodler's X-feather Black takes a long time to dry, has this perpetual shiny look to it, and is a deeper black of the four, but it does perform somewhat better on copy paper, which is what it's advertised to do. Diamine Solstice is a black base with a beautiful green shimmer and black sheen, perfect for a blinging black ink. Diplomat Black is most similar to Parker Quink Black, all things taken into consideration.
Final Conclusion: Diplomat Black Ink Review
Even if you like vibrant colors, every ink collection needs a black ink, and this is a pretty good option – a solid black that makes a decent stand against water, has a good flow, and reasonable dry time. As of this review, a 30ml bottle of Diplomat Black retails at $13 ($0.43/ml) but is on sale at PenChalet for $10.40 ($0.35/ml), which is a fair price. Many thanks to PenChalet for sending the ink to review and adding to my admittedly tiny family of black inks!
Shop Black Inks at PenChalet.com:
Hopefully you enjoyed reading Iris's review, and found the information you were looking for about Diplomat Black ink. Come back for more weekly ink reviews, and other pen and ink fun here at the Pen Chalet Fountain Pen Blog. And shop your favorite luxury pen and ink brands at PenChalet.com.
Enter to Win This Week's Ink, Next Week's Ink & More
Look for the bottle of Diplomat Black ink used in this week's ink review as one of the giveaway prizes in our next 15 on the 15th: Giveaway Day with Pen Chalet! Enter to Win now at PenChalet.com, and come back next week for another weekly ink review!