After much thought and even more discussion, Pen Chalet (your fav luxury pen retailer) has decided to make an exciting change! We regularly get comments, suggestions, complaints, and constructive criticism about how to pronounce Pen Chalet. You spoke, and we listened! Since there's so much confusion about how to pronounce Pen Chalet, we're simplifying things AND we're upgrading at the same time. The excitement begins with the introduction of a new name and continues with fantastic sales and deals all weekend long!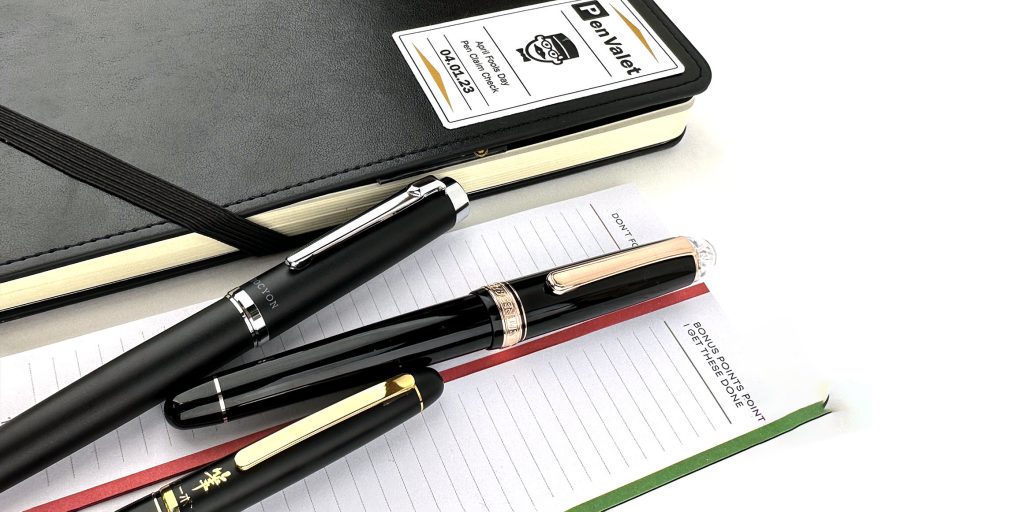 The New Name: Pen Chalet is now Pen Valet
The new name, Pen Valet, gives the immediate impression of stellar, outstanding, above-and-beyond service. You have a need – let us take it from here. Introducing Pen Valet – the new name for your favorite fine writing instrument retailer, Pen Chalet! Because let's face it, we're not just any old pen store; we're your one-stop-shop for all things writing.
We've got everything you need to make your writing experience smooth and luxurious, an essential element in your love of fine writing instruments – just like a valet is an essential element in the love of luxury vehicles.
The Name Change Sale: At Your Fav Luxury Pen Retailer
To celebrate the name change, we're hosting a "NEW NAME" sale that's full of sales and deals. In fact, these sales and deals are so good, you'll have a hard time believing they're real. Take advantage of 30% off ALL Platinum and Waldmann pens sitewide! Plus, you'll discover some luxury pen brands you love like Conklin, Stipula, Pineider, Gioia, Maiora, Diplomat, and more with featured items at 50% off, 55% off, and even 65% off! Check out all the featured luxury pen sale items here. These deals are available all weekend long while supplies last! PLUS
The New Look: The Pen Valet Brand
Just because we changed our name doesn't mean we're letting go of any of the traditional values we built into the company. We're holding on to our personal treatment of customers and customer accounts. We're still available to you by phone or email. We're still going to respond to your queries and comments on your favorite social media platform. With our expert guidance, you find the perfect pen for your needs in no time – every time. But that's not all! As part of our Pen Valet rebranding, we'll be offering some outrageous services to our customers. Need your new pen delivered right to your door? We've got a guy for that. Want your pen to be polished and shined to perfection? That's the kind of high end luxury pen products you get when you work with an authorized dealer. Have a question about your order or your pen or a pen you'd like to make your own, we have a team accessible by phone or email who would love to get you the answers you need.
Your Favorite Luxury Pen Retailer's NEW Sticker:
Who gets a sticker? You do, of course, as long as you purchase a pen, ink, writing accessory, Pen Chalet tshirt, or any other item on the website today.
But these stickers are first come, first serve for those who order, and they are also a "while supplies last" addition to the sticker assortment because, while we love the thought of outfitting the Pen Chalet team in bow ties and valet caps, this was actually just a bit of April Fool's Day fun, and when the day ends, so does the life of Pen Chalet doing business as Pen Valet. Enjoy it while it lasts! So come on down to Pen Valet and experience the ultimate in pen luxury. We promise you'll leave with a smile on your face – and a perfect new addition to your pen collection. You can find us at PenChalet.com. Happy April Fool's Day!
Happy April Fool's Day – from Your Favorite Luxury Pen Retailer:
Happy April Fool's Day from your favorite luxury pen retailer, Pen Chalet (dba Pen Valet for today only!). Shop the April Fool's Day Sale all weekend long – including 30% OFF all Platinum and Waldmann pens – a deal so good, you may have a hard time believing that's not part of our April Fool's Day gag. But that part is completely serious. Check out all the April Fool's Day deals and shop Waldmann pens and Platinum pens at PenChalet.com.