The Montegrappa Game of Thrones pen has been designed around the hit book by George R.R. Martin and T.V. series Game of Thrones with each pen themed around one of the four houses: Baratheon, Lannister, Stark, and Targaryen. With its epic story lines Game of Thrones has captured the hearts of fans worldwide and has become a huge success. Montegrappa is proud to bring this story to life in a new collection of pens that showcase the grandeur of this remarkable saga.
Each pen illustrates one of the families and is available as a fountain pen, rollerball pen or ballpoint pen. Designed to be a collectors item, each has been individualized for the clan they represent from the colors used to the symbols and emblems found throughout the pen.
Made from the highest quality materials, the barrels and caps are all have colorful lacquered surfaces with pin-striping. The clips, rings and trims are either made of palladium, 18k gold or bronze plated. Engraved on the center band of each pen is "Game of Thrones" and the Montegrappa Game of Thrones fountain pens are fitted with a stainless steel nib decorated with a sword etching.
The Montegrappa's Game of Thrones pen comes in a large double box. The outer shell is a black carton bearing the family symbol and the harder inner box is covered with emblems relevant to the family from the historic time frame from which the series was inspired.
Baratheon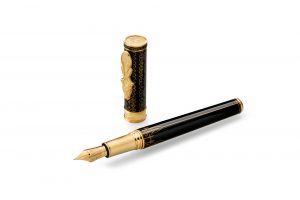 Showcasing the Baratheon family, this pen comes in a sombre charcoal and a contrasting yellow gold striping in a fleur-de-lis pattern and gold plated trim. The clip on the pen has a stag's head and a second rampant stag can be found on the top of the cap. Engraved is the family motto "Our Is The Fury."
Lannister
Deocorated with a yellow gold striping on a regal red pen, the Lannister house pen features a lion's head on the clip. Once again the top of the clip has a rampant lion with the family motto "Hear Me Roar."  A floral pattern, reminiscent of the Tudor Rose, decorates the cap and all of the trim is 18k gold plated.
Stark
Because the Stark house is from the north, winter colors were used in it's pen design, silvery-white Norse runic design all accented in palladium trim. The clip showcases a direwolf head and a matching direwolf profile can be found on the top of the cap with the motto "Winter is Coming."
Targaryen
This pen has been designed with a coal black background, red striping and filigree pattern with bronze plated trim. A dragon head forms the clip with a coiled dragon atop the cap. Engraved on the cap is "Fire and Blood."
If you are a big Game of Thrones fan then this is the pen for you!
Leave a comment and let us know what you think or what your favorite house is.