How to Change the Nib on a Pelikan Fountain Pen
Fill a Converter Style Fountain Pen
One of the beautiful things about
Pelikan fountain pens
is how easy it is to remove and nib, either for cleaning or to change it out with a different size nib. This article will discuss how to change the nib on a Pelikan fountain pen using a
Pelikan 205 fountain pen
.
Steps to Change the Nib on a Pelikan Fountain Pen
1
The first step when removing a nib from a Pelikan fountain pen is to flush the pen of any ink still in the pen. You may be able to remove the nib with ink still in the pen if you keep the pen upright but to be safe we recommend removing the ink. If you are unsure how to do this read our
instructions on how to remove ink from a piston fountain pen
. Once the ink has been removed you are ready to remove the ink.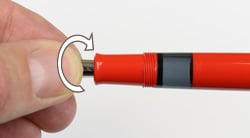 2
Removing the nib is simple. Grab the nib with on hand and the barrel of the pen with the other. Twist the nib in a counter-clockwise direction. The nib and the feed will unscrew from the barrel. With the nib removed from the pen it is easier to flush ink from the barrel of the fountain pen.
3
Replace the nib with your new nib or the existing nib if you are simply cleaning the pen.
That's it! Removing and replacing a nib on a Pelikan fountain pen is quick and easy.