Sailor Pigmented Ink(50ml) Fountain Pen Ink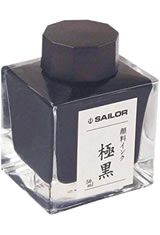 About the Sailor Pigmented Ink(50ml)
Sailor Pigmented Ink is a very smooth ink to write with. Choose from Kiwa-Guro(Black) or Sei Boku(Blue Black)
Pen Chalet offers great prices on the Sailor Kiwa-Guro Pigmented Ink(50ml) Fountain Pen Ink. As with all of our products, the Kiwa-Guro Pigmented Ink(50ml) by Sailor is guaranteed to be authentic.
Product Specifications
Cartridge Type: Bottled Ink
Available Sizes & Colors
The Sailor Pigmented Ink(50ml) Fountain Pen Ink usually ships within 1-3 business day unless otherwise specified or marked as special order.
Guaranteed Quality
Each Sailor Pigmented Ink(50ml) Fountain Pen Ink we sell is
guaranteed to be genuine
, authentic and will arrive brand new & unused!

Sailor Pigmented Ink(50ml) Color Chart

Kiwaguro Black

Seiboku Blue

Souboku Blue Black

Sailor Pigmented Ink(50ml) Reviews
I ended up purchasing this ink from an empty bottle purchase from Pen Chalet. There was just enough ink left in the bottle to see the color. That was all it took. I could tell it was a shade of blue that I wanted in my ink inventory.
If you are looking for a nice deep blue ink with good flow, then I can definitely recommend this ink.
5
out of
5

quality:

function:

style:

value:

I inked my Vintage East German Piston filler ( Made withTrabant plastic) with this ink.

The pen writes faster now. It has a bit more "wetter" feeling yet with lighting rapid dry time. Perfect for every writing, work, personal, letters.
When i run out of this ink i will be sure to get more!

Beautiful Blue with a hink of Blue- black. A Very satisfying ink over all.

5
out of
5

quality:

function:

style:

value:

Absolutely fantastic black ink. If you can accept the fact that this is a pigmented ink (and it's pretty easy to clean for a pigmented ink and about the same as most non-pigmented inks), it's the best all round black ink I've used and I go through a lot of black. Pretty dark but it has a metallic sheen when dry which on some papers may make it appear greyish. It's not quite as dark as Noodlers Heart of Darkness, Aurora Black or Herbin Perle Noir but it's almost there. It is as black or blacker than Noodlers Bulletproof Black. Dries really quickly. It's much quicker to dry than something like Bulletproof Black on high quality paper so there is very little risk of smearing if you are using this for say a Bullet Journal on high quality paper. It does not bleed or feather even on low quality cheap paper. Miles ahead of Aurora Black and considerably better than Perle Noir or Heart of Darkness in terms of cheap paper performance . It's even better than Noodler's Bulletproof Black on cheap paper. Works perfectly on Moleskine and even cheap filler paper from Sam's Club which is the cheapest of the cheap. I've never seen either Kiwa Guro or X-Feather feather on any paper so can't say whether one or the other is better in terms of avoiding feathering on cheap paper. However, Kiwa Guro is much better than X-Feather in terms of bleed or show and unlike X-Feather which takes ages to dry, Kiwa Guro dries really quickly and will not smear when dry. The particles suspended in the ink give it some lubrication (or maybe it has oils in it like some Sailor Jentle inks) so it's really smooth to write wit like Aurora Black is. It's pretty waterproof. Not sure if it's bulletproof like Noodler's inks. It seems pretty permanent but I haven't tried bleach etc. It's certainly completely resistant to water. It's more expensive than Noodlers or Herbin but you get what you pay for. It's about the same or cheaper than Aurora and in my opinion a much better ink.
5
out of
5

quality:

function:

style:

value:

Sailor Souboku is a excellent blue-black that I find very "office friendly ".
5
out of
5

quality:

function:

style:

value:

I've been using Seiboku in my Pilot 823 with medium nib for a couple weeks now. At long last I've found MY ink. I use it on HP premium 32 pound paper and the shading this ink gives is magnificent. I love that it is waterproof (I tested) and also lightfast. The ink flows smooth and wet and the color is terrific - a nice, slightly darker blue with a bit of teal. Pen chalet has the best price on Sailor pigmented inks. I liked this Seiboku so much I ordered three bottles and then a bottle of souboku and Kiwaguro.
5
out of
5

quality:

function:

style:

value:

I find the blue-black ink rather dry. It only seems to work well in my Sailor pen (surprise, surprise) with a broad nib. For all other pens such as Parker Duofold, it's dry. I also worry about the little pigment particles clogging up my feed channels. So, altogether I'm not a fan.
3
out of
5

quality:

function:

style:

value:

I write on copier paper at work. Kiwa-Guro doesn't feather at all, not in my usual XF, not even in an M. My new go-to.
5
out of
5

quality:

function:

style:

value:

Pen Chalet had cheapest prices around, that I could find, even beating out directly and slowly via Japan. They shipped promptly and packaged safely. Tucked in box was a 10% coup valid for a number of weeks. More potential saving for me. Sail on, sail on.
5
out of
5

quality:

function:

style:

value:

I LOVE this ink! I got this because I needed a permanent ink and I hate Noodler's after way too many bad experiences with their products. I've loved the other Sailor inks I've used and knew that this would be a quality ink. I didn't realize it would exceed all my expectations.

What this inn can do is largely up to you and the way you use it. Using a slow hand and/or bigger nib, you can use it to redact sensitive information from documents because it will flow heavier if you give it the ability to do so. Using an extra-fine nib allows you to have precise control of ink that will not feather and will stay put. A faster hand can even yield a slight bit of shading.

The best thing: I've used it in a TWSBI Eco extra-fine nib and it hasn't clogged, settled or slowed down. It is incredibly well-behaved in the pen and I'm not seeing any staining as I push the piston toward the nib as I use up the ink. It's been in the pen for two weeks. I have some regular inks that would be dried out and clogging the nib by now that aren't even pigmented.

I'm going to buy this in every color. I wish they'd make dark green! This is one of the best inks (and I have a TON of inks).
5
out of
5

quality:

function:

style:

value:

One of the best performing truly waterproof permanent inks available. The color is rich and dark and looks amazing (a brilliant sheen can be seen under magnification on many papers of varying quality).
5
out of
5

quality:

function:

style:

value:


FAQs about the Sailor Pigmented Ink(50ml)
Q:
Does the Sailor pigmented ink similar to India ink in that it can either pit or corrode a fountain pen nib?
A:
The Sailor pigmented ink is not like India ink. It will not corrode the nib. Because it has pigment in it, if it is left to dry out in the pen, it could cause problems but for normal use, it will not damage the pen.
Q:
Does the pigment in this ink contain carbon particles? Does the pigment in Platinum Carbon Black contain carbon particles? Which has a higher saturation of pigment?
A:
Both have carbon particles. The pigment particles in the Platinum ink settle over time, and the particles in Sei Boku and Kiwa Guro do not because they are much finer.
Q:
Is the difference between pigmented ink and the Jentle about it being waterproof?
A:
Pigmented inks are darker, richer, quick drying and water resistant. Some manufacturers call them Nano ink. It's more permanent than Sailor Jentle ink. So if you get them on materials for example fabrics, it is nearly impossible to wash off. But this feature is sometimes important for signing official documents.
Ask your own question:
Ships in 1-3 business day.