Monteverde 36 Piece Zipper Pen Carrying Cases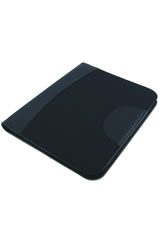 About the Monteverde 36 Piece Zipper
The Monteverde 36 Piece Zipper Pen Carrying case holds up to 36 pens comes in a matte vinyl outer shell with a soft velour interior. Also inside is a stiff partition of soft velour to keep your pens apart and free from scratches.
Product SpecificationsAvailable Sizes & Colors
Monteverde 36 Piece Zipper Pen Carrying Cases - Black
The Monteverde 36 Piece Zipper Pen Carrying Cases usually ships within 1 business day unless otherwise specified.
Guaranteed Quality
Each Monteverde 36 Piece Zipper Pen Carrying Cases we sell is
guaranteed to be genuine
, authentic and will arrive brand new & unused!

Monteverde 36 Piece Zipper Reviews
Haven't filled with pens yet, but looks and feels fine. Standard double elastic bands to hold pens.
4
out of
5

quality:

function:

style:

value:

A decent basic carrying case. Black velvet lining is a good looking background for pens. Zipper not YKK and not a double zipper, but at this modest price acceptable. I am glad to have bought it.
4
out of
5

quality:

function:

style:

value:

Great. Does exactly what it needs to do and looks smart doing it.
Thanks Pen Chalet for putting these on sale.
4
out of
5

quality:

function:

style:

value:

The Monteverde pen case is a great tool to keep all my pens in one place. I have several of them filled with pens ranging in size from a Platinum Preppy to a Jinhao 159.
4
out of
5

quality:

function:

style:

value:

Very happy with this case. It is a great deal for the price, and even better when it is on sale. My pens seem to stay in place and don't rub against each other even though there is only one loop of elastic for each pen. Having not seen what the much more expensive cases look like I couldn't tell you if this case was missing anything that I might find useful. Honestly I don't understand why all the other pen cases are so expensive other than the fact that they are made out of leather. I have 2 Monteverde 40 Pen Cases and I couldn't be happier with them. I do wish Monteverde would also make a 6 and 12 pen case to carry around on a more regular basis since this 40 pen case is a bit of over kill and impractical as a daily carry.
5
out of
5

quality:

function:

style:

value:

I am quite pleased with this carrying case. Though it has only one elastic loop per pen, I knew that when buying, and it has not been problematic except for the three Lamy Joys I own. But then, they would be problem in just about any zip carrier. I bought it on closeout, and if still available will probably buy another.
4
out of
5

quality:

function:

style:

value:

Arrived quickly and was well packaged by Pen Chalet. This is an excellent pen storage case, at a great price. For a non-leather case, it is well made, and holds large fountain pens easily. The only minor drawback is that there is a single elastic loop per pen slot, so larger pens can move back and forth a bit prior to zipping up the case, but this can be easily managed by choosing specific slots for larger pens. Once closed, pens stay put. Glad I made this purchase over more expensive options that likely wouldn't protect my pens any better.
5
out of
5

quality:

function:

style:

value:

Really like this case, soI bought a second one Excellent value!
5
out of
5

quality:

function:

style:

value:

Very simple, yet elegant Pen case. When stacking your pen in each half of the binder (The Pen case contains 18 pen slots pen side, 9 on top, 9 on the bottom) it may be a bit challenging to organize two levels of pens in each half because of how the material bands are spaced out. Beyond that, I am very satisfied with my purchase. The case comes with a velvet-like divider and a velvet backing on each half to protect your pens from all sides. At the asking price, a very good deal!
4
out of
5

quality:

function:

style:

value:

The quality is fine...although I would prefer to have two elastic holding straps for each pen; this case only has one. That is NOT a complaint since I knew this fact when I purchased it. It's just a fact...but for a decent 36 pen case at the $20 I bought it for?!! What a deal!!!
4
out of
5

quality:

function:

style:

value:


FAQs about the Monteverde 36 Piece Zipper
Q:
I have the 36 pen Monteverde case, however, mine has a stiff velveteen-like protective divider/cover that is fastened to the top of the right-hand side of the case, to separate and protect the pens. Do all your cases on sale have the faux leather protective divider/cover?
A:
The interior divider is actually a velvet material. The faux leather is just on the spine of the case.
Ask your own question:

Monteverde 36 Piece Zipper Video
Video Script
This is the Monteverde 36 Piece Pen Carrying Case. It comes with a nice matte vinyl exterior with some faux leather edges. On the opposite side down on the bottom corner we have the Monteverde logo embossed.

It has a zipper to hold the case shut. Inside we have spaces for 36 pens with these elastic holders. It has a nice stiff center partition with the same faux leather cover to it. It protects the pens on opposite sides of the case.

This is a great inexpensive carrying case. It holds a lot of pens. Get yours today at PenChalet.com!
Ships in 1 business day.