Monteverde 36 Piece Zipper Pen Carrying Cases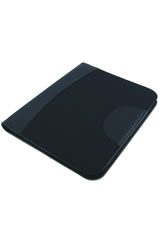 About the Monteverde 36 Piece Zipper
The Monteverde 36 Piece Zipper Pen Carrying case holds up to 36 pens comes in a matte vinyl outer shell with a soft velour interior. Also inside is a stiff partition of soft velour to keep your pens apart and free from scratches.
Product SpecificationsAvailable Sizes & Colors
Monteverde 36 Piece Zipper Pen Carrying Cases - Black
The Monteverde 36 Piece Zipper Pen Carrying Cases usually ships within 1 business day unless otherwise specified.
Guaranteed Quality
Each Monteverde 36 Piece Zipper Pen Carrying Cases we sell is
guaranteed to be genuine
, authentic and will arrive brand new & unused!
Monteverde 36 Piece Zipper Video Script
This is the Monteverde 36 Piece Pen Carrying Case. It comes with a nice matte vinyl exterior with some faux leather edges. On the opposite side down on the bottom corner we have the Monteverde logo embossed.
It has a zipper to hold the case shut. Inside we have spaces for 36 pens with these elastic holders. It has a nice stiff center partition with the same faux leather cover to it. It protects the pens on opposite sides of the case.
This is a great inexpensive carrying case. It holds a lot of pens. Get yours today at PenChalet.com!

Monteverde 36 Piece Zipper Reviews
this is an amazing case for such a great price! 36 pens wtf! i can't even keep it filled because i'm usually using some of them.
5
out of
5

quality:

function:

style:

value:

This is the pen case I have been hoping for. Holds all my pens with sturdy but flexible elastic straps, facilitating easy insertion of any sized pen. I will probably get another one as its already filled. Nice velvet like interior offers complete protection. It's good quality and the zipper is fast and flawless. Highly recommended. Fast uncomplicated shipping. Pen Chalet is my new goto for anything pens.
5
out of
5

quality:

function:

style:

value:

Very handy to have. I only purchased when it was on sale.
4
out of
5

quality:

function:

style:

value:

This case is better quality than other similar cases I have seen. I have used mine for several years now with no noticeable signs of wear. Although there is only one elastic loop to hold each pen, the pens do not shift around and every pen I own has been able to fit through the loops.
5
out of
5

quality:

function:

style:

value:

4
out of
5

quality:

function:

style:

value:

So far all the elastic loops are holding my pens well. I'm currently using every other loop, pretty much. Some of the loops are pretty tight even with my fairly modest, smaller pens, so it may be pretty tight on the big ones. Just a guess, though, since my biggest (i.e., fattest) pen is a TWSBI Eco.

5
out of
5

quality:

function:

style:

value:

I love this pen binder and I have 3 of them. They hold most all of my pens safely and despite having only one band to secure them, they don't bang against another nor do they touch. The binder certainly does the job! My only complaint is that one of the bands at the end snapped so I'll need to figure out how to sew/secure it back, but we'll see. There is a divider between the two sides to keep them from bumping and the material is somewhat stiff. I haven't had a pen that didn't fit but I can imagine some particularly large pens having difficulty if the pen below/above it is also longer than average, but that isn't a huge problem as long as you move things around.
5
out of
5

quality:

function:

style:

value:

These would be a great value if the craftsmanship was up to par. I purchased one in August and with a week, the stitching on the elastic loops began to separate from the backing. 2 loops turn into 1 larger loop. I had the case replaced, and even bought a 2nd one, but I'm experiencing the same result with the 2 new cases. Aside from this issue, the rest of the product's craftsmanship (the stitching, materials used) and quality of the zipper feels durable.

In summary, even the better craftsmanship everywhere else can't combat the lost capacity with the elastic loops over time.
3
out of
5

quality:

function:

style:

value:

Sturdy and a great price. My only wish is that would have been nice to see it with a double row of elastic loops to prevent side-ways movement.
5
out of
5

quality:

function:

style:

value:

Great value for the money, not fancy, but does what it's intended to do quite well. Highly recommended.
5
out of
5

quality:

function:

style:

value:


FAQs about the Monteverde 36 Piece Zipper
Q:
I have the 36 pen Monteverde case, however, mine has a stiff velveteen-like protective divider/cover that is fastened to the top of the right-hand side of the case, to separate and protect the pens. Do all your cases on sale have the faux leather protective divider/cover?
A:
The interior divider is actually a velvet material. The faux leather is just on the spine of the case.
Ask your own question:
Ships in 1 business day.