Monteverde Replacement Fountain Pen Nibs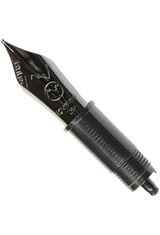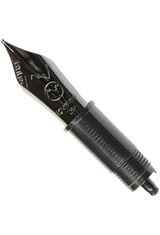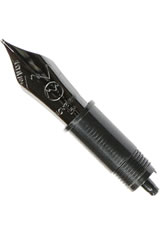 About the Monteverde Replacement
The Monteverde Replacement fountain pen nib is a stainless steel #6 nib with the removable feed attached. Choose from the black or silver color nib in various nib tip sizes. The Monteverde #6 nib will fit most Monteverde pens including the Prima, Intima, Regatta, Rodeo Drive, and more. The nib will not fit the less expensive pens such as the Artista or the Monteverde Tool fountain pen.
To replace your nib simply unscrew your old nib and feed from your fountain pen and insert the new Monteverde replacement nib.
Product SpecificationsAvailable Sizes & Colors
The Monteverde Replacement Fountain Pen Nibs usually ships within 1 business day unless otherwise specified.
Guaranteed Quality
Each Monteverde Replacement Fountain Pen Nibs we sell is
guaranteed to be genuine
, authentic and will arrive brand new & unused!

Monteverde Replacement Reviews
Bought it in Fine to replace the same one in Medium which I already had. I like the writing much more now. I realised I prefer Fine or ExtraFine nibs. This isis a very easy replacement. Just unscrew the old one and screw in the new one.
5
out of
5

quality:

function:

style:

value:

I was really happy to have found this company and then this replacement for the original one that I bent on my pen. A very high quality and easy fix.
5
out of
5

quality:

function:

style:

value:

I'm so glad to have learned the joys of a stub nib. It makes my handwriting look even better! I love the Monteverde nibs. Pen Chalet and Yafa customer service are awesome.
5
out of
5

quality:

function:

style:

value:

I wanted the option of a bold nib in addition to the stub that came with my pen. The nib fit perfectly into my Monteverde Invincia pen and writes beautifully.
5
out of
5

quality:

function:

style:

value:

Worked perfectly!! Exactly what I needed.
5
out of
5

quality:

function:

style:

value:

Next nib, I'll go one broader. I purchased a medium, should have got a broader nib.
4
out of
5

quality:

function:

style:

value:

This replaced a suddenly--and inexplicably--malfunctioning nib in a Monteverde pen. It replicated the graceful italic line of the previous nib, has terrific ink flow, and was pretty easy to install. The old one was lodged pretty firmly in the body of the pen--initially seemed unmoveable--but I had my way with it and the new one fit perfectly. No problems with leaking, and it has gotten a perfect report card ever since I started using it. It's not been too long, but what a honeymoon.
5
out of
5

quality:

function:

style:

value:

Stub nibs rule! This 1.1mm is crisp has a huge sweet spot and feeds beautifully. I absolutely ran out of ink before I checked the pen once. Usually I tinker with the converter when I get a skip or burp. This nib breathes like it should, I was impressed! Installation is pie since the nib is already in the feed.
5
out of
5

quality:

function:

style:

value:

makes it easy to change the nib on some of you monteverde pens. does not work on all.
5
out of
5

quality:

function:

style:

value:

The Monteverde people seem to know what they're doing, so when I say this is one stiff feedbacky nib, I think they made it that way on purpose. If you know Lamy steel nibs, and for some reason black more than silver or am I just imagining it? you know what I mean. The stiffness in the stub makes you (me) hold my hand at a very steady angle and get some elbow into it. The feedback slows it just a tiny bit and makes me pay attention; kind of like the nib is making me write neater. Strangely, it's a bit smoother on better paper (I just did a test); go figurez vous. Out of the box (it came in a little plastic bag), it was dry, but I noticed that it was just a little crooked on the feed, and when I got it perfectly straight, I got a nice flow with some excellent shading with Diamine Apple Glory. Monteverde gave me a threaded converter, so the threading of the nib to converter makes for a very secure seal and an easy switch when I want to.
5
out of
5

quality:

function:

style:

value:


FAQs about the Monteverde Replacement
Q:
Is this only the metal nib, or is it a replacement for the entire housing, feed and all?
A:
The Monteverde replacement fountain pen nibs come with both the nib as well as the feed and housing.
Ask your own question: