Holiday Sale
10% Off, enter HOLIDAY at checkout

Robert Oster Signature Sample(4ml) Fountain Pen Ink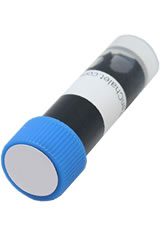 X

About the Robert Oster Signature Sample(4ml)
Robert Oster inks are hand made in Australia. Buying a sample is a great way to try the inks with so may colors. Each sample comes in a 4ml plastic vial with a conical bottom making it easy to fill fountain pens.
Important Note About Fountain Pen Inks: Many fountain pen inks have shading and sheening traits that may not be seen during every application. Shading and sheening (and other special traits) often depend on penmanship, what type of pen, brush, etc. is used to apply the ink, and the level of ink saturation.
Product Specifications
Cartridge Type: Ink Sample
Available Sizes & Colors
The Robert Oster Signature Sample(4ml) Fountain Pen Ink usually ships within 1-3 business day unless otherwise specified or marked as special order.
* Special orders typically ship in 14-17 business days. However, occasionally due to manufacturer inventory, items can take up to 1-3 months. For a specific shipping estimate on your special order contact Customer Care.
Guaranteed Quality
Each Robert Oster Signature Sample(4ml) Fountain Pen Ink we sell is
guaranteed to be genuine
, authentic and will arrive brand new & unused!

Robert Oster Signature Sample(4ml) Color Chart

African Gold

Aussie Brown

Aussie Gold

Australian Opal Blue

Australian Opal Grey

Australian Opal Mauve

Australian Opal Pink

Australian Sky Blue

Australian Syrah

Avocado

Barossa Grape

Bishop to King

Black is Black

Black Violet

Blood Crimson

Blood Moon

Blue Black

Blue Denim

Blue Lagoon

Blue Night

Blue Sea

Blue Water Ice

Bondi Blue

Bronze

Burgundy Chocolate Notes

Burned Orange

Caffe Crema

Carbon Fire

Charcoal

Chartreuse

Chocolate

Claret

Copper

Crimson

Crocodile Green

Dark Chocolate

Deep Purple

Deep Sea

Direct Sun

Dragons Night

Emerald

Eucalyptus Leaf

Evening Sapphire

Ever Green

Fire and Ice

Fire Engine Red

Flaming Blue

Forest Green

Frankly Blue

Frankly Scarlet

GoGo

Gold Antiqua

Golden Brown

Great Southern Ocean

Green at Night

Green Diamond

Green Green

Green Lime

Green Olive

Grun-Schwarz

Khaki

Kids on the Block

Lake of Fire

Lemon Grass

Light Green

Marine

Maroon 1789

Marrone Mustard

Melon Tea

Morning Mist

Moss

Motor Oil

Ng Special 16

Ocean

Orange

Orange Rumble

Orange Zest

Pinky

Plumb Nut

Purple Jazz

Purple Rock

Red Candy

Red Orange

River of Fire

Romeo & Juliet

Royal Red

Rubine

Ryde Green

School Blue

Smokescreen

Soda Pop Blue

Spearmint

Sublime

Summer Storm

Sushi

Sydney Darling Harbor

Sydney Lavender

Taiwan Blue

Tangerine

Thunderstorm

Toffee

Tokyo Blue Denim

Torquay

True Blue

Turquoise

Velvet Crush

Velvet Storm

Verde de Rio

Viola

Yellow Sunrise

Yellow Sunset

Robert Oster Signature Sample(4ml) Reviews
I love the 4ml ink samples that Pen Chalet has. So much better than getting only 2ml that other shops sell. With 4ml you get enough ink to really try it out for a while and if you like it you get about 3 converter fills to enjoy. I like trying different inks so I rarely buy a full bottle but this size is perfect for me. Always happy with Robert Oster inks.
5
out of
5

quality:

function:

style:

value:

I used this ink in my Caran d'Ache 849M pen. The ink itself is gorgeous but I am not sure if the ink is too "wet" or "thin" for the nib as I would get a tear drop of ink about every 3rd line of writing. It leaked only in this pen and not any of my others - Diplomat Magnum and Sheaffer. However, this is a small issue since it does not do this with others. So I do not mind and it does not take away form the color which is a nice medium-dark mauve. I would order it again in the sample size.
5
out of
5

quality:

function:

style:

value:

I am really enjoying this ink and wil lord a larger amount.
5
out of
5

quality:

function:

style:

value:

Great ink. What I like about it is the quick drying time and the lack of feathering and bleed through -even on cheap copy paper. Outperforms many more expensive brands. The only downside? There are too many colors to choose from!
5
out of
5

quality:

function:

style:

value:

I purchased five Robert Oster samples - Avocado, Chartreuse, Gold Antique, Khaki and Claret. All samples were packed well and no leaks. I love that there is a color swatch on the lids of all the samples. I'm excited to use all of these samples!
5
out of
5

quality:

function:

style:

value:

I received a sample of the Blue Water Ice, omg, I love it, much more beautiful in person than any photo!
5
out of
5

quality:

function:

style:

value:

I love ink samples, just enough ink for you to get a good sample to see if you want a full bottle of ink to use.
4
out of
5

quality:

function:

style:

value:

These are solid inks. Great color, works well in my Monteverde pens (but not quite as good as the Monteverde inks). It's fun to try these sample sizes to get a feel for the ink and the colors.
4
out of
5

quality:

function:

style:

value:

Orange zest is a nice bright orange with quite a pop and so much darker than Kin Mokusei. Wet ink with good shading properties in a broader nib. I recommended Robert Oster Inks.
5
out of
5

quality:

function:

style:

value:

I like buying these sample to see if I like the ink. 9 out of 10 times, I wind up buying the full size.
5
out of
5

quality:

function:

style:

value:


FAQs about the Robert Oster Signature Sample(4ml)
Special Order:
Shipping times may vary