J Herbin Bottled Ink(100ml) Fountain Pen Ink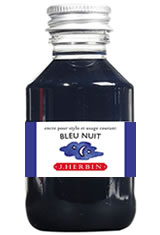 About the J Herbin Bottled Ink(100ml)
J Herbin's popular fountain pen ink a a larger 100ml plastic bottle. This fountain pen in is made from all natural dyes and is pH neutral. It is a water based ink that flows smoothly and dries fast.
J Herbin is the oldest name in fountain pen inks, making inks for hundreds of years.
Product Specifications
Cartridge Type: Bottled Ink
Available Sizes & Colors
The J Herbin Bottled Ink(100ml) Fountain Pen Ink usually ships within 1 business day unless otherwise specified.
Guaranteed Quality
Each J Herbin Bottled Ink(100ml) Fountain Pen Ink we sell is
guaranteed to be genuine
, authentic and will arrive brand new & unused!

J Herbin Bottled Ink(100ml) Color Chart
Blue Nuit
Eclat de Saphir
Lie de The
Perle Noir
Poussiere de Lune
Violette Pensee

J Herbin Bottled Ink(100ml) Reviews
This is a beautiful ink by J. Herbin and my 'go to' for use in my Waterman Amber Carene with Stub nib, creating lovely style and colour. The 100ml bottle enables me to refill my more aesthetically pleasing but smaller glass bottle for pride of place on my desk at an economical price.
5
out of
5

quality:

function:

style:

value:

If you love J. Herbin's inks, these 100ml bottles are an amazing value! My only qualm with them is that the bottle they come in is plastic. I resolved this issue by transferring the contents to very thoroughly cleaned empty glass ink bottles. Although if you go through ink quickly, the plastic ink bottle won't be an issue. Basically you're buying a bulk amount of the ink, so the container is secondary, and a number of on-line vendors sell empty ink bottles. It's very unfortunate that J. Herbin discontinued the large size. I wish they were still freely available and also were offered in more colors from J. Herbin's range.
5
out of
5

quality:

function:

style:

value:

I knew exactly what I wanted as I'd used a similar sized bottle of the same ink before... it was as advertised and very prompt delivery... might be the best price in the country
5
out of
5

quality:

function:

style:

value:


FAQs about the J Herbin Bottled Ink(100ml)