J Herbin Bottled Ink(100ml) Fountain Pen Ink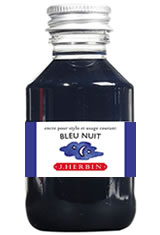 X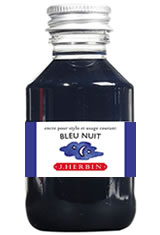 About the J Herbin Bottled Ink(100ml)
J Herbin's popular fountain pen ink a a larger 100ml plastic bottle. This fountain pen in is made from all natural dyes and is pH neutral. It is a water based ink that flows smoothly and dries fast.
J Herbin is the oldest name in fountain pen inks, making inks for hundreds of years.
Product Specifications
Cartridge Type: Bottled Ink
Available Sizes & Colors
The J Herbin Bottled Ink(100ml) Fountain Pen Ink usually ships within 1-3 business day unless otherwise specified or marked as special order.
* Special orders typically ship in 8-14 business days. However, occasionally due to manufacturer inventory, items can take up to 1-3 months. For a specific shipping estimate on your special order contact Customer Care.
Guaranteed Quality
Each J Herbin Bottled Ink(100ml) Fountain Pen Ink we sell is
guaranteed to be genuine
, authentic and will arrive brand new & unused!

J Herbin Bottled Ink(100ml) Color Chart

Blue Nuit

Poussiere de Lune

J Herbin Bottled Ink(100ml) Reviews
The Eclat de Saphir (sp?) was the first ink I purchased nearly a half century ago - AND still do! Fabulous quality, beautiful color and ease of cleaning but also has nice shading. Still a favorite blue and I always buy the large bottle, to refill the smaller preferred glass bottles, as it is always in at least two of my pens. The Violette Pensee is another favorite with the same qualities.
5
out of
5

quality:

function:

style:

value:

Regular J. Herbin inks are absolutely awesome. In these 100ml bottles they are also a great deal. All of them are really gentle on pens and easy to clean. Safe in vintage pens. You can mix them if you want safely.

Perle Noir is Herbin's first ink. It's one of the best black inks there is. It's really, really black. Flows well, neither wet nor dry. Works well on cheap paper but not as well as Noodler's Bulletproof Black or Sailor Kiwa Guro. Works really well on high quality paper. Dries quickly even on high quality paper like Clairefontaine. Not waterproof but will withstand brief interaction with water once dry in the sense that your writing will be legible. Unlike most Herbin inks, it's pretty saturated. Absolutely no shading. Just pure black.

Eclat de Saphir is another awesome ink. The color itself is really close to Baystate Blue but it does not stain and is gentle on pens. It's not quite as intense as Baystate Blue. Think of it like a diluted Baystate Blue. Decent shading because it's not quite as saturated as Baystate Blue. Not waterproof.

Lie de The is a mix of the various colors of Tea. There are greens, blacks, dark browns and a orangy brown. It looks better on a page than in a swab. It seems like it's light and will be too light to read easily but it's actually really easy to read. Beautiful ink.

Pousserie de Lune is a really beautiful dark purple. Herbin says Blue Nuit is their darkest color after Perle Noir but I think this is darker. Absolutely lovely color that could be confused with black when written with a fine nib in low light.

Blue Nuit is a darker purer blue without purple in it. Another awesome ink.

Violet Pensee is a color a lot like the violet flower. A bit undersaturated but beautiful. Nice shading. Best in a wet pen.

None of Herbin's inks are waterproof. If you spill some water and dab it up, your writing should still be legible but that is the one downside of these inks. Very gentle on pens like Waterman Black or Waterman Blue. They are all really well behaved nice inks though some colors can be a bit under saturated and need a wet wide nib to show them off.

5
out of
5

quality:

function:

style:

value:

My go to ink. It is not to colorful to use as a signature, it is a bit wet though.
5
out of
5

quality:

function:

style:

value:

Bottle is a nice size and quite usable. It is plastic, unfortunately, though. I have the pousierre de lune ink, and it's underwhelming in color.
3
out of
5

quality:

function:

style:

value:

This is a beautiful ink by J. Herbin and my 'go to' for use in my Waterman Amber Carene with Stub nib, creating lovely style and colour. The 100ml bottle enables me to refill my more aesthetically pleasing but smaller glass bottle for pride of place on my desk at an economical price.
5
out of
5

quality:

function:

style:

value:

If you love J. Herbin's inks, these 100ml bottles are an amazing value! My only qualm with them is that the bottle they come in is plastic. I resolved this issue by transferring the contents to very thoroughly cleaned empty glass ink bottles. Although if you go through ink quickly, the plastic ink bottle won't be an issue. Basically you're buying a bulk amount of the ink, so the container is secondary, and a number of on-line vendors sell empty ink bottles. It's very unfortunate that J. Herbin discontinued the large size. I wish they were still freely available and also were offered in more colors from J. Herbin's range.
5
out of
5

quality:

function:

style:

value:

I knew exactly what I wanted as I'd used a similar sized bottle of the same ink before... it was as advertised and very prompt delivery... might be the best price in the country
5
out of
5

quality:

function:

style:

value:


FAQs about the J Herbin Bottled Ink(100ml)
Product out of stock
Notify me when this item is back in stock.
price match