Pen Chalet Glue Gun Sealing Wax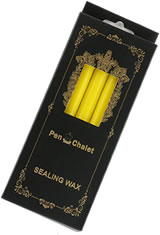 About the Pen Chalet Glue Gun
Specifically molded for use in a hot glue gun or melt using any heat source and a spoon. This modern sealing wax is perfect for creating seals on any project, letter, scrapbook and more. Each pack comes with 5 sealing wax sticks. Choose from multiple wax colors.
Available Sizes & Colors
The Pen Chalet Glue Gun Sealing Wax usually ships within 1 business day unless otherwise specified.
Guaranteed Quality
Each Pen Chalet Glue Gun Sealing Wax we sell is
guaranteed to be genuine
, authentic and will arrive brand new & unused!

FAQs about the Pen Chalet Glue Gun

Ships in 1 business day.
Limited quantities.
Hurry while supplies last!