Holiday Sale
10% Off, enter HOLIDAY at checkout

Dee Charles Designs Double Sleeve Pen Carrying Cases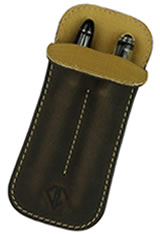 X




About the Dee Charles Designs Double Sleeve
The Dee Charles Designs Double Sleeve pen case is great for carrying 2 of your favorite pens. The case is made of durable leather and finished in colorful stitching. A small stitch in the center of the case protects and prevents each pen from touching and the interior of each pen sleeve is fabric lined to protect the finish on your pens. Hover over the image of the pen sleeve you are considering to see the fabric lining.
Choose from a great selection of leather, stitching, and interior lining combinations.
Each Dee Charles Designs product is handcrafted from top quality supplies and made to last.
Dimensions:
Length 6 inches
Width 3 inches
Each pen pocket is 1.25 inches wide

Dee Charles Designs...because you can't trust just anyone to protect your pens.
*Dee Charles Designs products are made by hand using high quality, authentic leather, so exact colors may vary product to product.
Available Sizes & Colors
The Dee Charles Designs Double Sleeve Pen Carrying Cases usually ships within 1-3 business day unless otherwise specified or marked as special order.
* Special orders typically ship in 10-21 business days. However, occasionally due to manufacturer inventory, items can take up to 1-3 months. For a specific shipping estimate on your special order contact Customer Care.
Guaranteed Quality
Each Dee Charles Designs Double Sleeve Pen Carrying Cases we sell is
guaranteed to be genuine
, authentic and will arrive brand new & unused!

Dee Charles Designs Double Sleeve Reviews
5
out of
5

quality:

function:

style:

value:

Attractive and well made pen sleeve. I needed something to protect my 2 flagship pens while in my computer bag. This holds both my M1000 and 149 without a problem and looks great doing so.
5
out of
5

quality:

function:

style:

value:

The quality of this sleeve is very nice. Fits average and thin pens nicely.
4
out of
5

quality:

function:

style:

value:

I use both the double sleeve and single sleeve by Dee Charles and love them! The leather, stitching, lining...all of it is top notch. They hold my pens snugly and yet its easy to get the pens out for use. I highly recommend.
5
out of
5

quality:

function:

style:

value:

Beautiful pen sleeve though quite stiff and hard. The leather feels and looks great and I hope it will soften a bit to facilitate the insertion of pens.
5
out of
5

quality:

function:

style:

value:

Very well made! As others have stated, seems stiff at first but loosens up nicely. Very happy with this case!
5
out of
5

quality:

function:

style:

value:

This review is for the "Timber Black" colorway.

My first impressions of this pen sleeve are quite positive. The combination of the leather exterior and canvas lining feels substantial and the stitching is well done.

The initial fit is tight. It should be noted that when using for the first time, it's possible to pull snap caps off pens with weaker clutch rings. I took a few moments to stretch the material however and it has mostly alleviated this problem. Given time, I'm sure it will loosen more.

The only other criticism I have is that the Timber Black sleeve isn't dyed a true black like what I was expecting—the color is more of a very dark turquoise or navy blue. I, personally, was pleasantly surprised and took to the color immediately, but I imagine this might turn others away.

Overall, I quite like this sleeve. It inspires confidence and I have no doubts about its ability to protect whatever pen I hold in it. For a little under 18 USD, I think it's a solid value.
5
out of
5

quality:

function:

style:

value:

VERY happy! Real leather, very nice stitching. The leather stretches nicely to fit my thickest pen (Edison Collier) and can also hold my smallest pens (Sailor 1911.) The pens stay nice and secure. ???? SO glad I purchased this. Excellent price too!! Get one!
5
out of
5

quality:

function:

style:

value:

Great product. I have several and they are a great purchase, high quality and fair priced!
5
out of
5

quality:

function:

style:

value:

I really like this pen sleeve. It might be a tight fit for some pens, but my biggest one (Conklin Duragraph) fits in snugly. Materials & workmanship appear to be top-notch, and I'm confident the pens will be protected. I chose saddle with orange stitching, and that's a nice combination.
5
out of
5

quality:

function:

style:

value:


FAQs about the Dee Charles Designs Double Sleeve