Dee Charles Designs Double Pen Box Pen Carrying Cases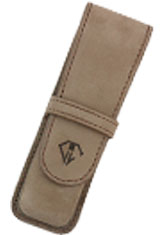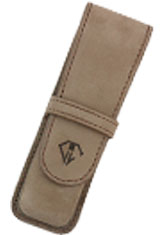 About the Dee Charles Designs Double Pen Box
Dee Charles Designs Double Pen Box is made of high quality leather with complementary hand stitching along the finished edges, and a leather-encased, heavy duty chipboard removable insert with divider to keep pens protected and accessible when you need them.
The Dee Charles Designs Double Pen Box is available in numerous colors of high quality leather and thread. Inserts feature contrasting leather colors as seen in the closeup product shots in the listing. (To see a closeup image of the Pen Box Insert simply hover your mouse/cursor over the product image after choosing your preferred color).
Measurements of Double Pen Box:
7" long x 2 ¼" wide x 1 ¼" deep
Measurements of Insert:
6 ¼" long x 1 ¼" wide x ¾" deep
Dee Charles Designs...because you can't trust just anyone to hold your pens.
*Dee Charles Designs products are made by hand using high quality, authentic leather, so exact colors may vary product to product.
Product Specifications
Weight: 2.8 oz.(79.38g)
Available Sizes & Colors
The Dee Charles Designs Double Pen Box Pen Carrying Cases usually ships within 1-3 business day unless otherwise specified or marked as special order.
* Special orders typically ship in 10-21 business days. However, occasionally due to manufacturer inventory, items can take up to 1-3 months. For a specific shipping estimate on your special order contact Customer Care.
Guaranteed Quality
Each Dee Charles Designs Double Pen Box Pen Carrying Cases we sell is
guaranteed to be genuine
, authentic and will arrive brand new & unused!

FAQs about the Dee Charles Designs Double Pen Box