Sailor
"Don't Miss The Boat" Sales Event

Rhodia A6 Spiral Memo & Notebooks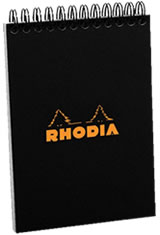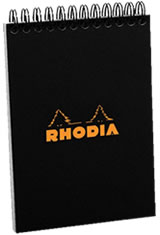 X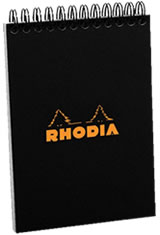 About the Rhodia A6 Spiral
The Rhodia A6 Spiral notebook comes with 80g smooth extra white graph paper and a waterproof cover. The back cover is stiff for ease of writing. The double wiring adds strength and allows for no snags.
Each Rhodia A6 Spiral notebook comes with 80 sheets of 4 in x 6 in graph paper that are micro-perforated at the top for easy and clean removal. Available in both black or orange covers.
Available Sizes & Colors
Rhodia A6 Spiral Memo & Notebooks - Black *
The Rhodia A6 Spiral Memo & Notebooks usually ships within 1-3 business day unless otherwise specified or marked as special order.
* Special orders typically ship in 8-14 business days. However, occasionally due to manufacturer inventory, items can take up to 1-3 months. For a specific shipping estimate on your special order contact Customer Care.
Guaranteed Quality
Each Rhodia A6 Spiral Memo & Notebooks we sell is
guaranteed to be genuine
, authentic and will arrive brand new & unused!

Rhodia A6 Spiral Reviews
I am really happy with these notebooks. Rhodia paper always works well for me with fountain pens and is great for taking quick notes or long-form thoughts. A nice smooth surface for many types of pens and pencils. Being lefthanded I also chose these due to the top spiral.
5
out of
5

quality:

function:

style:

value:

Very pleased with these notebooks.
5
out of
5

quality:

function:

style:

value:


FAQs about the Rhodia A6 Spiral