Ballpoint Pen Day
Sale & Giveaway

Kaweco Stainless Steel Replacement Fountain Pen Nibs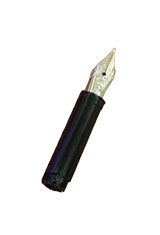 X

About the Kaweco Stainless Steel Replacement
Now you can order Kaweco stainless steel replacement nibs. Switch out the nibs in your Kaweco pens to different sizes, replace a damaged nib, or just have a spare nib around so your favorite pens are covered in case of an emergency. It's up to you.
The Kaweco stainless steel replacement fountain pen nibs have a black plastic nib housing and feed, and a stainless steel #2 nib. Each nib is branded, featuring the Kaweco logo with the nib size engraved just below the logo.
Kaweco pens compatible with this nib unit include: AL Sport, Brass Sport, Classic Sport, Frosted Sport, ICE Sport, Liliput, and Skyline Sport fountain pens. The Kaweco gold replacment steel #2 fountain pen nib is a complete unit including the feed and housing as well, and the replacement nib unit threads into the AL-Sport and Liliput models. To install the Kaweco gold replacement steel #2 fountain pen nib on other Kaweco models, you may need to remove the nib from the threaded housing (black plastic unit), and insert the nib into your pen's housing using a friction fit. (Some pen designs have the nib housing permanently fixed in the grip section of the pen. The replacement nib was designed to fit Kaweco models, but may fit other brand's fountain pens that are compatible with a #2 nib.
Product SpecificationsAvailable Sizes & Colors
The Kaweco Stainless Steel Replacement Fountain Pen Nibs usually ships within 1-3 business day unless otherwise specified or marked as special order.
* Special orders typically ship in 10-14 business days. However, occasionally due to manufacturer inventory, items can take up to 1-3 months. For a specific shipping estimate on your special order contact Customer Care.
Guaranteed Quality
Each Kaweco Stainless Steel Replacement Fountain Pen Nibs we sell is
guaranteed to be genuine
, authentic and will arrive brand new & unused!

FAQs about the Kaweco Stainless Steel Replacement
Ships in 1-3 business day.
Low inventory, act now!