Taccia Sample(4ml) Fountain Pen Ink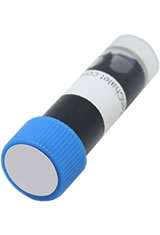 About the Taccia Sample(4ml)
Try the Taccia fountain pen ink from Japan with it's great colors. Each 4ml samples comes in a plastic vial that is easy to transport and fill your pen from.
Product Specifications
Cartridge Type: Ink Sample
Available Sizes & Colors
The Taccia Sample(4ml) Fountain Pen Ink usually ships within 1 business day unless otherwise specified.
Guaranteed Quality
Each Taccia Sample(4ml) Fountain Pen Ink we sell is
guaranteed to be genuine
, authentic and will arrive brand new & unused!

Taccia Sample(4ml) Color Chart

Aka Red

Ao Blue

Aoguro Blue-Black

Cha Bown

Daidai Orange

Ebi Purple Red

Kuro Black

Midori Green

Momo Pink

Murasaki Purple

Sora Sky Blue

Tsuchi Golden Wheat

Uguisu Olive Green

Taccia Sample(4ml) Reviews
I liked the sample so much I ended up buying a bottle of the Cha Brown. Lovely rich colour and well-behaved.
5
out of
5

quality:

function:

style:

value:

5
out of
5

quality:

function:

style:

value:


FAQs about the Taccia Sample(4ml)