Platinum Cartridge(3pk) Highlighter Fountain Pen Ink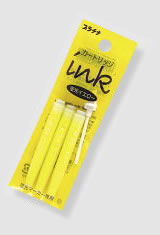 About the Platinum Cartridge(3pk) Highlighter
The platinum Cartridge Highlighter fountain ink comes in a 3 pack of cartridges. This highlighter ink comes in fluorescent colors of pigmented ink. Each cartridge holds 1.2cc of ink.
Product Specifications
Cartridge Type: Proprietary
Available Sizes & Colors
The Platinum Cartridge(3pk) Highlighter Fountain Pen Ink usually ships within 1 business day unless otherwise specified.
Guaranteed Quality
Each Platinum Cartridge(3pk) Highlighter Fountain Pen Ink we sell is
guaranteed to be genuine
, authentic and will arrive brand new & unused!

Platinum Cartridge(3pk) Highlighter Reviews
Ordered these in yellow for the Preppy and love them. Easy to use, but will be using a converter to refill the Preppy Highlighter with bottled ink instead when I have used up the cartridges. These are great to keep in my bag for on-the-go, though, and will definitely be buying more.
5
out of
5

quality:

function:

style:

value:

The yellow highlighting ink is too light for me, but the orange is perfect. I really like the preppy highlighter pen too.
4
out of
5

quality:

function:

style:

value:


FAQs about the Platinum Cartridge(3pk) Highlighter