Leap Year Sale
Sale & Giveaway
Monteverde Cartridge to fit Lamy(5pk) Fountain Pen Ink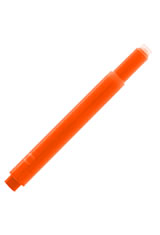 About the Monteverde Cartridge to fit Lamy(5pk)
This cartridge is manufactured by Monteverde, but is designed specifically to fit Lamy fountain pens. The cartridge is filled with the revolutionary ink with the ITF ink treatment formula. This ink dries faster on the paper, extends the cap-off time on the pen, and increases the ink flow quality. The ink is also designed to better lubricate the pens ink feeding systems. That means there is no clogging and corrosion.
Because the Lamy cartridges are proprietary, the Monteverde cartridge to fit Lamy pens gives you more color choices and other ink options for your Lamy pens.
Product Specifications
Length: 2.75 in.
Diameter: 0.25 in.
Cartridge Type: Proprietary
Available Sizes & Colors
The Monteverde Cartridge to fit Lamy(5pk) Fountain Pen Ink usually ships within 1 business day unless otherwise specified.
Guaranteed Quality
Each Monteverde Cartridge to fit Lamy(5pk) Fountain Pen Ink we sell is
guaranteed to be genuine
, authentic and will arrive brand new & unused!

Monteverde Cartridge to fit Lamy(5pk) Reviews
These cartridges fit lamy, Parker, and standard international pens, depending on which side you use. I own the blue black and the green. The green is not a good color - too light. The blue black is really dark, but usable and work appropriate. The ink behaves well on a lot of different paper types.
4
out of
5

quality:

function:

style:

value:

I was happy to get this item. The ink is great and the colour looks fantastic.
5
out of
5

quality:

function:

style:

value:


FAQs about the Monteverde Cartridge to fit Lamy(5pk)