Lamy Crystal(30ml) Fountain Pen Ink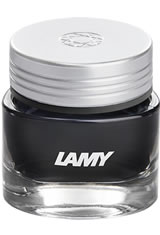 About the Lamy Crystal(30ml)
The Lamy Crystal fountain pen ink comes in a wide range of fabulous colors. The brilliant tints expand the Lamy inks in a whole new direction, inviting writers to be creative.
Made in Germany, the Lamy Crystal inks are the nuanced advancements of the standard colors. Each ink delivers ex exceptional color intensity and product quality.
Product Specifications
Cartridge Type: Bottled Ink
Available Sizes & Colors
The Lamy Crystal(30ml) Fountain Pen Ink usually ships within 1 business day unless otherwise specified.
Guaranteed Quality
Each Lamy Crystal(30ml) Fountain Pen Ink we sell is
guaranteed to be genuine
, authentic and will arrive brand new & unused!

Lamy Crystal(30ml) Color Chart

Agate

Amazonite

Azurite

Benitoite

Beryl


Obsidian

Peridot

Rhodonite

Ruby

Topaz

Lamy Crystal(30ml) Reviews
I'm surprised. I use two Lamy inks but this one watery and dull but not in a sophisticated way as say - Kyoto-Tag. Nice bottle.
2
out of
5

quality:

function:

style:

value:


FAQs about the Lamy Crystal(30ml)

Ships in 1 business day.