Pineider Arco Fountain Pens

About the Pineider Arco
Limited to on 888 pens with each individually numbered, the Pineider Arco has a resin body with metal trim and section. Created with a stratification of layers of materials, creating a design with colors that were popular in the '30s. Pineider has been able to mimic these same celluloid looks. The result is a resin that is durable and does not face the crystallization issues of celluloid.
The Pineider Arco fountain pen features a piston fill system with a unique ink viewing window. The pen has a magnetic cap that locks when both capped and posted. The pen has been fitted with a 14 kt gold nib.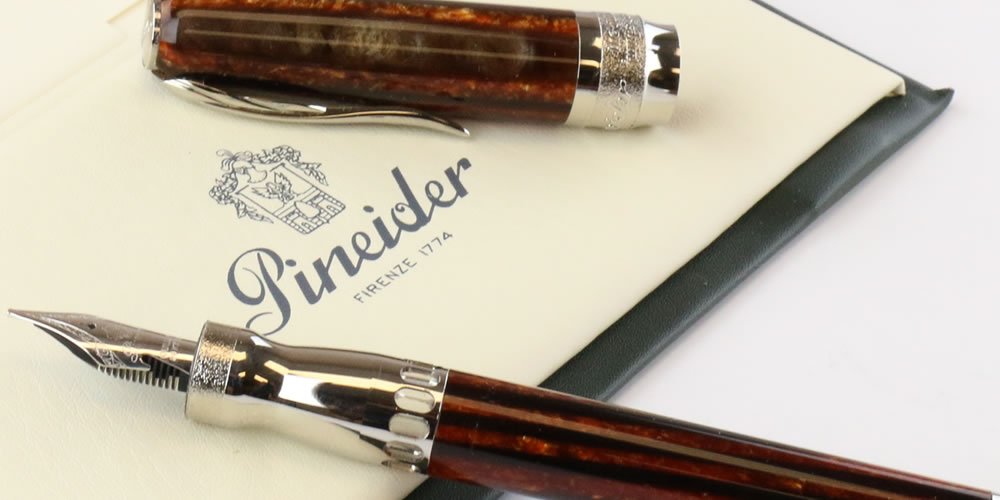 Product Specifications
Nib Material: Gold
Fill Mechanism: Piston
Cartridge Type: Bottled Ink
Available Sizes & Colors
Pineider Arco Fountain Pens - Oak - Broad (Gold nib)
Pineider Arco Fountain Pens - Oak - Stub (Gold nib)
The Pineider Arco Fountain Pens usually ships within 1 business day unless otherwise specified.
Guaranteed Quality
Each Pineider Arco Fountain Pens we sell is
guaranteed to be genuine
, authentic and will arrive brand new & unused!

FAQs about the Pineider Arco

Pineider Arco Video
Video Script
This is the Pineider Arco Fountain Pen. It comes in a green leather box. The Pineider logo is embossed on the front. The box has a unique wedge shape design. The front has a small flap with a magnetic catch that lifts open with the Pineider logo on the underside of the box lid. There is also some Pineider stationery that is included with the pen. And of course we have the Pineider Arco Fountain Pen. This is a limited edition pen. Limited to 888 pens and each one is individually numbered on the bottom of the barrel on the chrome colored knob at the end.

The pen has a wood grain look on the cap and barrel which is resin that has a glossy finish. The center of the pen or bottom of the cap is a thick chrome colored band with Pineider raised on it. At the top we have the Pineider logo in a medallion on the top of the cap with the traditional Pineider shape on the clip. It looks kind of like a little feather. The cap is a magnetic catch that holds in place with a magnet. It will also post the same way with the magnet holding the cap in place when it's posted.

It has a matching metal section and with some small windows around the pen so you can see the ink level inside. Since it is a piston style fountain pen, you'll be able to see the ink through those windows. It comes with a 14 carat gold nib, a bit of a flex nib with these channels cut and it has a black feed on the pen. Great pen, great design. Get your Pineider Arco Fountain Pen at PenChalet.com!
Ships in 1 business day.
Low inventory, act now!
price match
Unsure which nib size to choose? We can help...