Pineider Arco Fountain Pens


About the Pineider Arco
Limited to on 888 pens with each individually numbered, the Pineider Arco has a resin body with metal trim and section. Created with a stratification of layers of materials, creating a design with colors that were popular in the '30s. Pineider has been able to mimic these same celluloid looks. The result is a resin that is durable and does not face the crystallization issues of celluloid.
The Pineider Arco fountain pen features a piston fill system with a unique ink viewing window. The pen has a magnetic cap that locks when both capped and posted. The pen has been fitted with a 14 kt gold nib.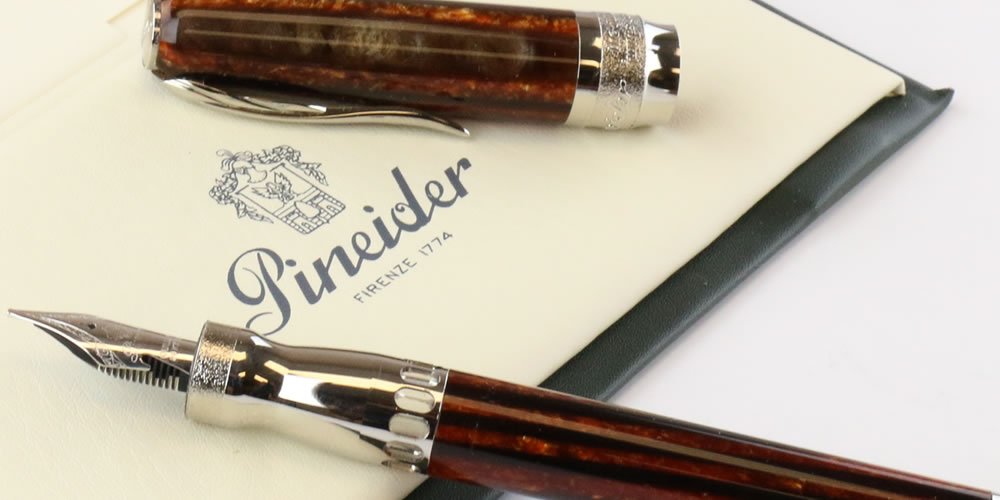 Product Specifications
Capped Length: 5.36 in.(136.1mm)
Posted Length: 6.15 in.(156.2mm)
Length of Body: 4.87 in.(123.7mm)
Length of Cap: 2.58 in.(65.5mm)
Diameter of Body: 0.49 in.(12.4mm)
Diameter of Cap: 0.4 in.(10.2mm)
Diameter of Grip: 0.25 in.(6.4mm)
Body Material: Resin
Nib Material: Gold
Fill Mechanism: Piston
Cartridge Type: Bottled Ink
Cap Type: Snap On(Magnetic)
Postable: Yes
Demonstrator: No
Clip Style: Spring Loaded
Available Sizes & Colors
Pineider Arco Fountain Pens - Desert Beetle - Extra Fine (Gold nib)
Pineider Arco Fountain Pens - Desert Beetle - Fine (Gold nib)
Pineider Arco Fountain Pens - Desert Beetle - Medium (Gold nib)
Pineider Arco Fountain Pens - Desert Beetle - Broad (Gold nib) *
Pineider Arco Fountain Pens - Desert Beetle - Stub (Gold nib)
The Pineider Arco Fountain Pens usually ships within 1-3 business day unless otherwise specified or marked as special order.
* Special orders on this item are eligible for dropship in 2-4 business days. However, occasionally due to manufacturer inventory, items can take up to 1-3 months. For a specific shipping estimate on your special order contact Customer Care.
Guaranteed Quality
Each Pineider Arco Fountain Pens we sell is
guaranteed to be genuine
, authentic and will arrive brand new & unused!
Pineider Arco Video Script
This is the Pineider Arco Fountain Pen. It comes in a green leather box. The Pineider logo is embossed on the front. The box has a unique wedge shape design. This is a limited edition pen. Limited to 888 pens and each one is individually numbered on the bottom of the barrel on the chrome colored knob at the end.
The resin pen has a celluloid look material for the cap and barrel and a glossy finish. The center of the pen or bottom of the cap is a thick chrome colored band with Pineider raised on it. At the top we have the Pineider logo in a medallion on the top of the cap with the traditional Pineider shape on the clip. It looks kind of like a little feather. The cap is a magnetic catch that holds in place with a magnet. It will also post the same way with the magnet holding the cap in place when it's posted.
It has a matching metal section and with some small windows around the pen so you can see the ink level inside. Since it is a piston style fountain pen, you'll be able to see the ink through those windows. It comes with a 14 carat gold nib, a bit of a flex nib with these channels cut and it has a black feed on the pen. Great pen, great design. Get your Pineider Arco Fountain Pen at PenChalet.com!

Pineider Arco Reviews
Very nice looking acrylic. Lavish style - time will tell on quality. Ink viewing windows have sharp edges. Writes well - wet nib.
4
out of
5

quality:

function:

style:

value:

This is my third Pineider Pen. I own 2 La Grande Belezza gemstone Fountain Pens. I love the Quill nib and the look of this pen is spectacular. I also love that it is a piston pen and holds a lot of ink. I find all three of my Pineiders wet writers. I have a fine nib and it lays down a nice wet not too thin line. this is one of the most expensive pens I own next to my Pelikan M805 and it is one of my favorites. All the Pineider pens are great.
5
out of
5

quality:

function:

style:

value:

A lovely well made pen that writes great out of the box. Although my 14K Quill nib doesn't have much if any flexibility, it is a smooth and consistent writer. It has a bit of weight, giving it a substantial, quality feel. The magnetic closure always aligns the bands of chatoyance and stripes by spinning the cap to orient. It also has a magnet to post the cap, but I don't since it makes it a little back heavy for me. The ink window ports are classy and very effective, making it easy to see that you do get a full fill. It has a very nice clip, and they hit a home run with the Arco Oak material which I think is gorgeous. A highly recommend pen by me.
5
out of
5

quality:

function:

style:

value:


FAQs about the Pineider Arco
Ships in 1-3 business day.
Low inventory, act now!
price match
Unsure which nib size to choose? We can help...