Holiday Sale
10% Off, enter HOLIDAY at checkout
Monteverde Monza 3 Fountain Pens








About the Monteverde Monza 3
The Monteverde Monza 3 fountain pen comes with 3 different stainless steel nibs, each with an attached ink converter. Included is a Fine, Medium and Omniflex nib as well as 2 standard international ink cartridges.
The Monteverde Monza is lightweight, easy to use and a great starter fountain pen. Presented in a plastic transparent box for storage, the Monza also makes a great gift.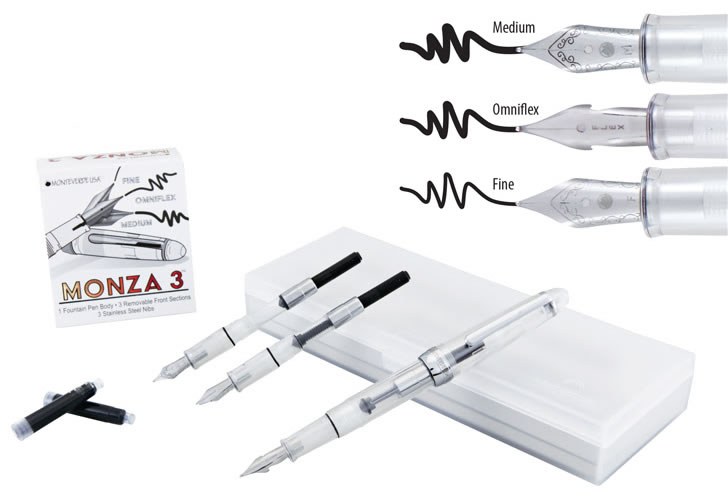 Product Specifications
Nib Material: Stainless Steel
Fill Mechanism: Cartridge/Converter
Cartridge Type:
Standard International
Available Sizes & Colors
The Monteverde Monza 3 Fountain Pens usually ships within 1 business day unless otherwise specified.
Guaranteed Quality
Each Monteverde Monza 3 Fountain Pens we sell is
guaranteed to be genuine
, authentic and will arrive brand new & unused!
Monteverde Monza 3 Video Script
This is the Monteverde Monza 3 fountain pen. Great little starter pen from Monteverde that comes in a plastic box with a cardboard sleeve that slides off. Inside we have the Monteverde Monza pen. Included with this pen, which is nice, is three different nib options. The pen comes with a fine, a medium and an Omniflex nib, giving you a few different nib choices. Each one will come with their own converter attached. There's also some standard international ink cartridges as well that are included with the pen.
This is a clear demonstrator pen. It has silver colored trim on the clip and the ring of the pen. You can also see the inside of the pen as it is a demonstrator. You can see the ink levels inside the converter that is in the barrel of the pen.
The cap is threaded and unscrews. You can post the cap on the end of the barrel pen or you can use without it posted, whichever you would prefer.
Since this is a cartridge converter style pen, you unscrew the section from the barrel of the pen and you can use either a standard international cartridge or you can use the converter for bottled inks, whichever one you would prefer.
The pen comes with three different nibs, a fine, the medium, and then an Omniflex. The Omniflex nib has a little flex to the nib to create some line variation as you add pressure when writing. Great little starter pen set. Get your Monteverde Monza 3 fountain pen at PenChalet.com!

Monteverde Monza 3 Reviews
This pen is amazing! I've just started getting into the world of fountain pens and not only is this one affordable but it is really a joy to use, especially with the three nib options w/converters.
5
out of
5

quality:

function:

style:

value:


FAQs about the Monteverde Monza 3
Unsure which nib size to choose? We can help...