Conklin Duraflex Limited Edition Fountain Pens

About the Conklin Duraflex Limited Edition
The Conklin Duraflex fountain pen comes with the Duragraph chassis and a special OnmiFlex nib. This limited edition pen is individually numbered with only 1898 units made worldwide with the number engraved on the pen. Crafted from gorgeous brown resin, rose gold trim and matching rose gold stainless steel nib.
A converter, as well as two standard international ink cartridges, are included with the pen. The pen arrives in a Conklin gift box.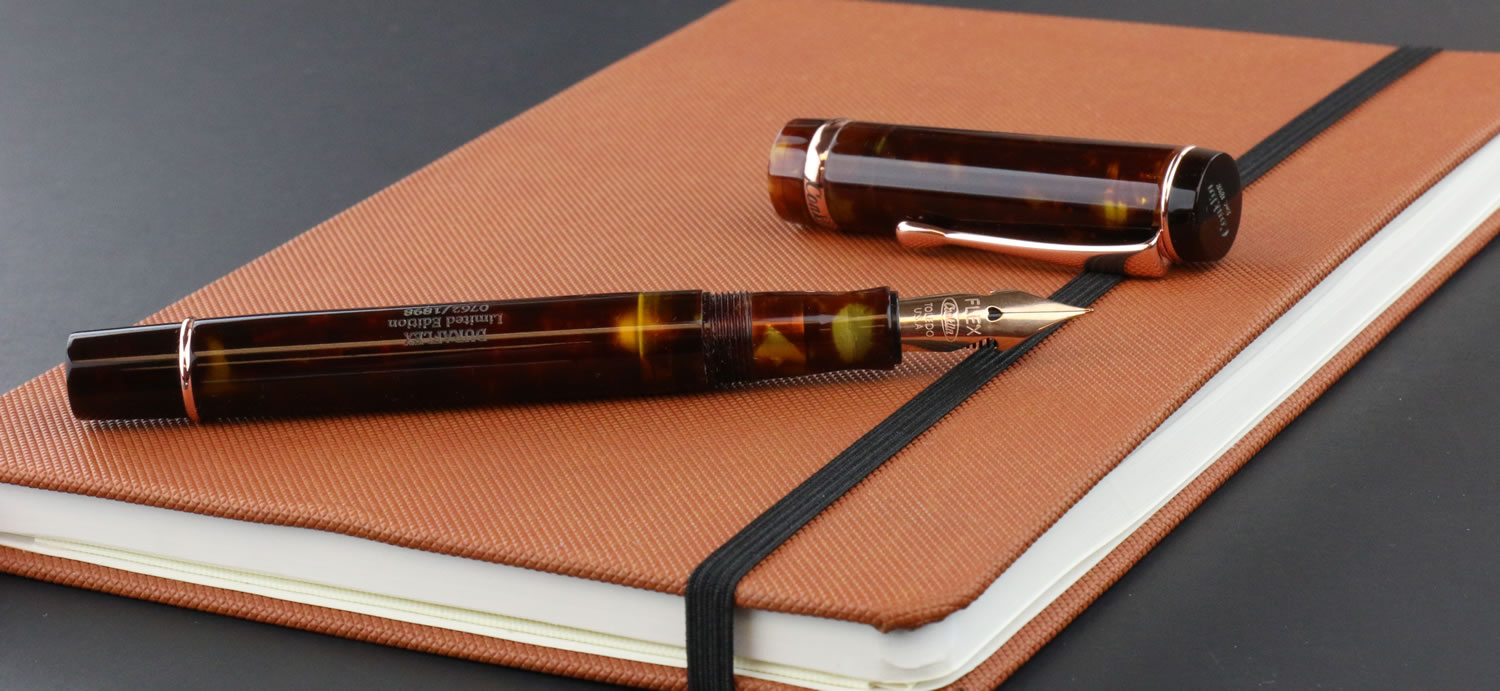 Product Specifications
Length: 5.5 in.
Posted Length: 6.875 in.
Diameter: 0.563 in.
Weight: 1.0 oz.
Nib Material: Stainless Steel
Fill Mechanism: Cartridge/Converter
Cartridge Type:
Standard International
Available Sizes & Colors
Conklin Duraflex Limited Edition Fountain Pens - Sunstone - Flexible (Stainless Steel nib)
The Conklin Duraflex Limited Edition Fountain Pens usually ships within 1 business day unless otherwise specified.
Guaranteed Quality
Each Conklin Duraflex Limited Edition Fountain Pens we sell is
guaranteed to be genuine
, authentic and will arrive brand new & unused!

Conklin Duraflex Limited Edition Reviews
I have to give this high marks. This is my first Conklin Duraflex with an Omniflex nib and I loved it. This is a wet versatile nib that functioned beautifully for my calligraphy. The Sunstone body is lovely. Honestly, pictures don't do it justice. And the rose gold just made the whole pen stand out. I highly recommend this pen. It is a fantastic value as most Conklin' pens are. To date I own the Turquoise, Cracked Ice, and several other colors of this style of Conklin. I will keep collecting these limited editions because they are just stand outs in the pen community.
5
out of
5

quality:

function:

style:

value:

I have a love/hate relationship with this pen. The pen itself is a beauty, all black with a black nib. The dark clip and metal accents offer just enough contrast to the glossy black resin body. Although this looks nearly identical to the Duragraph, there are some differences. Most notably, and annoyingly, the cap takes almost three full turns to take off and post. The Duragraph takes one turn. That's a lot of turning.
Posting the cap is not for the timid as the posted pen length is 175 mm (almost 7 inches). Unposted is probably the best way to wield this pen.
I was experiencing the skipping and hard starts that others were complaining of with the flex-nib (many others, and loudly), but I knew that this might be an issue going in. After some work, it seems to be working smoothly and the feed seems to be keeping up with the nib. I hope this continues to be the case.
A mixed bag. The pen is striking and writes beautifully. When it writes. I got lucky with mine after some tweaking. Opening and closing also gets a bit tiresome. I still like it and it was worth the purchase.
4
out of
5

quality:

function:

style:

value:

Thoroughly enjoy the look and experience of this pen.
5
out of
5

quality:

function:

style:

value:

I am in love with this fountain pen. It writes like a dream. I make up excuses to write so I can use it. Nib is beautiful. Very responsive. Adore it.
5
out of
5

quality:

function:

style:

value:

Great-looking pen with a nice flex nib. While the black coating on my nib began to wear off almost immediately, Pen Chalet replaced the nib within two days of my contacting them. The new nib is perfect.
4
out of
5

quality:

function:

style:

value:

Pen is great looking being all black with the silver tone accents. However, it's a very very light pen. With the cap posted.. Tis a bit back heavy. I tried a converter full of a Diamine ink and the nib.. The nib is claimed to be a EF but dang I think they forgot a E. It's needle like. Fit and finsh is great and while the screw in converter is a good idea I think that it could cause issues later because the threads are not that deep. Still deciding on whether to try another converter full of lubricating ink or not. Perhaps I will leave it on my shelf and see if I can come out even on it in the end.
5
out of
5

quality:

function:

style:

value:

I was really looking forward to using my Duraflex Exclusive, but was rather disappointed on a couple of counts. 1) Though there is a good amount of line variation which I love, the nib is a bit scratchy. When I had the chance to examine the nib under a 10x loupe, I realized that the feed is crooked which in turn has caused the tines to splay a bit. It doesn't seem as if this can be hand corrected as the nib and feed appear to be fused into one unit. 2) There are two different descriptions of the pen: the text and the video describe the Limited Edition, which is numbered; the title and picture is the Exclusive, which I purchased. The difference between the video, text and actual picture and title needs to be corrected.
3
out of
5

quality:

function:

style:

value:

My disclaimer: I am not, never have been and never will be a fountain pen connoisseur. I'm simply a hobbyist. That said, I am really pleased with the Duraflex Exclusive. If you're looking for the feel and style of a vintage flex pen with a gold nib, then by all means buy one, as they are quite easy to find, in fact, I own one myself. If, however, you're looking for a well made, fine quality, reasonably priced flex nib fountain pen that you could and may want to use every day then this is the one for you. It writes very smoothly and with a some extra downward pressure delivers anywhere from a slight to a substantial amount of line variation to add a little extra character to your writing. In fact, I like the Duraflex better than my vintage flex. Considering the price and the build quality, in my humble opinion you just can't go wrong with it. As an added perk, the nib unit fits my other Conklin pen perfectly. Will probably buy another pen and maybe an extra nib unit as well. Happy writing!
5
out of
5

quality:

function:

style:

value:

As a pen collector of fine writing instruments, feel more than pleased with fountain pen purchased. It's an excellent quality writing instrument and had a "deal" price. Thanks.
5
out of
5

quality:

function:

style:

value:

I wasn't a fan of flex nibs, couldn't quite get it but this lovely pen is so easy to use and writes really well. Good pen for the price too!
5
out of
5

quality:

function:

style:

value:


FAQs about the Conklin Duraflex Limited Edition
Unsure which nib size to choose? We can help...