Conklin Duraflex Limited Edition Fountain Pens

About the Conklin Duraflex Limited Edition
The Conklin Duraflex fountain pen comes with the Duragraph chassis and a special OnmiFlex nib. This limited edition pen is individually numbered with only 1898 units made worldwide with the number engraved on the pen. Crafted from gorgeous brown resin, rose gold trim and matching rose gold stainless steel nib.
A converter, as well as two standard international ink cartridges, are included with the pen. The pen arrives in a Conklin gift box.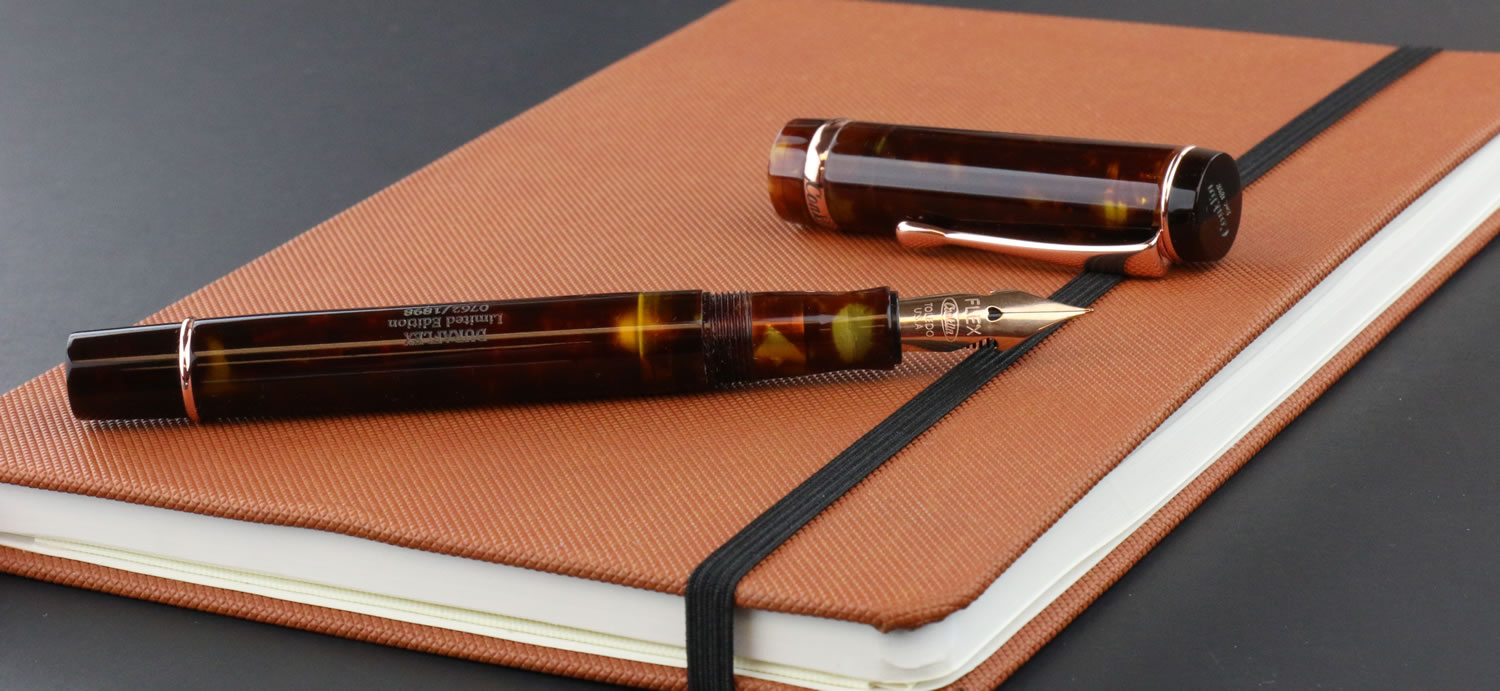 Product Specifications
Length: 5.5 in.
Posted Length: 6.875 in.
Diameter: 0.563 in.
Weight: 1.0 oz.
Nib Material: Stainless Steel
Fill Mechanism: Cartridge/Converter
Cartridge Type:
Standard International
Available Sizes & Colors
Conklin Duraflex Limited Edition Fountain Pens - Sunstone - Flexible (Stainless Steel nib)
The Conklin Duraflex Limited Edition Fountain Pens usually ships within 1 business day unless otherwise specified.
Guaranteed Quality
Each Conklin Duraflex Limited Edition Fountain Pens we sell is
guaranteed to be genuine
, authentic and will arrive brand new & unused!

Conklin Duraflex Limited Edition Reviews
Beautiful pen. The rose gold trim sets it apart in my collection.
5
out of
5

quality:

function:

style:

value:

Beautiful pen; excellent feel in hand nd beautiful writing experience.
5
out of
5

quality:

function:

style:

value:

Be patient with this pen. It's probably not going to perform well right out of the box. As others have mentioned, it needs priming (constrict the converter to force more ink into the feed). The first time that I primed it, it still skipped a lot. I left it alone and came back to it the next day. Things started to improve after I gave it a few gentle downward shakes. However, it still wasn't writing as smoothly as it should have been, so I let it sit for another day. The next time that I picked it up, it wrote flawlessly. I haven't had any issues since. This pen is worth the extra effort at the beginning. I'm a big fan of the sunstone color. It really sparkles when it catches the light.
4
out of
5

quality:

function:

style:

value:

The Duraflex is a super great pen. I purchased several for friends and they love them. Super great value. Thanks again.
Tony Cotroneo
5
out of
5

quality:

function:

style:

value:

4
out of
5

quality:

function:

style:

value:

The Conklin Duraflex has turned out to be one of my favorite fountain pens, but there's a key thing you have to do before writing (otherwise it would be a very frustrating pen): Prime the feed. In other words, constrict the converter piston a little, or squeeze the cartridge a little, so that it pushes ink to the nib and feed (not enough to make it leak or drip, of course). It's worked like a dream every time I've done this.

If that's not enough, try widening and deepening the ink channels on the feed with an x-acto knife or something similar. (I did this *before* regularly priming the feed, so I don't know for sure if priming is always enough.)
5
out of
5

quality:

function:

style:

value:

Smooth. Slick. Sharp. Sturdy. Stellar. And stunning.


Size-wise, it is almost exactly as long as a Noodler's ebonite Konrad in my accumulation of pens and 0.026" larger in diameter right below the cap, measuring 0.496 where the Konrad measures 0.475". (If you speak Metric, that's 12.5984 mm vs. 12.065 mm.) This pen is anexceptionally smooth writer, and it does display some line width variation with varying pressure as I write. This is a worthy step-up from a starter pen.

5
out of
5

quality:

function:

style:

value:

A non fully functioning pen. The flexible nib is skipping/hard to start a lot. This is not a pen in the league of regular flex nib pens such as the Pilot Falcon (as a popular alternative).
Really disappointing in the nib quality. First and last Conklin pen.
2
out of
5

quality:

function:

style:

value:

The night was terrible. Called Yafa pen and ordered an broad ñib. Whoever developed the Flex ñib should be fired.
3
out of
5

quality:

function:

style:

value:

I have to give this high marks. This is my first Conklin Duraflex with an Omniflex nib and I loved it. This is a wet versatile nib that functioned beautifully for my calligraphy. The Sunstone body is lovely. Honestly, pictures don't do it justice. And the rose gold just made the whole pen stand out. I highly recommend this pen. It is a fantastic value as most Conklin' pens are. To date I own the Turquoise, Cracked Ice, and several other colors of this style of Conklin. I will keep collecting these limited editions because they are just stand outs in the pen community.
5
out of
5

quality:

function:

style:

value:


FAQs about the Conklin Duraflex Limited Edition
Monteverde Bottled Ink(30ml) Fountain Pen Ink
[Select on payment screen]
Unsure which nib size to choose? We can help...