Memorial Day Sale!
10% Off w/ coupon MEMORIAL
Conklin Duraflex Limited Edition Fountain Pens

About the Conklin Duraflex Limited Edition
The Conklin Duraflex fountain pen comes with the Duragraph chassis and a special OnmiFlex nib. This limited edition pen is individually numbered with only 1898 units made worldwide with the number engraved on the pen. Crafted from gorgeous brown resin, rose gold trim and matching rose gold stainless steel nib.
A converter, as well as two standard international ink cartridges, are included with the pen. The pen arrives in a Conklin gift box.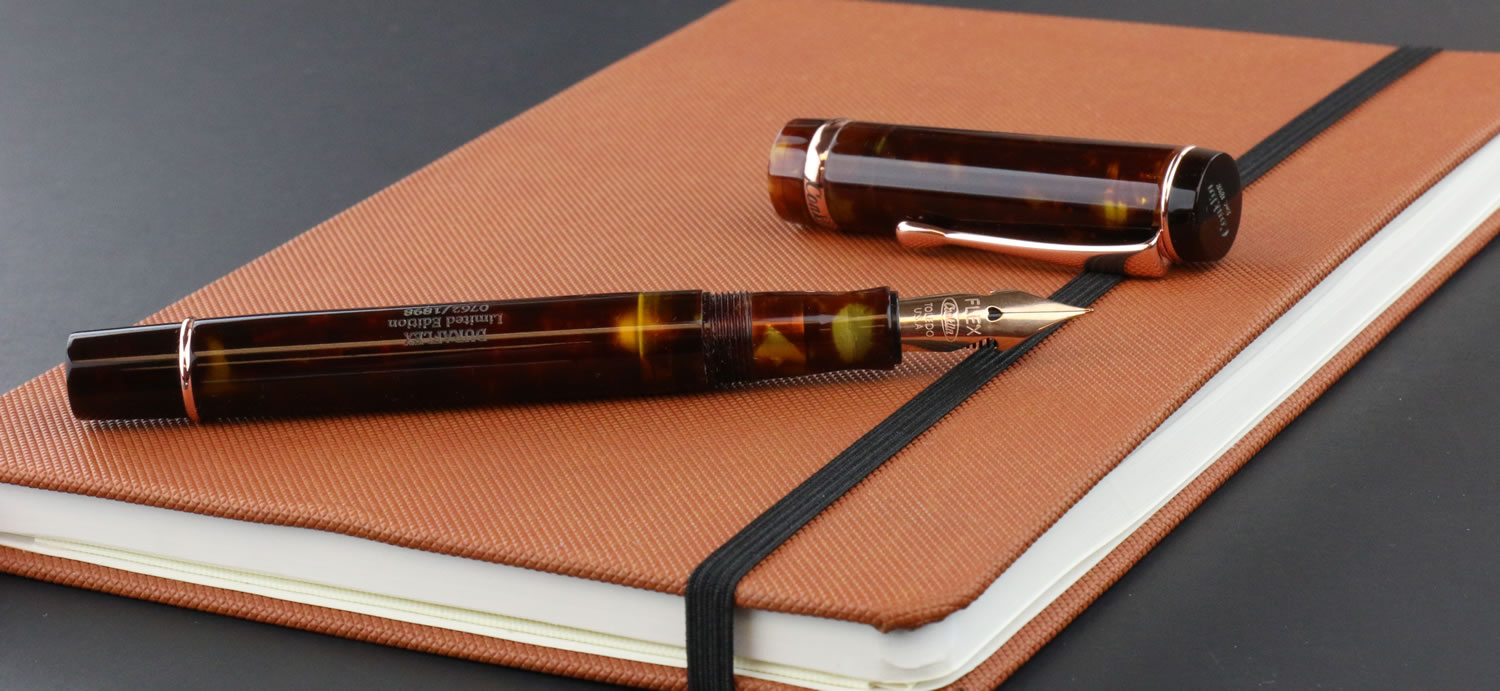 Product Specifications
Length: 5.5 in.(139.7mm)
Posted Length: 6.875 in.(174.6mm)
Diameter: 0.563 in.(14.3mm)
Weight: 1.0 oz.(28.35g)
Nib Material: Stainless Steel
Fill Mechanism: Cartridge/Converter
Cartridge Type:
Standard International
Available Sizes & Colors
Conklin Duraflex Limited Edition Fountain Pens - Sunstone - Flexible (Stainless Steel nib) *
The Conklin Duraflex Limited Edition Fountain Pens usually ships within 1 business day unless otherwise specified.
Guaranteed Quality
Each Conklin Duraflex Limited Edition Fountain Pens we sell is
guaranteed to be genuine
, authentic and will arrive brand new & unused!

Conklin Duraflex Limited Edition Reviews
I've become so fond of the Duragraph and Duraflex pens, I have to have one of each! Yes, I admit to a little bit of OCD. My pen choice is dictated by my shirt choice each day.?? These pens are beautiful, very classic in style and are great writers. I'm especially partial to the flex and the stub nibs. AND the service and selection and price is hard to beat at Pen Chalet.
5
out of
5

quality:

function:

style:

value:

I love my Duraflex Sunstone! The brownish color sparkled with yellowish specks all around, combined with the Rose Gold accent, is just beautiful! The omniflex nib works better compared to my old omniflex. Much smoother writing experience when you are not flexing the pen. I look forward to writing with this beauty many years to come. Last but not least, Jen at sales/customer service always goes above and beyond in helping me. Will keep coming back to Pen Chalet for many years.
5
out of
5

quality:

function:

style:

value:

Excellent pen at a fantastic price. Really wanted to just try the Omniflex nib and then resell. Scratch those plans - keeping this one.
5
out of
5

quality:

function:

style:

value:

I have several Conklin Duragraphs, Duraflexes, Omniflexes...I obviously like the aesthetic of the model, and I couldn't pass on this limited edition color, especially with the Rose Gold trim. I'm not the biggest fan of the flex nib, essentially because I don't know what I'm doing! Hopefully with practice I grow to like it more, but I can see myself replacing the nib if a Rose Gold stub option becomes available. Overall happy with the purchase.
4
out of
5

quality:

function:

style:

value:

Conklin doses it again with this beautiful modern flexible nibbed pen
5
out of
5

quality:

function:

style:

value:

The jury is still out. Sort of. Yes, I can use this pen for copperplate script, and get the variation in line width I want to--as long as I'm writing absolutely enormous text. Think first-grade penmanship scale letters. At my usual, much smaller scale, that variation vanishes completely, and the pen looks more like a narrow italic nib pen. Right now, the flow is erratic, and stops frequently, but that is immediately after installing a cartridge for the first time. This may improve. The pen feels heavy, and it is surprisingly long when the cap is posted. Without the cap posted, it feels too short and doesn't balance comfortably. I didn't think anyone made a pen I thought would be too long or too heavy for my large, strong hands. Overall, right now the pen is attractive enough, but not as great a writer as I thought it should be. To be honest, right now I think my disposable Zebra fountain pens write better. However, that's hours into its first use. I have yet to try the converter with other ink, and I forgot to flush the pen with water and detergent before starting.
4
out of
5

quality:

function:

style:

value:

Great fountain pen, great materials, color and finishing. I really enjoyed. Initial nib bit defective, informed the Penchalet Team and it was replaced fast and at no cost. The after sales support services great.
5
out of
5

quality:

function:

style:

value:

3
out of
5

quality:

function:

style:

value:

This review is for the Sunstone with rose gold accents. Stylish, though side by side with the amber version, think I prefer the amber. Also the rose gold doesn't seem very rose to me. Still breaking in the nib, but I have faith it will come good like the amber before it.
4
out of
5

quality:

function:

style:

value:

This is a beautiful pen, but the flexible nib just doesn't draw ink; there is now continuity of flow and it's a real disappointment.
3
out of
5

quality:

function:

style:

value:


FAQs about the Conklin Duraflex Limited Edition
Product out of stock
Notify me when this item is back in stock.
Unsure which nib size to choose? We can help...