National Handwriting Day
Sale & Giveaway
Pineider Double Pen Carrying Cases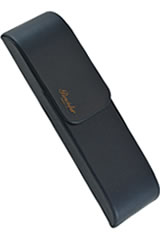 About the Pineider Double
The Pineider Double Pen Case holds 2 pens. Crafted with a sleek leather exterior and a soft velvet interior. Made with a magnetic closure to hold your pens secure.
Product SpecificationsAvailable Sizes & Colors
The Pineider Double Pen Carrying Cases usually ships within 1 business day unless otherwise specified.
Guaranteed Quality
Each Pineider Double Pen Carrying Cases we sell is
guaranteed to be genuine
, authentic and will arrive brand new & unused!

FAQs about the Pineider Double

Ships in 1 business day.
Low inventory, act now!