1 on 1 BOGO Day!
Buy 1 Get 1 on the 1st

Pelikan Leather Pen Carrying Cases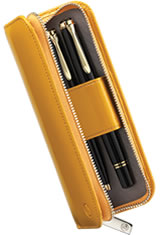 X




About the Pelikan Leather
The Pelikan Leather Pen Carrying Cases are the perfect way to protect your pens. Whether you are on the go or just leaving them in the case on your desk the classic Pelikan leather carrying case will protect your pen.
Not only do they protect your pens they look great. Made from 100% real leather, choose from various colors as well as finish. The Pelikan pen case is available in the shiny lacquered colors or engrained leather options. Each case is well made and robust.
Every meticulous detail of the pouch is amazing right down to the Pelikan logo on the rhodium plated zipper handle or the Pelikan logo stamped into the leather on the corner. The case is finely stitched to match the color of the case. Inside the case hold two pens with flexible loops hidden beneath the leather to accept a variety of pen sizes. The lining is made of black velvet to protect your pens and hide any potential ink stains.
The Patent Leather black and the other bright patent leather colors come in a soft fabric bag for the case. The Pelikan Leather Pen Carrying Cases are an excellent value and made from high quality materials.
Product SpecificationsAvailable Sizes & Colors
The Pelikan Leather Pen Carrying Cases usually ships within 1-3 business day unless otherwise specified or marked as special order.
* Special orders typically ship in 7-14 business days. However, occasionally due to manufacturer inventory, items can take up to 1-3 months. For a specific shipping estimate on your special order contact Customer Care.
Guaranteed Quality
Each Pelikan Leather Pen Carrying Cases we sell is
guaranteed to be genuine
, authentic and will arrive brand new & unused!
Pelikan Leather Video Script
This is the Pelikan leather pen-carrying pouch. Comes in a brown cardboard box. You see the Pelikan logo. On the opposite side, it's gray with the Pelikan logo, that side as well. Opens on the side and inside we have the Pelikan leather pen-carrying pouch.
The exterior of the pouch is made of all leather. You can see the Pelikan logo embossed on the bottom corner. Stitching all around the edges. And a zipper that opens the pouch, keeps your pens protected. That silver-colored zipper also has the Pelikan logo on both front and back. Opens nice and easily.
And inside is the compartment for holding the pens. It has velvet, you know, on both sides to protect your pens. It also has a small flap here to slide the pens in. You can see inside there's actually two elastic bands to put the pens, two separate pens in, keeps them separate and hold them in place. Great little pouch. It's nice and compact. It looks nice. Get your Pelikan pen leather carrying case at PenChalet.com!

Pelikan Leather Reviews
Perfect! Holds my M1005 and M405.
5
out of
5

quality:

function:

style:

value:

Not a pen case I would recommend. The leather seems a little off. I don't think it is artificial but it feels too processed. The loops for holding pens seem a little too close for the two pens it should hold. I think it would hold 2 M800 (tested with M800 and M600) but I would be very careful about the pens potentially hitting each other. The zipper is too tight but it might loosen up some with use. I'll never know as I doubt i'll use it much. There are much nicer, friendlier cases for half the cost if not 40%.
3
out of
5

quality:

function:

style:

value:

Beautifully designed leather case. Holds my one Pelikan 200 and my one Pelikan 600 flawlessly. What can I say? It's from Pelikan. Also, very good service from Pen Chalet. Thank you.
5
out of
5

quality:

function:

style:

value:

fast and excellent service!
4
out of
5

quality:

function:

style:

value:

Nice case holds my Pelikan M1000 and R800 pens.
5
out of
5

quality:

function:

style:

value:


FAQs about the Pelikan Leather
Q:
does this case hold 2 or 3 pens?
A:
The Pelikan Leather pen case will hold 2 pens.
Ask your own question: