Nock Co Brasstown Pen Carrying Cases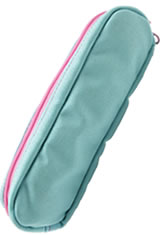 About the Nock Co Brasstown
The Nock Co Brasstown pen case is a rollup pen wrap. Designed with six individual compartment or slots the Brasstown protects each pen. The wrap then rolls inside an outer nylon shell and a sipper close keeps them snug inside.
Specifications:
Exterior Material: 1000D Nylon with DWR coating
Interior Material: Nylon Pack Cloth
Dimensions: 8.5" x 2" x 2"
Handcrafted in Georgia, USA
Available Sizes & Colors
Nock Co Brasstown Pen Carrying Cases - Coffee Amethyst
Nock Co Brasstown Pen Carrying Cases - Spa/Blue Lime Green
The Nock Co Brasstown Pen Carrying Cases usually ships within 1 business day unless otherwise specified.
Guaranteed Quality
Each Nock Co Brasstown Pen Carrying Cases we sell is
guaranteed to be genuine
, authentic and will arrive brand new & unused!

Nock Co Brasstown Reviews
I bought the mandarin/steel version.

I love this case a lot. It is designed to hold 6 pens, and it can do that easily. It can accommodate any six pen, and it keeps them safe even while rolling - your pens won't touch. There's also enough room in this case to fit other pens, if you wanted to. I intend to use this to take pens to pen shows and meet ups. This would be perfect for the Pelikan hubs.

Only thing I wish they would do is offer a Black/grey or grey/black and Black/green colorway. The colors they offer currently are a bit too garish for me. I get that color is Brad's thing, and that's why I went for orange, but it would be nice to have options.
overall:
4 out of

5

quality:

function:

style:

value:

Love the Brasstown! This is my second one, and I am excited for the brown/coffee combo. I already have the raven/aqua. Nock cases are just great and sturdy, while being cute at the same time. Love them, and so nice to have alternatives to leather.
overall:
5 out of

5

quality:

function:

style:

value:


FAQs about the Nock Co Brasstown