Weekend Sale
10% Off, enter DECDEALS at checkout

Montegrappa Double Pen Carrying Cases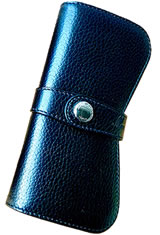 About the Montegrappa Double
Made of real leather, the Montegrappa double pen case comes in three colors. Each has individual slots for the pens and a snap closure to keep the pens secure and safe inside.

Product SpecificationsAvailable Sizes & Colors
Montegrappa Double Pen Carrying Cases - Black *
The Montegrappa Double Pen Carrying Cases usually ships within 1-3 business day unless otherwise specified or marked as special order.
* Special orders on this item are eligible for dropship in 1-3 business days. However, occasionally due to manufacturer inventory, items can take up to 1-3 months. For a specific shipping estimate on your special order contact Customer Care.
Guaranteed Quality
Each Montegrappa Double Pen Carrying Cases we sell is
guaranteed to be genuine
, authentic and will arrive brand new & unused!

Montegrappa Double Reviews
Nice and beautiful case.
It takes some time to break in the leather loops that hold the 2 pens and the cover. But after the leather is broken in and soft, it works great. I would suggest using the fattest/ widest girth pen in your collection to break the leather in so that your thinner pens will fit with no problem.
5
out of
5

quality:

function:

style:

value:


FAQs about the Montegrappa Double
Product out of stock
Notify me when this item is back in stock.