Holiday Sale
10% Off, enter HOLIDAY at checkout

Esterbrook 40-Pen Zipper Canvas Pen Carrying Cases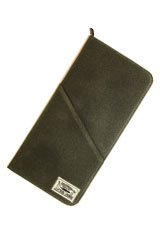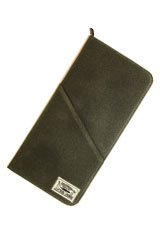 X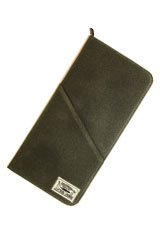 About the Esterbrook 40-Pen Zipper Canvas
The new must-have pen case, the Esterbrook 40-Pen Zipper Canvas pen carrying cases are made for dedicated pen collectors always on the move! In fact, these pen cases were designed by pen collectors for pen collectors, so you'll find that the Esterbrook 40 pen zipper canvas carrying case pays meticulous attention to every little detail. So, when it's time to organize your prized pen collection or store them safely, you'll want to have an Esterbrook 40-Pen Zipper Canvas carrying case at the ready to take advantage of the unique combination of modern functionality with a smidge of retro charm - which has become the Esterbrook calling card.
The exterior design's timeless appeal is paired with an interior lined in luxuriously soft faux suede, so you can relax knowing your pens are cradled in comfort. Elastic bands lining the inside of the pen case serve as a fortress of protection ensuring each pen is nestled securely. The elastic interior loops work alongside the divider flap to prevent your pens from coming into contact with each other. So relax, and enjoy the peace of mind that comes with knowing your pens are secure - even during travel. And as an added bonus, wherever you go, the Esterbrook 40-pen Zipper Canvas pen carrying case is a good look because this pen case collection was designed to captivate in style.
The stylish AND practical design features a diagonal open pocket across the front of the pen case, ideal for storing
quick notes, business cards, bookmarks, page holders, and more.
The Esterbrook 40-Pen Zipper Canvas pen carrying case arrives elegantly packaged in a printed kraft gift box, complete with tissue, making it a thoughtful present for a fellow pen enthusiast or for yourself!
The Esterbrook 40-Pen Zipper Canvas pen carrying case measures: 15.5" x 7¾" x 1.5".
Also available as a 20-pen carrying case.
Product SpecificationsAvailable Sizes & Colors
The Esterbrook 40-Pen Zipper Canvas Pen Carrying Cases usually ships within 1-3 business day unless otherwise specified or marked as special order.
* Special orders typically ship in 2-14 business days. However, occasionally due to manufacturer inventory, items can take up to 1-3 months. For a specific shipping estimate on your special order contact Customer Care.
Guaranteed Quality
Each Esterbrook 40-Pen Zipper Canvas Pen Carrying Cases we sell is
guaranteed to be genuine
, authentic and will arrive brand new & unused!

FAQs about the Esterbrook 40-Pen Zipper Canvas