Holiday Sale
10% Off, enter HOLIDAY at checkout

Dark Rust Conklin Vintage 60ml Fountain Pen Ink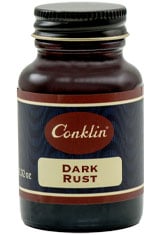 X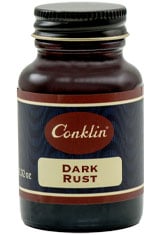 About Dark Rust Conklin Vintage 60ml
Conklin Vintage 60ml fountain pen ink is bringing the beautiful history of pen and ink to the modern writer and artist. The initial early 2022 release includes 10 colors:
Antique Turquoise
Bright Red
Classic Black
Dark Rust
Deep Blue
Denim Blue
Dusty Rose
Kelly Green
Rich Mahogany
Vintage Purple
Conklin Pen Company® is proud to reintroduce a new Ink Collection with redesigned packaging that stays true to the original vintage look that is such a significant part of their legacy. Since 1898, Conklin® is regarded as one of the most significant and innovative American manufacturers from the golden era of fountain pens. Conklin's charming mix of vintage and modern is seen in the novel Conklin® inks featuring vibrant colors, smooth ink flow, high saturation, excellent hues, and increased cap-off time. The inks lubricate to protect the fountain pen nib feeding system from corrosion and clogging while enhancing the overall writing experience.
Product Specifications
Cartridge Type: Bottled Ink
Available Sizes & Colors
View all colors & Sizes of the:
Conklin Vintage 60ml Fountain Pen Ink
Conklin Vintage 60ml Fountain Pen Ink - Dark Rust
The Conklin Vintage 60ml Fountain Pen Ink usually ships within 1-3 business day unless otherwise specified or marked as special order.
Guaranteed Quality
Each Conklin Vintage 60ml Fountain Pen Ink we sell is
guaranteed to be genuine
, authentic and will arrive brand new & unused!

Conklin Vintage 60ml Color Chart

Dark Rust

Conklin Vintage 60ml Reviews
3
out of
5

quality:

function:

style:

value:

Great colors, very vibrant, good flow, very happy with the three colors that I got.
5
out of
5

quality:

function:

style:

value:


FAQs about the Conklin Vintage 60ml
Ships in 1-3 business day.