$10 on the 10th
Earn $10 for Each $100 Spent!

KWZ 60ml Empty Ink Bottles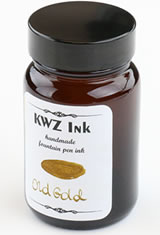 About the KWZ 60ml
The KWZ Ink 60ml Empty Ink Bottles may come with residual ink left inside. The bottles are easy to clean with water or you may use ammonia or pen flush for harder to get rid of ink. The image pictured may not be the color you receive as we send a random empty bottle of KWZ ink.
Available Sizes & Colors
KWZ 60ml Empty Ink Bottles - Random
The KWZ 60ml Empty Ink Bottles usually ships within 1-3 business day unless otherwise specified or marked as special order.

FAQs about the KWZ 60ml
Ships in 1-3 business day.
Also In