Double Points!
Today only. Earn double points on ink rewards!

KWZ 60ml Empty Ink Bottles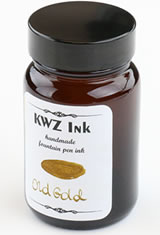 About the KWZ 60ml
The KWZ Ink 60ml Empty Ink Bottles may come with residual ink left inside. The bottles are easy to clean with water or you may use ammonia or pen flush for harder to get rid of ink. The image pictured may not be the color you receive as we send a random empty bottle of KWZ ink.
Available Sizes & Colors
KWZ 60ml Empty Ink Bottles - Random *
The KWZ 60ml Empty Ink Bottles usually ships within 1-3 business day unless otherwise specified or marked as special order.
* Special orders typically ship in 10-21 business days. However, occasionally due to manufacturer inventory, items can take up to 1-3 months. For a specific shipping estimate on your special order contact Customer Care.

KWZ 60ml Reviews
Caveat emptor!!! Oh boy, when they say "empty bottle" they mean it! You might think it still has like a 1ml splashing at the bottom or something, but no! it's dirty but empty! like no ink in there at all! it looks like an ink bottle, and even has a label on it that says "ink" but it really is just an empty bottle!
5
out of
5

quality:

function:

style:

value:


FAQs about the KWZ 60ml
Product out of stock
Notify me when this item is back in stock.
Also In