Sailor
"Don't Miss The Boat" Sales Event
Ends Thurs @ Midnight
Retro OctoberFest

S.T. Dupont Line 2 Classic Lighters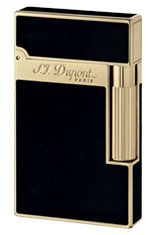 X










About the S.T. Dupont Line 2 Classic
The S. T. Dupont Line 2 Classic lighters feature a high-performance ignition system. The mechanism's cap secures and protects the lighter when closed, create the famous "ping" when opened that is so popular amongst collectors and easily recognized by those in the know. The quintessential S.T. Dupont lighter, the Line 2 Classic, has balanced proportions making it the most versatile option while showcasing pure lines. The S.T. Dupont Line 2 Classic lighters can be used swiftly with small, dedicated gas refills. In addition, the flint is easily replaceable.
The S.T. Dupont Line 2 Classic lighter collection is crafted by skilled artisans with the utmost care and adorned with noble materials.
The S.T. Dupont Line 2 Classic lighter produces a yellow double flame. Classic and elegant, this lighter is a noticeable piece that stands out from the crowd.
Recommended Care:
We recommend following these care tips to maintain your S.T. Dupont Slim 7 lighter's shine and performance over time:
1. Clean all surfaces with a soft cloth. Do not use solvent-based products.
2. For silver-coated surfaces, use a silver polishing cloth, which can be found in specialist shops. Silver is a precious material that may show signs of oxidation over time. This natural process can be heightened if your lighter stays in prolonged contact with leather or rubber.
3. Clean lacquered surfaces as you would eyeglass lenses; fog them up, and wipe with a soft cloth. Lacquer is almost completely acid-proof. Exceptionally sturdy, it is particularly resistant to shocks, scratches, friction, and water.
NOTE: Following the new internal regulations on the transportation, all lighters are delivered empty of gas.
Refills are sold separately.
Product Specifications
Width: 1.457 in.(37.0mm)
Height: 2.441 in.(62.0mm)
Depth: 0.433 in.(11.0mm)
Weight: 4.586 oz.(130.01g)
Postable: No
Demonstrator: No
Available Sizes & Colors
The S.T. Dupont Line 2 Classic Lighters usually ships within 1-3 business day unless otherwise specified or marked as special order.
* Special orders on this item are eligible for dropship in 1-3 business days. However, occasionally due to manufacturer inventory, items can take up to 1-3 months. For a specific shipping estimate on your special order contact Customer Care.
Guaranteed Quality
Each S.T. Dupont Line 2 Classic Lighters we sell is
guaranteed to be genuine
, authentic and will arrive brand new & unused!

S.T. Dupont Line 2 Classic Reviews
Super fast shipping and the best price on the net. Great quality and just beautiful object. If you need a serviceble lighter for life, look into buying ST Dupont from here.
5
out of
5

quality:

function:

style:

value:


FAQs about the S.T. Dupont Line 2 Classic
Ships in 1-3 business day.
Low inventory, act now!
price match