Sailor
"Don't Miss The Boat" Sales Event

Blue Pineider Double Pen Carrying Cases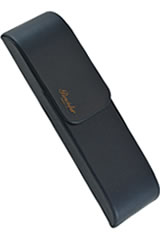 X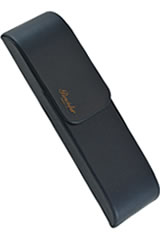 About Blue Pineider Double
The Pineider Double Pen Case holds 2 pens. Crafted with a sleek leather exterior and a soft velvet interior. Made with a magnetic closure to hold your pens secure.
Product SpecificationsAvailable Sizes & Colors
View all colors & Sizes of the:
Pineider Double Pen Carrying Cases
Pineider Double Pen Carrying Cases - Blue *
The Pineider Double Pen Carrying Cases usually ships within 1-3 business day unless otherwise specified or marked as special order.
* Special orders typically ship in 2-14 business days. However, occasionally due to manufacturer inventory, items can take up to 1-3 months. For a specific shipping estimate on your special order contact Customer Care.
Guaranteed Quality
Each Pineider Double Pen Carrying Cases we sell is
guaranteed to be genuine
, authentic and will arrive brand new & unused!

Pineider Double Reviews
Quality craftsmanship. Crush proof insurance for your pens. Replaced my leather flap pen holders which would put pressure on the pen caps when transported in my carry case. I keep a few loaded with my daily carry pens on my desk ready to go. No zippers to deal with, quick access. Italian esthetics, bellissimo!
5
out of
5

quality:

function:

style:

value:


FAQs about the Pineider Double