Holiday Sale
10% Off, enter HOLIDAY at checkout

Pilot Pensemble Pen Roll Pen Carrying Cases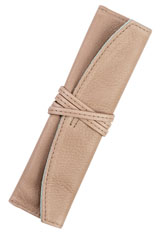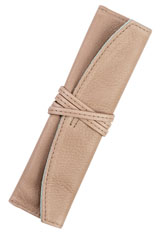 X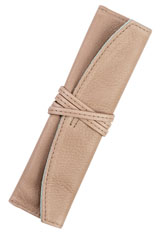 About the Pilot Pensemble Pen Roll
Pilot pen roll pen carrying cases are a luxurious new option for your finest writing instruments. The soft, but durable exterior is lined with an even softer interior lining in a contrasting color. Each pen is separated in the case by high-quality stitching and a matching flap that covers the top of the pens when closing the case. The matching exterior strap wraps around the outside of the pen roll with a quick tuck holding it in place to secure your pens.
The Pilot Pen Roll pen carrying cases come in various colors and sizes.
Pilot Pensemble Pen Wrap/Roll measurements:
1-Pen (pen slot) 6 ?" long x 1 ½" deep
1-Pen LONG (pen slot) 7 ?" long x 1 ?" deep
Product SpecificationsAvailable Sizes & Colors
The Pilot Pensemble Pen Roll Pen Carrying Cases usually ships within 1-3 business day unless otherwise specified or marked as special order.
* Special orders typically ship in 7-14 business days. However, occasionally due to manufacturer inventory, items can take up to 1-3 months. For a specific shipping estimate on your special order contact Customer Care.
Guaranteed Quality
Each Pilot Pensemble Pen Roll Pen Carrying Cases we sell is
guaranteed to be genuine
, authentic and will arrive brand new & unused!

Pilot Pensemble Pen Roll Reviews
I really really like this pen roll. It's a delight to use. I hoped I wouldn't like it cause of the expense. Someday I may get another.
5
out of
5

quality:

function:

style:

value:


FAQs about the Pilot Pensemble Pen Roll

Ships in 1-3 business day.
Low inventory, act now!