Pineider Milano Leather Memo & Notebooks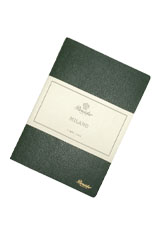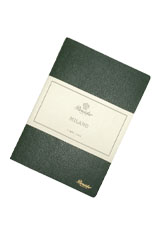 X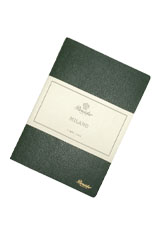 About the Pineider Milano Leather
Pineider Milano Leather Notebooks are available in 3 sizes, and a variety of colors. Pineider Milano notebooks feature soft, genuine leather covers, and foil lined paper creating a gold or silver coloration to the paper's edge. Each notebook also features a ribbon bookmark in a coordinating color.
Pineider Milano Leather notebooks are made of 80 grs/m2, watermarked, laid, ivory lined paper, a Pineider heritage product.
Pineider Milano Notebooks are available in 3 sizes:
Small (9x14cm), Medium (14.5x21cm), or Large (19x25cm).
Founded in 1774, Pineider caters to Royals, Artists, Industrialists, and Governments all over the World. Pineider papers, writing instruments, and leather goods are still made under the most demanding standards of Italian craftsmanship.
Product SpecificationsAvailable Sizes & Colors
The Pineider Milano Leather Memo & Notebooks usually ships within 1-3 business day unless otherwise specified or marked as special order.
* Special orders typically ship in 2-14 business days. However, occasionally due to manufacturer inventory, items can take up to 1-3 months. For a specific shipping estimate on your special order contact Customer Care.
Guaranteed Quality
Each Pineider Milano Leather Memo & Notebooks we sell is
guaranteed to be genuine
, authentic and will arrive brand new & unused!

Pineider Milano Leather Reviews
I have tried so many small notebooks. I was looking for something small enough to be portable but large enough to be a multipurpose notebook and finally I found your notebook. I carry it with me everywhere for notes, shopping lists, ideas, reminders, etc. it is the perfect note taking necessity.
5
out of
5

quality:

function:

style:

value:


FAQs about the Pineider Milano Leather
Product out of stock
Notify me when this item is back in stock.
price match