Monteverde Non-Threaded Ink Fountain Pen Converters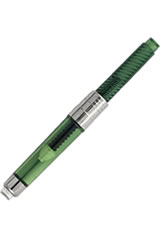 About the Monteverde Non-Threaded Ink
The Monteverde Non-Threaded Ink Fountain Pen Converter is designed to snap into the nib section of the fountain pen. Uses a screw and plunger to draw ink into the converter. Fits most snap style in fountain pens.
Product Specifications
Length: 2.75 in.
Diameter: 0.3 in.
Weight: 0.2 oz.
Available Sizes & Colors
The Monteverde Non-Threaded Ink Fountain Pen Converters usually ships within 1 business day unless otherwise specified.
Guaranteed Quality
Each Monteverde Non-Threaded Ink Fountain Pen Converters we sell is
guaranteed to be genuine
, authentic and will arrive brand new & unused!

Monteverde Non-Threaded Ink Reviews
Haven't needed it yet...but looks like a quality converter
5
out of
5

quality:

function:

style:

value:

These are too big to fit into a platinum carbon brush pen with platinum cartridge adapter, unfortunately. They look fine, but feel rather cheap. There is a definite rattle, and some of the parts come loose when operating the piston. I bought the clear, and it looks fine, but not great. The threaded model looks a lot nicer, inside and out. Had some flow issues when using it in a vintage pen.
3
out of
5

quality:

function:

style:

value:

not much to say. does what it is suppose to do.
5
out of
5

quality:

function:

style:

value:

Bought this as a replacement converter for the ill-fitted one that comes with the Jinhao 450. Much better suited for this pen! Works great and latches much more easily. Easy fix to make that pen great :-)
5
out of
5

quality:

function:

style:

value:

Sadly, this converter did not fit my older Montblanc Noblesse (the 1970's one that is machined from brass, not the newer resin namesake), but that wasn't the converter's fault. I'm trying to find a usable converter for that pen (montblanc's current converter with the screw threads doesn't work) and this one had the correct end shape, but, alas, the metal support ring on the end was just a tad too thick. The converter otherwise seems well made and operates smoothly. The thing about converters and pens is that eventually I'll own a pen this converter fits and I'm sure it will work just fine.
5
out of
5

quality:

function:

style:

value:


FAQs about the Monteverde Non-Threaded Ink
Q:
Does this converter convert a fountain pen into some kind of other pen or does it convert some other kind of pen into a fountain pen?
A:
The Monteverde fountain pen converter just allows a fountain pen that uses fountain pen ink cartridges to use bottled inks as well. You attach the ink converter just as you would an ink cartridge to the pen and then insert the nib into a bottle of ink and draw the ink into the converter. The Monteverde ink fountain pen converter will fit most fountain pens that accept a standard universal ink cartridge.
Q:
Will this work in Parker 75 Sterling Silver pen?
A:
This converter is a standard international. As long as the barrel of the pen has the length to fit the converter and the pen is a push style standard international it should fit.
Q:
Is this a generic converter which will fit most pens which otherwise use and ink cartridge?
A:
Yes it is a International Standard Size cartridge that will fit most pens.
Ask your own question: