Venlo 60 Pen Display Cases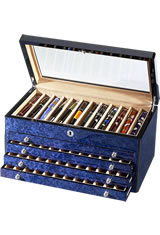 About the Venlo 60
The Venlo 60 Pen Display Case holds 60 pens in individual 7" x 1" channels. The case has four removable trays as well as a the top tray. The exterior of the pen case measures approximately 14.5" x 9" x 7" and comes with a lock and key to secure your pens.
Available Sizes & ColorsGuaranteed Quality
Each Venlo 60 Pen Display Cases we sell is
guaranteed to be genuine
, authentic and will arrive brand new & unused!

FAQs about the Venlo 60
Product out of stock
Notify me when this item is back in stock.
price match